Actors Theatre Presents Party People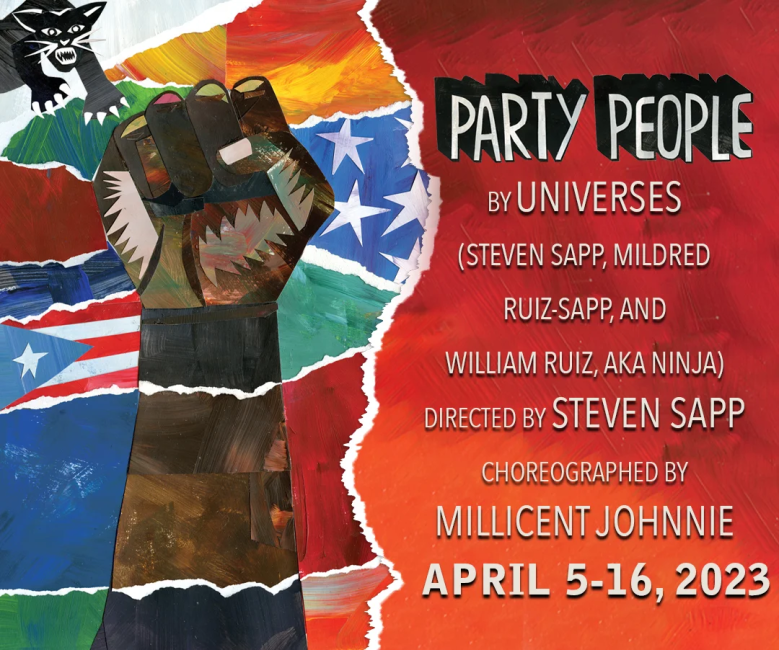 Award-winning ensemble brings kinetic mix of poetry, jazz, blues, hip-hop, bolerors, salsa and storytelling
LOUISVILLE, Ky. (April 5, 2023) – Actors Theatre welcomes back the award-winning ensemble UNIVERSES (Ameriville, Slanguage, Rhythmicity) for a kinetic mix of poetry, jazz, blues, hip-hop, boleros, salsa, and storytelling.

This dynamic performance illuminates the complex legacy of these revolutionary movements, and the potential for cross-cultural coalitions to bring power to the people. Performances are in the Pamela Brown Auditorium April 5-16, 2023.

Party People is a musical based on dozens of interviews with members of the groundbreaking, society-changing groups the Black Panther Party and the Puerto Rican Young Lords Organization. Party People imagines a present-day reunion at an art opening curated by two young counterculturalists. The curators have complex relationships with the Party members, who fought injustice and provided free food and medical care for their communities—often at the expense of the people who loved them most. Old wounds and generational divides collide in this astonishing, multimedia theatrical event about the price of being a revolutionary and what it means for those who come after.

Performance info:

Saturday, April 8: Prior to the evening performance, the public is invited to "Power to the People: A Community Conversation," a free event at the theater with former members of the Black Panther Party and the Young Lords Organization. This event starts at 3 p.m.

Tuesday, April 11: Actors Theatre of Louisville will also host a Poetry Pop-Up event at Louisville's Trouble Bar from 5-8 p.m.

Thursday, April 13: Pre-show networking event with the National Puerto Rican Chamber of Commerce at 6 p.m. before that evening's performance.

Follow Actors Theatre of Louisville's social media accounts for more information.

Discounted tickets for students and educators are available for $15 plus fees on Wednesdays, April 5 and April 12. Contact boxoffice@actorstheatre.org to order. Additionally, there is closed captioning on Sunday, April 9 at 2 p.m. and Thursday, April 13 at 7 p.m. The performance on Sunday, April 16 will include ASL interpretation.

Planning a trip to Louisville? Guests can use Louisville Tourism's annual Visitor Guide to help plan an itinerary around Louisville's top experiences. Travelers also can get attraction, lodging and dining assistance at www.gotolouisville.com.