A Very Harry Fall in Louisville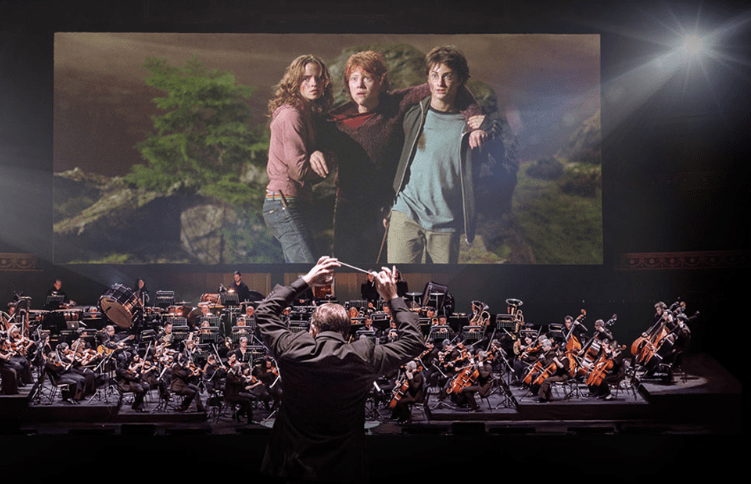 LOUISVILLE, Ky. (Nov. 2, 2018) -- It's been over a decade since J.K. Rowling published the final instalment of the world-renowned Harry Potter children's book series. This Fall, Louisville seems to have re-discovered the magic with a variety of Harry Potter themed activities for all ages starting this Saturday.
EVENTS
November 3rd & 4th @ The Kentucky Center
Louisville Orchestra presents Harry Potter and the Prisoner of Azkaban in Concert
Relive the magic of your favorite wizard in Harry Potter and the Prisoner of Azkaban™- in Concert. Based on the third installment of J.K. Rowling's classic saga, this thrilling movie is accompanied by the music of a live symphony orchestra as Harry soars across the big screen.
In their third year at Hogwarts, Harry, Ron, and Hermione meet escaped prisoner Sirius Black and learn to handle a half-horse/half-eagle Hippogriff, repel shape-shifting Boggarts, and master the art of Divination. Harry must also withstand soul-sucking Dementors, outsmart a dangerous werewolf, and deal with the truth about Sirius and his relationship to Harry and his parents.
Tickets: http://www.kentuckycenter.org/all-shows/harry-potter-3-in-concert
November 8th @ Mercury Ballroom
Wizard Fest
Fans of all things magic, witches, sorcerers and the half-blood prince will need to make a special trip to Alley for a fresh pair of dress robes because Wizard Fest is flying into town.
The evening will include trivia, drink specials, magicians, music and cosplay. The best dressed will also have a chance to enter the Costume Contest for cash and prizes.
Along with the DJ and dancing, there will be a special Quidditch Pong Tournament, the reward also being cash and prizes. Special themed drinks will be served all night long to keep the potions flowing.
Tickets: https://concerts1.livenation.com/event/16005510D2D4B403?_ga=2.7687733.628951995.1541178372-267930459.1538401612
November 11th and 18th @ Fork & Barrel
Harry Potter Brunch
Calling all Muggles & Wizards…Fork & Barrel is transforming into the Wizarding World of Harry Potter! We are creating magical dishes from our brunch menu along with a few of Harry's favorites like Butter Beer and Treacle Tarts.
Make a Reservation: http://www.bethefork.com/reservations/
December 8th @ ODEON
Patronus Ball 2018
Calling all witches and wizards! Are you a Potterhead who loves animals? Grab your dress robes and wands and prepare for a night of magic! Featuring common rooms for every Hogwarts house, Diagon Alley with local vendors, live music, a DJ and VIP perks. Dress to impress and represent your house, patronus, favorite character or the snazziest magical version of yourself. Not only are we conjuring a one-of-a-kind evening of spells and spirits, we're also raising money to help our furry friends at The Arrow Fund (https://www.facebook.com/TheArrowFund/) in their mission to rehabilitate severe cases of animal abuse and neglect. Grab your tickets today.
Tickets: https://louisvilletickets.com/events/patronus-ball-2018
December 21st @ The Louisville Palace
Yule Ball
Louisville Witches and Wizards are cordially invited to celebrate a Magical Evening at the Louisville Palace's Yule Ball! Wands and Dress robes are encouraged for formal Yule Ball Waltz Dance Lessons. Then, let loose with Louisville's own, Delighters, for a rock performance featuring renditions of musical hits from the movie. Grab a butter beer and be dazzled by magical act David Garrard. Go the extra mile and be a part of Dumbledore's Army VIP experience and have dinner with us in the Room of Requirement! This event will be the most magical event of the year!
On first impression, guests will walk into the lobby and find it transformed into The Great Hall, festively decorated into a winter wonderland complete with gargoyles, floating candles, and flying snitches. Roam around a bit and find yourself in Diagon Alley where you may peruse through the Renaissance Science, Magic, and Medicine in Harry Potter's World Exhibit or visit with live owls, snakes, and toads. Or stop by for a palm reading by Professor Trelawney, take your Azkaban mug shot and hang with your favorite character before you head off to the Horcrux Hunt!
Tickets: https://www.universe.com/events/yule-ball-a-magical-evening-at-the-louisville-palace-tickets-louisville-6PSXZL
end