A Sure Bet: Fine Dining at the Track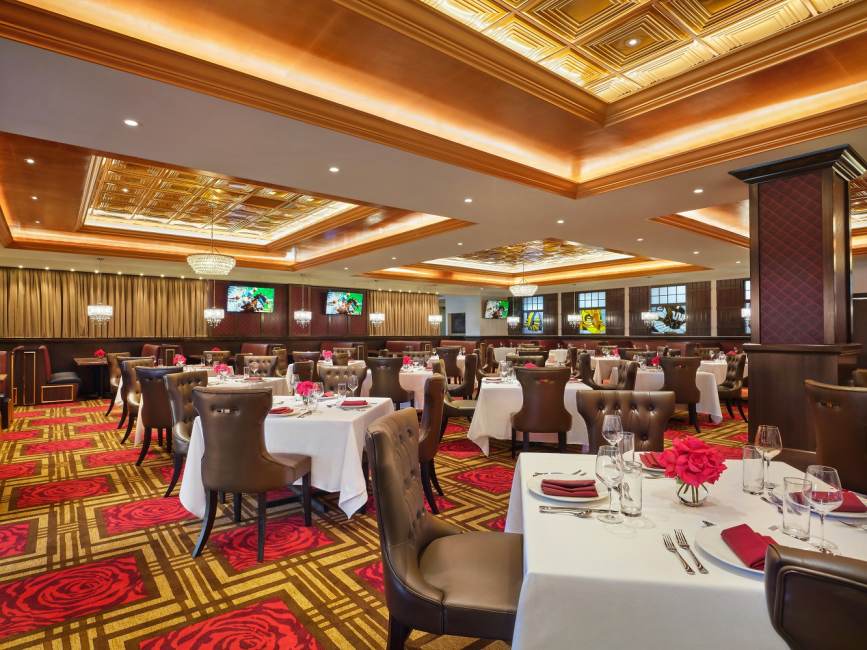 Churchill Downs opens year 'round steakhouse
Louisville, KY (November 2, 2020) – Regardless of whether there is live racing or not, you can bet on fine dining at Churchill Downs Racetrack with the opening of Matt Winn's Steakhouse. The onsite restaurant was part of an $11 million renovation that transformed the sixth floor of Millionaires Row into a fine dining experience to be open year-round.

The steakhouse is named in honor of Col. Martin J. "Matt" Winn, who served as president of Churchill Downs Racetrack from 1902 to 1949 and is credited as the driving force in the evolution of the Kentucky Derby to the international sporting and cultural event it is today.

The 350-seat dining room offers a unique guest experience, overlooking the track's finishline with a mix of tables and chairs as well as soft-seating 'carriage houses.' The menu is orchestrated by Churchill Downs Executive Chef David Danielson and features prime steaks and fresh seafood alongside well-regarded wines and whiskeys.

Unlike other dining areas at Churchill Downs that primarily serve live racing, Matt Winn's will operate as a traditional fine dining restaurant, open Wednesday-Saturday from 5 p.m. to 10 p.m. year-round. Dining during Kentucky Derby week, Downs After Dark race dates and Thanksgiving Day will be sold as a premium racing ticket.

"Any time that we build or renovate, we focus on improving the guest experience while always trying to stay connected to Churchill Downs' history," said Churchill Downs President Kevin Flanery. "I'm excited that Matt Winn's will boast an exquisite food and beverage program, while also celebrating the enduring and continuing legacy of the Kentucky Derby all year."

Dinner reservations for Matt Winn's are now available at mattwinnsteakhouse.com, or by calling (833) 4-MWSTEAK. Tickets for seating during Kentucky Derby Week, Downs After Dark or Thanksgiving can be purchased by calling the Churchill Downs Ticket Office at (502) 636-4450.