19th Century Whiskey Demos at Locust Grove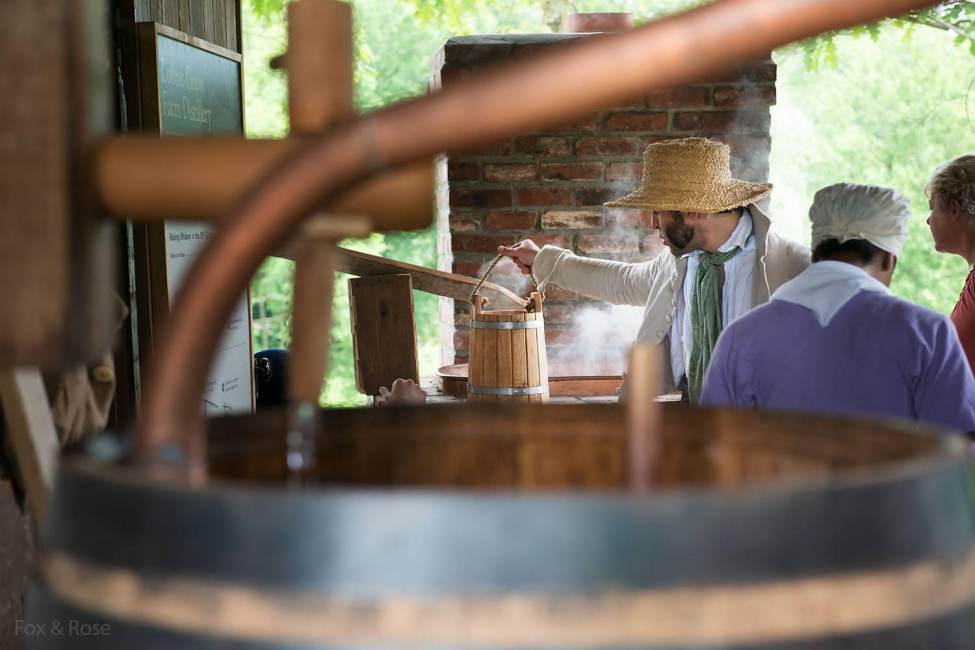 Historic Locust Grove announces a year of distillery programming
Louisville - Historic Locust Grove is pleased to announce upcoming distillery programming on the reproduction farm distillery found at the 55-acre National Historic Landmark. On six days throughout the year, beginning on March 7,
visitors will be able to experience the sights, smells, and sounds of whiskey-mashing in the early 19th century with Farm Distillery Days at Locust Grove. The Farm Distillery at Locust Grove represents the small farm-scale distilling activities of early Kentucky, before mass production. Making whiskey from excess corn and other grains was one of the best ways to preserve the crop and was almost universally done on Kentucky farms like Locust Grove. Kentucky's whiskey had not yet developed into the now distinct product of Bourbon. While some of the elements were there, Locust Grove's whiskey was likely white and unaged, never having touched the inside of a barrel.

Locust Grove's farm distillery uses a period-style log building to demonstrate the role of distilling in early Kentucky through exhibits, first-person interpreter programs, and demonstrations. Distilling was often the work of enslaved workers, especially women, and this part of the story will be explored as well. The exhibit is educational in nature and will not produce spirits.


During Farm Distillery Days, guests will see the steps of mashing—boiling water; cooking grains such as corn, wheat, and malted barley; and stirring the mash to mix the grains and aid cooling. The mash bill, or grain recipe, used each time will be based off what was available to farmers in this region when making whiskey in the early 19th century. Guests are welcome to stay for the entire day of mashing or to stop by and see part of the process while learning about the small farm economy and crop production and preservation in early 19th
century Kentucky.

Brian Cushing, Locust Grove's Program Director, has overseen the farm distillery at Locust Grove for the past three years. According to Cushing, "the number of people with unique talents and connections that have become passionate about Locust Grove's early 19th century small farm distillery and contributed their time is what has really made this project something special that visitors won't quite get anywhere else."

Farm Distillery Days at Locust Grove is the culmination and continuation of several years of research and building partnerships with Oldham County distillery Kentucky Artisan Distillery, Master Distiller Alan Bishop of Spirits of French Lick in Indiana, consultant Andrea Meriwether, and the African American Theater Program at the University of Louisville.

"Locust Grove's farm distillery program offers those visiting Bourbon Country to see things as they were prior to the rise of industrialized distillation, a story that has really never been told in an actionable and realistic way and one which highlights the agrarian and cultural roots of the Kentucky and indeed Ohio Valley distilling heritage," remarks Alan Bishop, Master Distillery of Spirits of French Lick who has consulted on the project. "For me this is distilling and education the way it should be seen, from the roots up."

The final steps of fermentation and distillation will take place at the facility of Kentucky Artisan Distillery in Crestwood, KY.

"All of us here at Kentucky Artisan Distillery are very honored to be part of the distilling projects with Locust Grove," states Chris Miller, General Manager at Kentucky Artisan Distillery. "With all the distilleries here in Kentucky, most Kentuckians understand the modern methods of distilling. They now will have the opportunity to see how whiskey was made during the early years Kentucky."

Cushing is grateful for the expertise of Alan Bishop and the team at Kentucky Artisan Distillery, noting that "everyone involved here in the 21st century has brought a piece of the puzzle to the table to paint a more complete picture of distilling in the early 19th
century. We are all excited to keep digging into this project's potential and look forward to bringing our guests along with us on the journey."

The first Farm Distillery Day will take place at Locust Grove on Saturday, March 7 from 10:00 am – 4:30 pm. Admission will be $9 for adults, $8 for seniors, $4 for children 6 – 12 years, and free for under 6. Admission includes a tour of the historic house and outbuildings. Farm Distillery Days will also be held on Saturday, April 18, Saturday, May 30, Saturday, September 5, Saturday, October 24 and Saturday, November 14. Group tours of the farm distillery may also be scheduled by emailing bcushing@locustgrove.org.

For more information about the Farm Distillery at Locust Grove, please visit http://locustgrove.org/the-farm-distillery-project/.

Locust Grove is located at 561 Blankenbaker Lane (between Brownsboro Road and River Road), Louisville, KY 40207. For more information call 502.897.9845 or visit www.locustgrove.org.

For more information about these events, please contact Hannah Zimmerman, Marketing and Communications Director, at marketing@locustgrove.org
or call 502.897.9845 x108.