Love The Hungry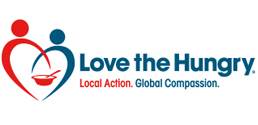 Website:
http://lovethehungry.org/
Address:
4209 Gardiner View Avenue Louisville, Kentucky 40213
About A Love the Hungry™ packing event is fun, family-friendly, and meaningful. Join us today and help bring nourishment and hope to children worldwide! Company Overview Established in 2011, Love the Hungry (formerly Kids Against Hunger-Louisville) engages volunteers of all ages in packaging the Nutri-Plenty™ meal. The meal contains M+ Micronutrients™ - a scientifically-proven blend of 21 vitamins and minerals shown to help alleviate and reverse the effects of malnutrition in young children. General Information A Love the Hungry™ packing event provides a family-friendly experience for volunteers of all ages that is both fun and meaningful. Schools, churches, businesses, and other community groups may sponsor an event. At a cost of just 25 cents per meal, your organization mobilizes volunteers and helps determine where the meals will be distributed.