Brightside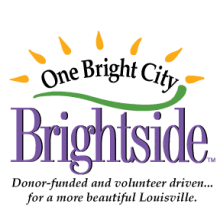 Partner Capacity:
100
Website:
https://louisvilleky.gov/government/brightside
Address:
527 W Jefferson St; Ste 606 Louisville KY 40202
"Brightside is dedicated to uniting people in clean and green activities that beautify and foster pride in our community through volunteerism, planting, sustainability, & education." Donor funded and volunteer driven since 1986, Brightside works to unite people in clean and green activities to beautify the city and foster community pride. We believe that a clean and green city promotes a high quality of life, which is deserved by all citizens. Volunteers and community engagement are essential to Brightside's core values. Our community-wide clean-ups have empowered thousands of volunteers to help remove litter though our city. In 2014 alone, our clean-ups removed over 39 tons of garbage from Louisville's streets and parks. That is equivalent to the total amount of trash produced by 50 Americans for an entire year! Brightside promotes sustainability through our long-standing education programs that spread our mission to future generations and prepare for a brighter tomorrow, while our green living program advocates and educates about everyday sustainable living practices. Our Brightsites and planting projects strengthen and support our native eco-system and tree canopy, while encouraging community involvement, pride in place, and economic development.