Bourbon City is All Aglow: Explore Louisville's Spectacular Holiday Lights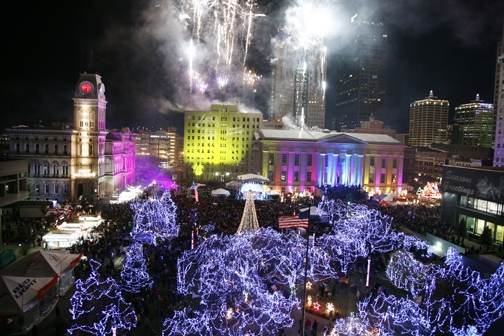 As winter blankets Louisville, Kentucky, the city undergoes a mesmerizing transformation. Streets and neighborhoods come alive with a warm and inviting glow, heralding the arrival of the holiday season and National Christmas Lights Day on December 1. From a subterranean light show to the numerous dazzling displays around town, Louisville's holiday lights are nothing short of enchanting. So, bundle up, grab a cup of hot cocoa, and let's embark on a journey through some of the twinkling light displays that promise to brighten the season.
Festival of Trees & Lights | Louisville Slugger Field
November 10-12, 2023
Celebrating 34 years, marvel at hundreds of holiday trees and lights displays at Louisville Slugger Field during the Festival of Trees & Lights.
Lights Under Louisville | Louisville Mega Cavern
November 10, 2023-January 1, 2024
The only underground holiday light show in the world is right in the heart of Bourbon City. As you drive through this manmade limestone cavern, you'll pass by more than 6.5 million points of light and 40+ illuminated displays, drive through light tunnels, and enjoy holiday music for a unique experience that will immerse you in holiday cheer.
Lights on Main | Frazier History Museum
November 22, 2023-January 7, 2024
All three floors of the Frazier History Museum are turning into a dazzling display of holiday lights and décor for the annual Lights on Main event with trees decorated by local businesses and groups.
Yuletide | Yew Dell Gardens
November 24 & 25; December 1, 2, 8, 9, 15, 16
"Yule" savor snacks and hot drinks as you say hi to Santa, enjoy the holiday-themed model train, and be dazzled by the lights and holiday displays throughout the garden at this annual wintertime celebration.
Gardens Aglimmer | Waterfront Botanical Garden
December 1, 2, 7, 8, 9, 10, 14-23, & 27-30
Bundle up and grab a hot chocolate to keep you warm as you stroll through twinkling archways, larger than life illuminations throughout the annual Gardens Aglimmer at Waterfront Botanical Gardens.
Bardstown Road Aglow | Bardstown Road
December 2, 2023
The most eclectic street in Louisville is a dazzling display of holiday lights and festive fun during the 38th Annual Bardstown Road Aglow. Enjoy holiday cocktails or cocoa, shopping, and live holiday music throughout the evening.
Light Up Louisville | Corner of 6th & Jefferson Streets
December 2
For more than 40 years, Light Up Louisville has helped usher in the holiday season in Bourbon City. This year's event kicks off with the Lots of Lights Parade followed by the annual lighting of the tree.
---
Looking for local places to do your holiday shopping? Check out these upcoming shopping events. Or check out these upcoming holiday events taking place around town.
Be sure to subscribe to our email newsletters for the latest updates on news and events.