Halloween Haunts + Happenings in Louisville
It's time for some Halloween fun in Louisville this October! Check out some of the "spooktacular" events taking place around town from haunted houses to haunted tours.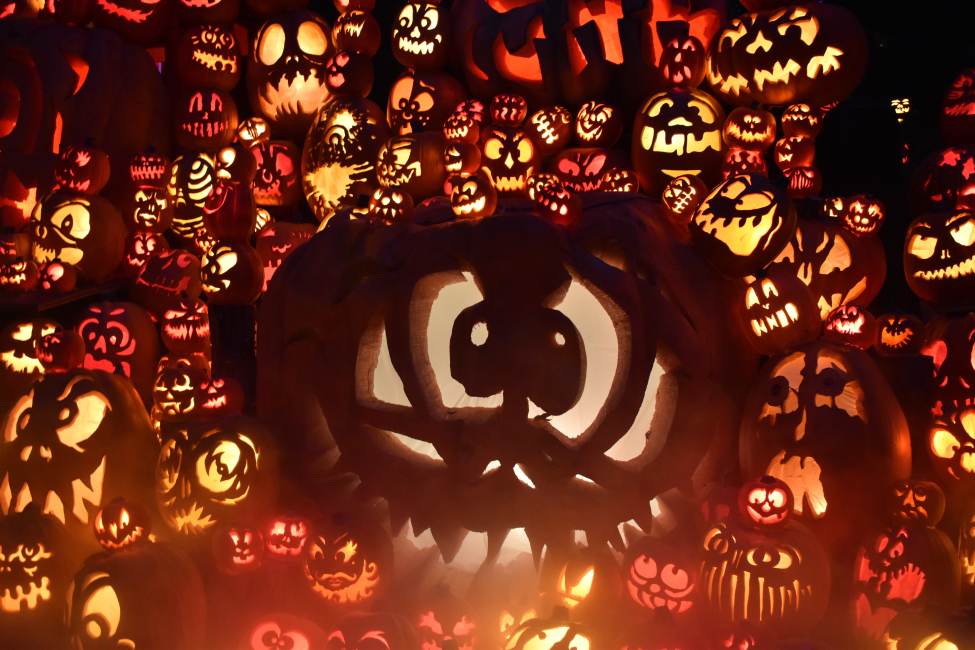 Events
Haunted Hotel | Weekends, September & October
Come see why the Haunted Hotel is Louisville's longest-standing and scariest Halloween attraction when the hotel takes you into your worst nightmare.
The American Horroplex | Fridays & Saturdays, September 15-November 4
Walk through the rusted and ramshackle gates to enter the Louisville area's award-winning haunted attraction: The American Horrorplex! Screams fill the air as you wait your turn to explore the haunted halls, wander through a maze of maniacs, and try to escape with your mind and soul intact. Terror waits around every corner at The American Horrorplex where the cure is the disease.
Baxter Avenue Morgue | Weekends, September 22-October 29 & October 31
For over 20 years, the Baxter Avenue Morgue has provided just the right amount of scary frights mixed with theatrical sights. Not to worry, if you get scared, there are doors throughout for a quick escape.
Pumpkins at Kentucky Kingdom | September 30-October 29
Watch the park transform after dark into a whimsical wonderland filled with towering expertly carved pumpkin sculptures that light up the night with special effects and pops of color, in addition to family-friendly entertainment, photo opportunities, trick-or-treating, and much more.
Halloween on Hillcrest | Nightly in October
Stroll along Hillcrest Avenue, in Louisville's quaint Crescent Hill neighborhood, to see the best display of Halloween decorations in town – you'll have a chance to chat with the locals as they sit on their front porches to enjoy the parade of onlookers. On October 31 from 5 to 9 pm, the houses along the street will be handing goodies to trick-or-treaters.
17th Annual Haunted Hike | October 1
The Haunted Hike is the most popular Creasey Mahan Nature Preserve event and should not be missed! This is a great day to debut your family's Halloween costumes, collect A LOT of candy, and have a blast of a time in a beautiful setting.
Norton Sports Health 4-Miler at Jack O'Lantern Spectacular | October 2
This family-friendly course begins at Iroquois Park's amphitheater before winding through a section of the Jack O' Lantern Spectacular trail towards the finish line. Enjoy an evening running or walking past the illuminated pumpkins before the event opens to the public.
Jack O' Lantern Spectacular | October 3-31
Stroll along a 1/3-mile path to enjoy over 5,000 carved pumpkins illuminated every evening through the depths of Louisville's Iroquois Park.
Dream Within a Dream: A Journey with Edgar Allan Poe | October 4-7
Gothic, ghastly and grim tales by 19th-century poet and author, Edgar Allan Poe, await this Halloween season during a two-hour cruise aboard the historic Belle of Louisville. Music and sounds by Rhythm Science Sound help set the stage for a moody and macabre evening.
The Woman in Black | October 4-29, 2023
Believing a curse has been cast over him and his family, a lawyer seeks the help of a young actor to tell a terrifying story that has gripped his soul. What begins innocently soon turns into a dark and eerie spin-chiller. Kentucky Shakespeare brings to life the ghost story that has kept London's West End on the edge of its seat for 33 years!
Ghosts on the River | October 13
Be prepared to come face-to-face with ghosts and apparitions—real and imagined—when you step aboard the 108-year-old haunted steamer Belle of Louisville. Seeing becomes believing with a ghost hunt in the Boiler Room below deck, capturing ghostly images on camera, tarot card readings, costume contests and so much more.
HalloQueen Fest | October 13 & 14
The 5th Annual HalloQueen Fest is a PRIDE Halloween Street Fair, taking place at American Horroplex, features family-friendly entertainment, 40+ vendor booths and enjoyable savory eats.
Haunting: A Lamplit Tour | October 13-15
The shadows grow longer as the sun sets as you are guided by the glow of lamps through the Conrad-Caldwell House Museum for a special tour exploring the Victorian mourning traditions of Louisville's Gilded Age, those who have passed in the home throughout its history, and lingering spirits that still be around today.
Jack O'Lantern Stroll, Dreams with Wings | October 20
For one night only, stroll among over 1,000 carve pumpkins that illuminate the night, trick-or-treat, play fun games, meet University of Louisville athletes and mascots, and live music through the evening.
Halloween Parade & Festival | October 26-29
Taking over Lynn Family Stadium, the Halloween Parade & Festival, enjoy four days filled with fun zone, live music, balloon rides, haunted houses, costume contests and more.

Halloween Bar Crawl | October 27 & 28
Beginning at Baxter's 942 Bar & Grill, this spooky adventure crawl will take you to over 5 venues along Bardstown Road, all leading to a crazy after-party back at Baxter's 942 Bar & Grill. Be sure to wear your best Halloween outfit for a chance to win the $1000 costume contest.
Pumpkin Spice 5k Run/Walk | October 28
Don your Halloween costume for a leisurely foliage-filled 5k run/walk in Cherokee Park. Participants are encouraged to bring their pets in costume for the pet parade and costume contest. Coffee and treats (for humans and dogs) await at the finish line.
Genevieve Strut | October 28
Enter or stop by Hotel Genevieve's Genevieve Strut between 11am – 2pm to see adorable dogs in costumes, a fabulous canine couture runway show, booze and bones, and paw-tastic vendors & prizes. Proceeds from the event will be donated to The Arrow Fund, a local nonprofit that provides veterinary treatment, fostering, and rehoming of animals who have been victims of extreme torture, abuse, or neglect. The event is free to attend, and $10 to enter the costume contest if you decided to bring your furry friend.
Trick Or Treat at The Track | October 29
Little ghouls and goblins are invited to trick-or-treat under the Twin Spires for a fun family evening with live racing and more than 15 kid-friendly activities to enjoy, like face painting and bounce houses.
Halloween Kids Cruise | October 29
Lift your spirits this spooky season and treat the family to a Halloween Kids Cruise! Aboard the historic steamer Belle of Louisville, guests will have the opportunity to explore the 109-year-old vessel, as well as participate in other fa-BOO-lous activities, including Halloween-themed crafts, a trick-or-treat train and a dance party! Costumes are encouraged for this Halloween cruise, but not required.
---
Tours
Victorian Ghost Walk | October 20-22
For three days only, meet a cast of real-life characters who return from the grave annually to tell their stories that have helped make Old Louisville America's Most Haunted Neighborhood.

Louisville Ghost Tours | Nightly through November
Once named one of the most haunted neighborhoods in America, Old Louisville is home to the most extensive collection of Victorian-era mansions in the United States. Take a stroll through this historic neighborhood past paranormal hotspots like The Pink Palace, First Church Christ Scientist, or Witches Tree.
Phantoms of the Prohibition: Ghosts, Cocktails & Bites Tour | Weekly, Wed.-Fri.
Uncover the hidden stories of Louisville's haunted past. Meet resident ghosts throughout downtown as you eat and sip your way down Whiskey Row. Trace the footsteps of the bourbon barons and mobsters, find hidden speakeasies, see where Al Capone's played poke and his secret escape door, and the truth about Prohibition.

Louisville Ghost Walking Tours | Every Friday Night
Join Mr. Ghost Walker on a spirited, 100-minute walk among the famous addresses around downtown Louisville. Explore famous buildings, landmarks and haunted alleyways.

Louisville Haunted Tour | Nightly in October
This 90-minute walking tour will take you down the shadow-filled streets of downtown Louisville where you will learn the dark mysteries and supernatural experiences of some of the most haunted landmarks in the city.

Waverly Hills Sanatorium | Seasonal Tours
Named one of the Most Haunted Destinations in the U.S. by USA Today 10Best in 2020 & 2021, take a tour of this defunct Tuberculosis hospital is said to have seen nearly 50,000 deaths.
Unveiling The Mysteries: Louisville Ghost Tours | Multiple Tour Options & Tour Dates
Founded in 1778, Louisville is famous for the Kentucky Derby, and the Louisville Slugger Bat. Plus, the home of many legendary Americans such as Muhammad Ali, Hunter S. Thompson, and Tom Cruise. This rich history also includes a supernatural element to explore and thrilling ghost tours to experience. Tour options include:
Old Louisville Ghost Tour
Melancholy and Mourning Walking Tour (Adults-only)
Derby City Ghosts Dark History Haunted Tour
---
Other Spectral Spots
Cave Hill Cemetery
Established in 1848, Cave Hill is a Victorian-era graveyard that is the final resting place for many famous Louisvillians and Bourbon industry barons, as well as Civil War soldiers from both the Union and Confederate Armies. The most common spectral sightings have been disembodied whispers and glowing green orbs. Please note: If planning to visit, please be respectful as Cave Hill is an active cemetery and arboretum. Gates close at 4:45 pm.
Louisville Palace
Since opening in 1928, several spirits have been spotted roaming the theatre including a gentleman in 1930s clothing in the lobby, a woman in 1940s attire on the grand staircase, and a young child giggling in one of the restrooms.

---
Hotel
The Seelbach Hilton Hotel
Opening in 1905, the Seelbach Hotel is Louisville's oldest operating hotel. The most common ghost sighting at the Seelbach is that of the "Lady in Blue." It's rumored that in the late 1930s, a woman died in an elevator shaft after learning that her husband was killed on his way to the hotel. She was said to be wearing a long blue chiffon dress and had long, dark hair at the time of her death. Recent investigations seem to think that maybe the Lady in Blue didn't jump down the elevator shaft but was pushed, and she haunts the hotel to this day, trying to get the story straight.

Eat + Drink
End your ghost adventures with dinner or a drink at these spots around town that have reported seeing spectral images.

Bristol Bar & Grill- Downtown
The English Grill at the Brown Hotel
The Old Spaghetti Factory
Captain's Quarters Riverside Grille

3rd Turn Brewery, Jeffersontown
Pizza Lupo
Bae's Baekery, Frankfort Avenue
Hilltop Tavern
Meta
Joe's Older Than Dirt
Spring Street Bar & Grill
The Silver Dollar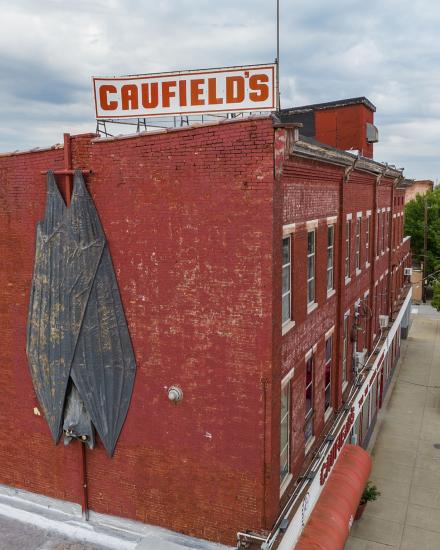 Shopping
Caufield's Novelties has provided novelties of all kinds to locals for over 100 years. Originally opened as a photography studio in 1915, customers could buy practical joke items to keep themselves occupied while they waited. Eventually the novelties outpaced the photography business, and in 1920 Caufield's Novelty was founded and is the number 1 Halloween shopping spot in Louisville with a cadillac hearse and the World's Largest Bat outside welcoming guests and a small haunted house inside to explore.
Butcher Cabin Books is a horror-themed book and gift store from a local mother and daughter duo. The shop will carry both well-known writers like Stephen King and works by independent writers, and ghoulishly-themed gifts. The store is easy to spot along Barret Avenue with the vibrant red paint dripping down from the roof.

Halloween Life offers great things beyond Halloween by offering curiosities, oddities, horror and a touch of the dark side.
---