Five cocktails to fall for this Thanksgiving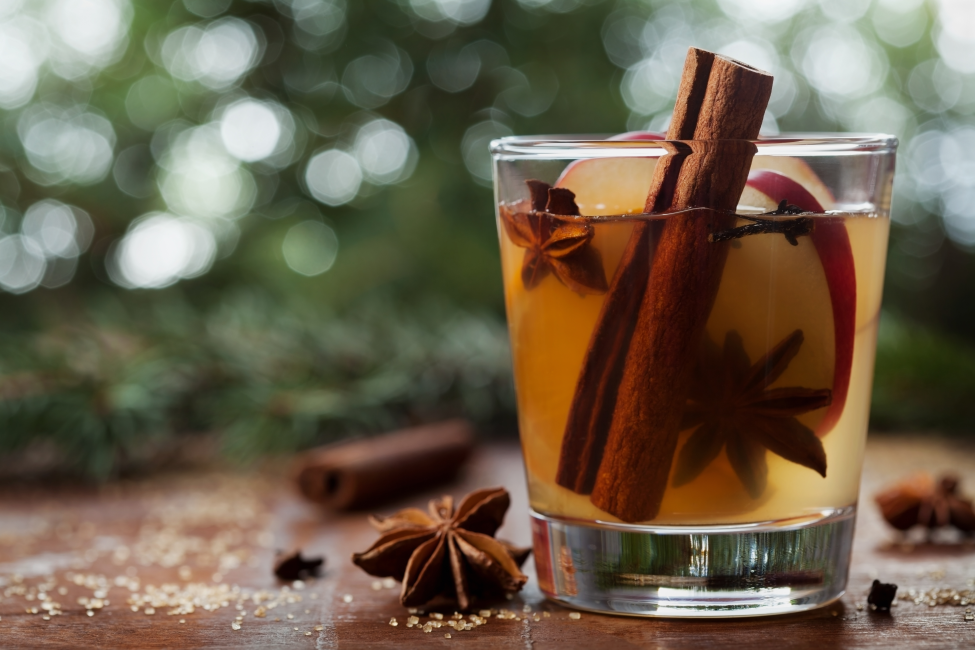 The traditional flavors of fall, from apples and pecans to the much celebrated pumpkin spice, pair beautifully with America's native spirit. In Louisville, we can't think of a better way to celebrate the contribution of the original "maize" to our Thanksgiving table than with a well-made Bourbon cocktail. Louisville's Urban Bourbon Trail is mixing up a bounty of seasonal cocktails, but if you're not in town this fall, here are five to try at home from our culinary web series, Bourbon & Biscuits.
Click the cocktail names to watch the full Bourbon & Biscuits episode.
Bourbon Apple Pie

• 1.5 ounces Bourbon (wheated preferably)
• 1 ounce fresh apple cider
• ½ ounce cinnamon schnapps
• ¼ ounce fresh squeezed lemon juice
• 3-4 dashes black walnut bitters
• Apple slices for garnish

Add all ingredients to a cocktail shaker with ice and shake. Strain into a coupe glass. Garnish with an apple slice.
Pecan Manhattan

• 2 ounces Bourbon
• 1 ounce Rivulet (pecan liqueur)
• 2-3 dashes orange bitters
• 2 bourbon soaked cherries

Add all ingredients to a mixing glass and stir with ice until chilled throughout. Strain into a coupe glass. Garnish with bourbon soaked cherries.
Fall Fashioned

• 1 peeled fresh apple slice
• 3 dashes black walnut bitters
• ½ ounce brown sugar simple syrup
• 2 ounces Apple cinnamon infused Bourbon – (fill mason jar ¾ full with dried apples, add two cinnamon sticks, fill with bourbon and let sit 4-14 days)

Muddle the apple, bitters and simple syrup in the bottom of a rocks glass. Add the bourbon and a large ice cube. Stir to chill and garnish with a cinnamon stick and apple slice.
Hot Toddy

• 1.5 ounces Bourbon
• ½ ounce Lemon Juice
• 2-3 teaspoons Honey (to taste)
• Cinnamon Stick
• Lemon Wedge
Add bourbon and lemon juice to a mug and then fill with simmering water. Stir thoroughly to dissolve the honey and garnish with a lemon wedge and a cinnamon stick.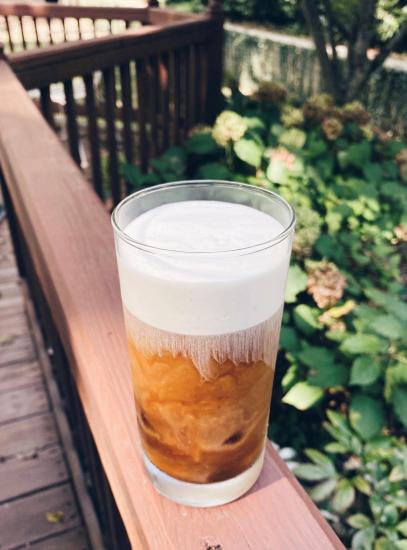 Pumpkin Spice KY Cold Brew

Pumpkin Spice Syrup

• ¾ cup dark brown sugar
• 1 cup white granulated sugar
• ¼ cup canned pumpkin (pureed)
• 3 teaspoons pumpkin pie spice
• 1 tablespoon vanilla
• 1.5 cups water

Add everything to a saucepan and bring to a simmer (don't boil). Simmer for about 5 minutes. Strain the syrup to get out any solid pumpkin bits.

Pumpkin Spice Kentucky Cold Brew

• ½ cup heavy whipping cream
• 2 tbs. Pumpkin Spice Syrup
• 1 ounce Kentucky Bourbon
• Cold Brew coffee

Vigorously whip ½ cup heavy cream in a chilled bowl until thickened, but not as thick as whipped cream. Add 2 tbs. of pumpkin spice syrup – or to taste for sweetness.

In a pint glass add ice, 1 ounce of bourbon and top with cold brew coffee, leaving room at the top for a good amount of the cream mixture. Spoon cream mixture into glass to fill.
Find more cocktails, regional foods and local favorites here.