Culinary Louisville Three-Day Itinerary
Get to know Louisville through our food scene.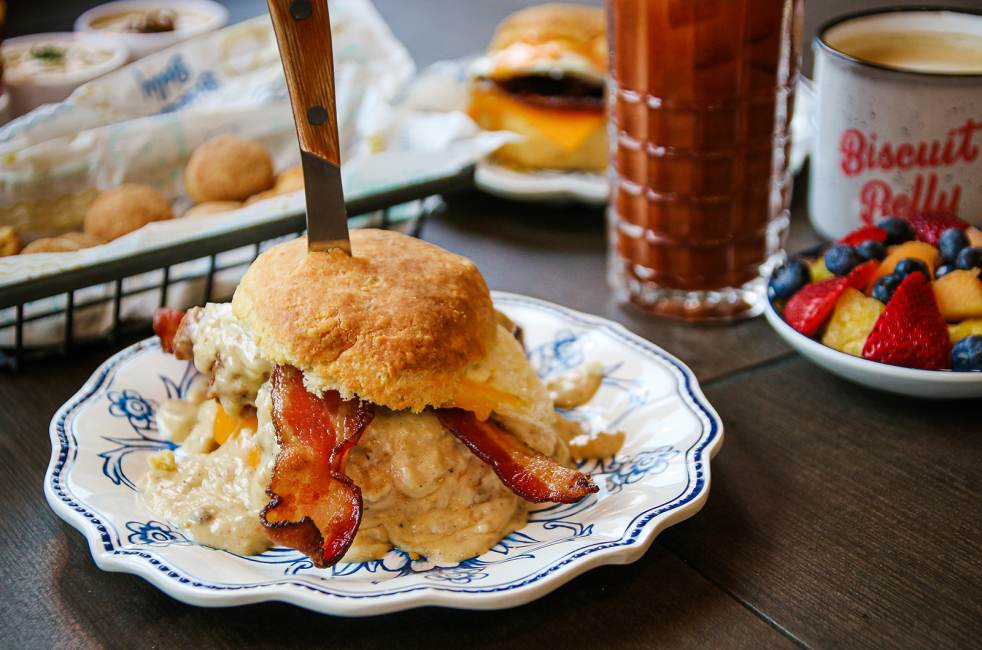 Day One
Morning:
Start your morning off with a Southern staple, biscuits, at Biscuit Belly in Nulu. Try the Gravy Train to sample two traditional Kentucky versions of gravy that you probably won't find outside of the state – Goetta & Chocolate. Goetta is a German-inspired meat and grain sausage that was made famous in Northern Kentucky. Chocolate Gravy is a dessert version made with cocoa powder.
Next, head down Main Street to the Frazier History Museum to experience their Cool Kentucky Exhibit. Learn how the original restaurant critic, Duncan Hines, helped promote the always-original Colonel Sanders at his startup café in North Corbin. And get a deep dive into the history of iconic Kentucky foods like Dippin' Dots® ice cream, the Hot Brown, Bourbon balls, and burgoo!
Then, it's time to visit Louisville's public market just south of downtown in the up-and-coming Smoketown Neighborhood. Logan Street Market is filled with local food vendors and merchants. They also host a seasonal outdoor farmers market and beer garden, and have a coffee shop, brewery, bar and wine shop serving up libations all day long. Snack on some of the city's best Latin-inspired food at Foko – helmed by James Beard nominated chef Paco Garcia, pick up a treat for your pet at Bourbon City Barkery, grab a jar of pickled veggies at Garden Girl Foods and browse the African baskets, chic boutiques and locally made artwork for sale in the upstairs mezzanine.
Afternoon:
When it comes to fried chicken, the Bluegrass state is legendary. After all, this is the birthplace of Kentucky Fried Chicken. You can find this deep-fried culinary goodness on the menu at many Louisville restaurants from fast to fancy. Head to Royal's Hot Chicken in the Nulu neighborhood for their version which ranges in spiciness levels from a non-spicy classic fried to Gonzo hot that'll knock your socks off! Cool things down with a bourbon slushy.
After lunch, walk down the street to Muth's Candies for Louisville's most famous candy – the Modjeska, a caramel-covered homemade marshmallow that was originally created in the 1800s and named for a famous Polish actress who performed in the city at that time. And, grab a few bourbon balls to go – it is Kentucky's most iconic candy, after all. Muth's version is the old fashioned style made with bourbon, pecans and fondant dipped in chocolate.
Next, you'll hop in the car for a quick drive to South Louisville and the Kentucky Derby Museum located at Churchill Downs. The Derby Museum lets visitors get a taste of Derby year-round. And while the Derby is primarily about the horse race – it's also about the pageantry and traditions involved – including Derby Pie® and the day's official cocktail, the Mint Julep. Sample both at the Derby Museum's Café.
Next, it's off to the Paristown neighborhood for a factory tour at Stoneware, one of the oldest stoneware manufacturers in the United States. Stoneware has been dedicated to the tradition and careful craftsmanship of transforming clay into enduring, functional art forms for the home, kitchen and garden since 1815.
Evening:
For dinner, it's time for Louisville's signature dish – the Hot Brown. The legendary, open-face sandwich, which is made from Texas toast, thick-sliced turkey, cheesy Mornay sauce, crisp bacon and tomatoes, all baked until bubbling hot, was born at the Brown Hotel in the 1920s to satiate late night revelers at the hotel's famous dinner & dance parties. It's been a legend ever since and can be found in different variations at restaurants all around Kentucky. Grab a table in the hotel's opulent art deco lobby bar and get whisked back in time to the golden age of the roaring 20s.
Cap off your evening with Louisville's Official Cocktail – the Old Fashioned. Invented at the Pendennis Club (a private club still operating in downtown Louisville) in the late 1880s, the old fashioned is an iconic pre-Prohibition cocktail with its roots in Bourbon City. A simple mixture of bourbon, bitters, sugar and usually an orange and cherry – you'll find a huge variety of signature versions along Louisville's Urban Bourbon Trail (a collection of the best bourbon bars in town). For a one-of-a-kind experience head down to Whiskey Row's Hell or High Water, a stunning speakeasy hidden behind a curiosities shop.
Day Two
Morning:
Head to the Schnitzelburg neighborhood for Nord's Bakery's famous Maple Bacon Donut (you'll even find it featured in a mural on the outside of the building for a fun photo opp!).
Next door, grab a fresh brewed coffee or espresso at one of Louisville's best coffee shops, Sunergos.In the Highlands neighborhood, visit a 296-acre Victorian-era National Cemetery and arboretum, Cave Hill, to see the final resting places of culinary & bourbon legends like "Colonel" Harlan Sanders and "Pappy" Van Winkle. Founded in 1848 as a rural, garden-style cemetery, Cave Hill was designed to follow the natural contours of the land on what was then the outskirts of Louisville. The landscape has been a continual source of beauty and inspiration to visitors, and the vitality of the arboretum, accented by memorials, provides an aesthetic balance of nature and art. As you walk or drive through, you can easily identify many of the unique trees. Be sure to look for signs affixed to certain trees that reveal common and botanical names and much more.
Afternoon:
For lunch, head to The Café for a Louisville specialty, Benedictine. This recipe was invented by Miss Jennie Benedict in a one-room kitchen in the family backyard around the turn of the 20th century and famously served it to Louisville high society and workers alike earning it her namesake years later. Now the scrumptious spread and finger sandwich filling is a menu must-have for any Kentucky host worth their salt. It's almost a guarantee that it will be served at baby and bridal showers in the Bluegrass, as well as Derby parties and spring luncheons. The Café's "Queen Anne" sandwich features their homemade Benedictine spread on artisan walnut wheat bread garnished with sliced cucumbers, bacon and lettuce.
Next, get a grain to glass education on America's Native Spirit and Kentucky's pride and joy, bourbon, at Kentucky Peerless Distillery on the edge of the Portland neighborhood. A family-owned operation, this whiskey brand has been revived in a state-of-the-art distillery that uses the finest ingredients. All under one roof the grains are milled, cooked, fermented, double distilled and barreled so that guests can experience every aspect of crafting bourbon and rye.

Evening:
Kick off happy hour at Garage Bar in the Nulu neighborhood. A casual neighborhood spot, Garage Bar is housed in a former auto garage with "crashing" muscle cars out front. Try one of their signature bourbon cocktails with a Kentucky country ham sampler. Kentucky country hams are typically salt-cured for one to three months, and then aged anywhere from several months to a couple of years, depending on the meat's fat content. Country hams are not fully cooked, but instead are preserved by the cure. What once was typically served thick cut as a breakfast or dinner entrée with a side of red-eye gravy, is now also seen sliced paper thin and served charcuterie style in many Louisville restaurants – rivaling some of the finest hams from Spain.
Continue on a progressive dinner journey down the street to Mayan Café. This local favorite serves traditional Mayan fare with locally sources ingredients and is home to one of Louisville's most beloved dishes – Tok Sel Lima Beans (just trust us, you need to try them to understand).Wrap up the culinary tour with dessert down the street at Louisville Cream – premium small batch ice cream with flavors like Bourbon Smoked Pecan, Coffee with Bourbon Cream and Banana Pudding.
Day Three
Morning:
For breakfast, head to a local staple, Blue Dog, for fresh pastries. Established in 1988, you'll find European style bread from this bakery all around town on restaurant menus and baguettes for sale at specialty shops. But, their pastries and breakfast items are not to be missed. Highlights include Kouign Amann and Pain au Chocolat or a breakfast pizza with poached eggs and bacon from their own farm.
Right down Frankfort Avenue pop into Bourbon Barrel Foods for barrel-aged Soy Sauce and bourbon barrel smoked spices. Established in 2006 as the U.S.'s only soy sauce microbrewery, Bourbon Barrel Foods has become a cornerstone in both the bourbon and gourmet foods industries. All of Bourbon Barrel Foods' products incorporate innovative uses of bourbon barrels and are crafted with care in small batches.
A short walk away, you'll find Urban Farmhouse Market – a small, unique home decor and furnishing shop oozing with Southern charm.
Then, hop over to Please & Thank You for a pick-me-up espresso – also home to, arguably, the best chocolate chip cookie in the world.
Afternoon:
Head downtown to stretch your legs on Waterfront Park's pedestrian-only Big Four Bridge. The old train bridge spans the Ohio River from downtown Louisville to Southern Indiana. The two-mile round-trip walk (from the bottom of the ramps on both sides of the river) will earn you the best views in the city of the Louisville Skyline. Stop in Southern Indiana for a craft beer at Red Yeti or ice cream at the Widows Walk
.Once you're back on the Kentucky side of the Big Four, make the short journey to one of Louisville's premier breweries, Against the Grain at Louisville Slugger Field. Louisville was once a major hub for brewing and the tradition that dates back to the late 1800s has made a resurgence in recent years with breweries popping up all over the city. ATG, as the locals call it, mixes in plenty of wit, attitude and good food with their beer. Try a "Kentucky Ryed Chicken" barrel-aged rye amber ale with their selection of house-smoked meats.
Evening:
Head to Louisville's Highlands neighborhood in the early evening to walk around for window shopping and people watching. This neighborhood is packed with boutiques, vintage stores, galleries, bars and restaurants. Stop by Kizito Cookies and Georgia's Sweet Potato Pie to grab desserts for later. Elizabeth Kizito is Louisville's cookie lady – often seen at Louisville Bats baseball games with a basket of cookies on her head. Georgia's is new to Bardstown Road, but their pies and compassionate mission have already made them favorites in town.
For dinner stay in the Highlands and head to the iconic Jack Fry's. A local favorite for special occasions, the restaurant was established in 1933 by Jack Fry and his wife, Flossie. Fry was known as a rambling, gambling kind of guy who loved amateur boxing and the race horses. As a result, Jack Fry's became a sportsman's hangout, as evidenced by the numerous historic photographs that fill the walls of the current Jack Fry's. He was also known to conduct his bookmaking and bootlegging affairs discreetly from "the back room". The restaurant is now known for its old-world ambiance, live piano music and exceptional service. Try the Spicy Fried Oysters, Brie Kentucky Bibb Salad, Herbed Breadcrumb Encrusted Pork Chop and Chocolate Chess Pie for upscale versions of regional dishes.
If you're not ready to call it a night just yet, head down the street a few blocks to Irish Hill where you'll find several of Louisville's Irish bars and nighttime hotspots including Molly Malone's, O'Shea's and Flanagan's.