Best Fall Activities in Louisville
From cruising the country's oldest steamboat, to visiting a family of forest giants, Louisville is a must see for road trips this Fall.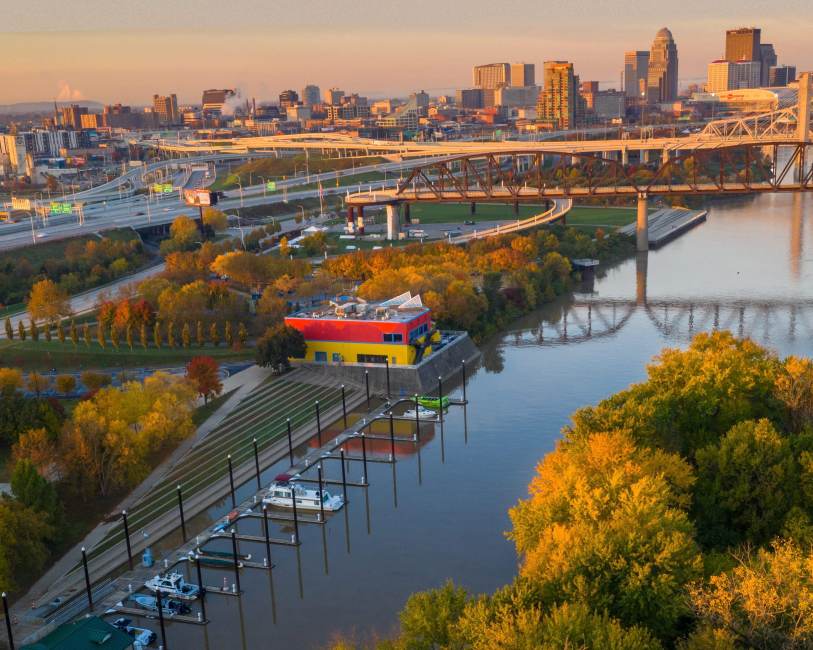 Recently named one of the "Top 8 Destinations for Fall Colors in the US" by Lonely Planet, Louisville hosts a variety of sights and activities for you to explore this Fall. From cruising the country's oldest steamboat, to visiting a family of forest giants, the city is conveniently located within a day's drive of over half the U.S. population, and the perfect destination for a Fall road trip. Below are just some of the ways we recommend you spend your time while visiting the city this Fall.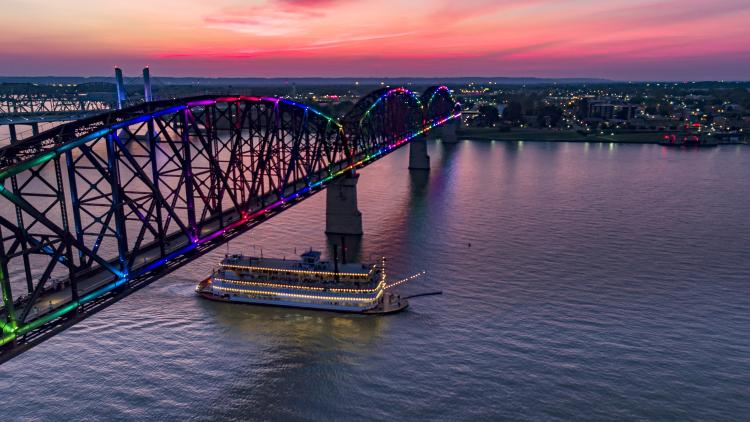 Built in 1914, the Belle of Louisville is known as the oldest operating steamboat in the U.S. and is one of the last remaining vessels of its era. With three floors to explore, visitors can check out the engine room in the lower levels, dine and dance in the enclosed ballroom, or relax overlooking the river on an open-air deck. Book a dinner cruise to catch a colorful sunset or go during lunch to see the river-side fall foliage in full light. If you don't catch a ride on the Belle before she hangs up her paddlewheel towards the end of every October, you can still hitch a ride on her sister riverboat the Mary M. Miller, who is named after the first ever female steamboat captain.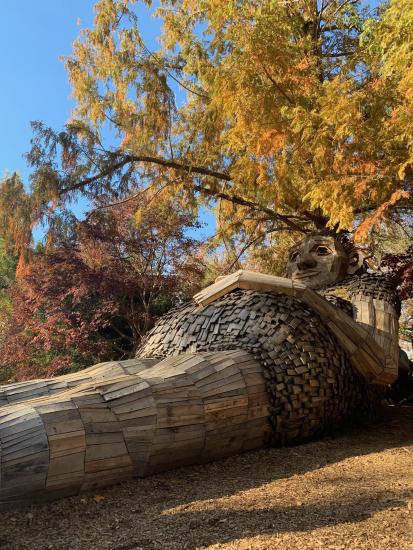 Bernheim Arboretum and Research Forest
With over 16,000 acres to roam, there is adventure waiting for everyone in this stunning arboretum and forest located just south of Louisville. Forty miles of hiking and biking trails are available through the knobs, valleys, ridges and hollows of this Frederick Law Olmsted planned park. However, you only need to walk two miles to see the Forest Giants created by Danish artist Thomas Dambo. These three larger-than-life sculptures are temporary fixtures at Bernheim, but a must-see when venturing out this Fall.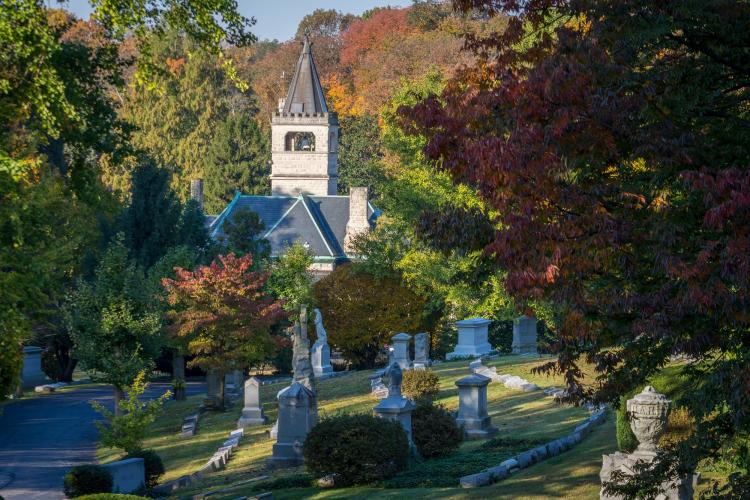 Another arboretum, albeit a somewhat spookier option, is the Cave Hill Cemetery and Arboretum located in the eclectic Highlands neighborhood. This 296-acre Victorian burial ground offers visitors beauty, history and plenty trees to ogle while exploring Louisville this Fall. Cave Hill, which is the city's largest cemetery, is also home to the final resting place of iconic Kentucky figures such as Colonel Sanders, Muhammad Ali, Pappy Van Winkle, and George Rogers Clark.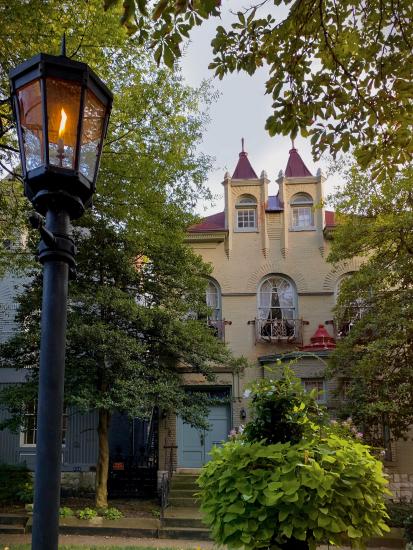 Located just south of downtown Louisville you will find Old Louisville, one of the city's most historic neighborhoods. With the largest collection of Victorian-era mansions in the U.S. spread over forty-eight city blocks, Old Louisville comes with architectural beauty, plenty of history, and a reputation for paranormal activity. This 90-minute guided walking tour will lead you through the neighborhood past frightening favorites such as the Witches Tree and Pink Palace, as well as a few lesser known haunted homes. The tour is based on Louisville local David Dominé's book, True Ghost Stories and Eerie Legends from America's Most Haunted Neighborhood. Louisville Ghost Tours can be booked online between March 15 - November 15, kicking off nightly at 7:30pm.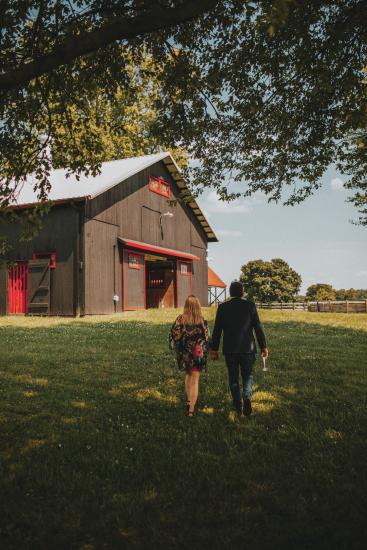 Just east of Louisville, in Goshen, KY, you will find the enchanting pastures of Hermitage Farm. Here visitors can celebrate Kentucky's unique agricultural heritage and signature industries all in one place. Grab a jacket and book a thoroughbred, bourbon, or sport horse tour before eating a gourmet picnic lunch out on the farm, or savor dinner inside Barn8 Restaurant which offers sustainable and organic farm-to-table dining. The new Art Walk Experience allows visitors to stay after dark to see an awe-inspiring interpretation of the farm's landscape and nature through the artistry of light, motion, color and sound.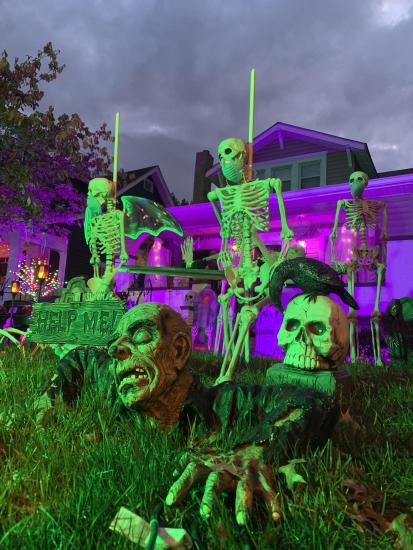 Hillcrest Avenue
For the month of October, the residents of Hillcrest Avenue team up to create one of the best Halloween decoration displays in the country. Dozens of houses participate in this decades long tradition by creating extravagant spooky scenes along the street's half-mile stretch. Throughout the month locals will walk the "Halloween street" seeing it's new creations and arbitrarily voting on their favorites participating houses.
Fall favorite Jack O'Lantern Spectacular is back at Louisville Iroquois Park for another season of Halloween fun. Visitors can stroll along a 1/3-mile path to enjoy over 5,000 carved pumpkins illuminated every evening as a part of a nightly art show. This family-friendly celebration of Fall is the perfect ending to a day of exploration and has become one of Louisville's most popular October traditions. The 2021 Jack O'Lantern Spectacular will run from October 4 – 31.