10 Reasons to visit Louisville this Spring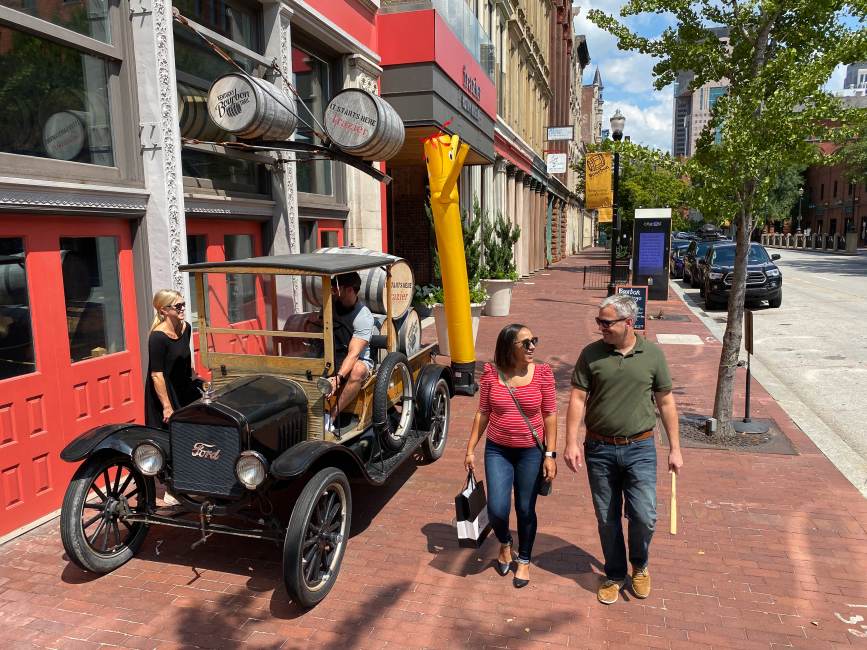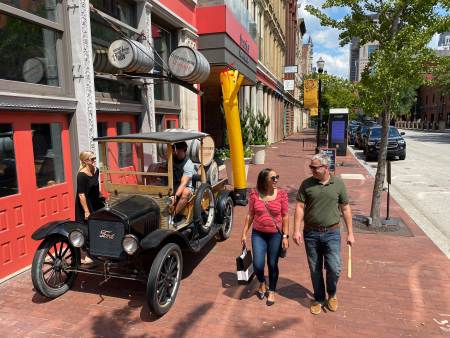 Located within a day's drive of over half of the U.S. population, Louisville presents itself as the perfect destination to visit on a road trip this Spring. (Seriously, punch it into Google Maps, we're closer than you probably think!) As the 29th largest city in the country, Louisville offers big city amenities, without the overwhelming crowds or out of reach prices. Combine that with a list of activities and experiences you can't do anywhere else in the world for an unforgettable adventure. Here are our top 10 reasons to take a road trip to Louisville this Spring.
Bourbon Distilleries

As producers of over 95% of the World's Bourbon supply, Kentucky is the place to visit for those looking to have a taste of some of the world's most famous whiskies. And with downtown distilleries like Angel's Envy, Old Forester and Peerless Distilling Co. all within a few short blocks of each other, Louisville is quickly becoming known as the walkable Napa Valley of Bourbon. Let us help you start planning your Bourbon City adventure here.
Neighborhoods

Experience Louisville like a local by staying in one of the city's many unique neighborhoods. The Old Louisville Historic District is home to the largest collection of Victorian-era mansions in the U.S. and offers an array of B&B style accommodations for those looking to stay in the area. The East Market District or NuLu has been named one of the "Best Drinking Neighborhoods in the Country" as well as one of the "Best Food Neighborhoods in America". Foodie lovers will also enjoy exploring the Highlands, Louisville's original Restaurant Row, which features hundreds of local restaurants, eclectic shops, and beautiful architecture. Find out about more Louisville neighborhoods here.
Museum Row
Lined with the second largest collection of cast iron facades in the country (behind NYC's SoHo district), Louisville's Main Street is unlike anywhere else in America. For starters, where else can you visit over 10 unique museums and distilleries in under five walkable blocks? This includes staples like the Kentucky Science Center and Frazier History Museum, as well as newer additions like Roots 101 African American Museum.
Breweries

Though it's known as the Bourbon City, Louisville's beer scene is hopping with new breweries, craft beer bars, and was recently named one of the Top 10 Beer Destinations in the World. Capitalize on some of the city's best outdoor patios at places like Gravely Brewing Co., West Sixth NuLu and Ten20 Craft Brewery or traverse the Louisville Ale Trail with over a dozen breweries to choose from.
Gardens & Arboretum

Branch out from your typical indoor tour and enjoy a stroll through these outdoor gardens and arboretum. Start with a walk-through Louisville's Cave Hill Cemetery, a 296-acre Victorian era cemetery and arboretum that is the final resting place of many notable Kentuckians including Colonel Sanders, Muhammad Ali and George Rogers Clark. Head south of the city to Bernheim Arboretum and Forest to discover the Forest Giants created by artist Thomas Dambo. Or head to Butchertown to explore the Waterfront Botanical Gardens, one of the city's newest attractions.
Louisville Black Heritage Experiences

Discover some of the untold stories surrounding Louisville's Black Heritage with seven new immersive experiences at some of the city's top attractions. From Kentucky Derby winning jockeys at historic Churchill Downs, to the first African American to pen and publish a cocktail book at Evan Williams' hidden speakeasy, Louisville's history is rich with contributions from some of our greatest citizens. You can check out all of the new experiences here.
Food

Dubbed one of the "South's Best Food Cities" by Southern Living, taking a bite out of Louisville's culinary scene will be the tastiest item on your bucket list. Start by visiting the historic Brown Hotel to order up the city's official sandwich, the Kentucky Hot Brown. Use the Urban Bourbon Trail passport as your restaurant guide and visit local establishments with Bourbon infused food dishes ranging from breakfast to dessert. Visit six stops and get rewarded with a prize as an official Urban Bourbon Trailblazer. See for yourself why Zagat calls Louisville "One of the 7 Up and Coming Foodie Towns in America" by browsing over 600 local restaurants here.
Parks

Being couped up inside over the past year hasn't been easy for anyone, but with 120 parks and over 13,000 acres of public land to explore, it won't be hard to get your outdoor fix while visiting Louisville. In fact, Louisville's park system was designed by famed landscape architect Fredrick Law Olmstead, the same guy who helped design New York City's famed Central Park. One of Louisville's most popular places to visit is the Big Four Bridge located at Waterfront Park, which gives you sweeping views of the downtown skyline and Ohio River while walking on a converted 1895 gothic-style railroad bridge.
Architecture & Art Walks

Located on a horse farm just east of Louisville, Hermitage Farm offers an authentic look at classic Kentucky culture. Weave through the forest over a 1,500 foot boardwalk on the Art Walk as you watch intricate projections illuminate the surrounding landscape. March 19 - May 30, catch more art as the Louisville Zoo transforms after dark into one of the largest lantern festivals in the country during the Wild Lights festival. This family friendly, outdoor event will have you navigating a 1.4-mile paved walkway through the Zoo's 130-acre park scattered with over 70 lantern displays. Architecture lovers can take a guided Old Louisville History and Architecture Tour as you stroll through the largest collection of restored Victorian-era mansion in the country.
Get your adventure started by browsing discounted hotel and attractions tickets here. Need more help planning things to do while you're here? Let one of our local experts help with itinerary inspiration to help make your trip custom to your experience by clicking here.