What's Poppin' In Louisville?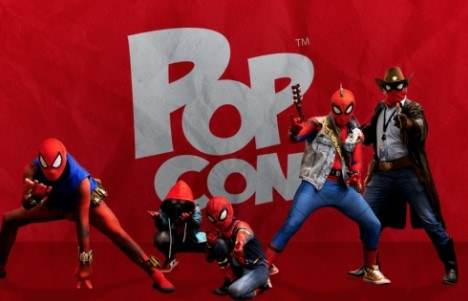 Inaugural Pop Culture Celebration Pops Into Louisville
LOUISVILLE, Ky. (May 25, 2023) – PopCon will bring a pop culture celebration for its inaugural Louisville event from June 16 - 18. This event is a family-friendly celebration of all things pop culture including celebrities, anime, hundreds of vendors and artists, board games, cosplay, e-sports, fan panels, virtual reality, special events, unique experiences and so much more.

In its first year in Louisville, PopCon will bring some of the largest names in popular culture to Louisville while providing creators a platform to connect with existing and new audiences.

The three-day extravaganza will feature unique experiences including:
- Meet popular culture celebrities and take advantage of photo opportunities
- Fan panels including Battle of the Dad Jokes, belly dancing and balloon animal-making
- Hundreds of artist vendors
- Board game room where attendees can play and learn hundred of board/card games
- Twisted Toonz: Popular voice actors take the stage and read a movie script in the voices of their various characters.
- PopCon Games: What are the games? PopCon can't tell you. Part of the fun will be finding out with everyone else as you try and strategize before the games are revealed.
- Kids Zone: The place where kids of all ages can create, color and receive creative advice. At the Build a Character station, attendees will be able to draw a superhero. All - artwork will be compiled to a book sold on Amazon.
- Other experiences include an Escape Room, Eville Labs Battle Maze, cosplay competition, drag show, and more!

Additionally, more than 30 special guests, including celebrities, YouTube sensations, podcasters and gamers will be on site.

One special event is the Ultimate Cosplay Championship. Submissions for the contest are open through Saturday, June 3. The Ultimate Cosplay Championship will be held on Saturday, June 17 at 6:30 p.m. as part of the three-day PopCon event where PopCon attendees can register to compete as a novice/beginner: participants must make at least 50 percent of their costume or journeyman and professional/master which means participants must make at least 70 percent of their costume.

Participants will be judged on preparation and knowledge of process construction and use of materials, makeup, wig and transformation into character as well as attention to detail. Cash prizes and additional awards will be given. The Ultimate Cosplay Championship is free to enter with a PopCon badge.

Special guests and event features will continue to be announced. Three-day, super fan, single-day and other admission options can be purchased online. For more information, visit the event website.