What's Cooking at Derby?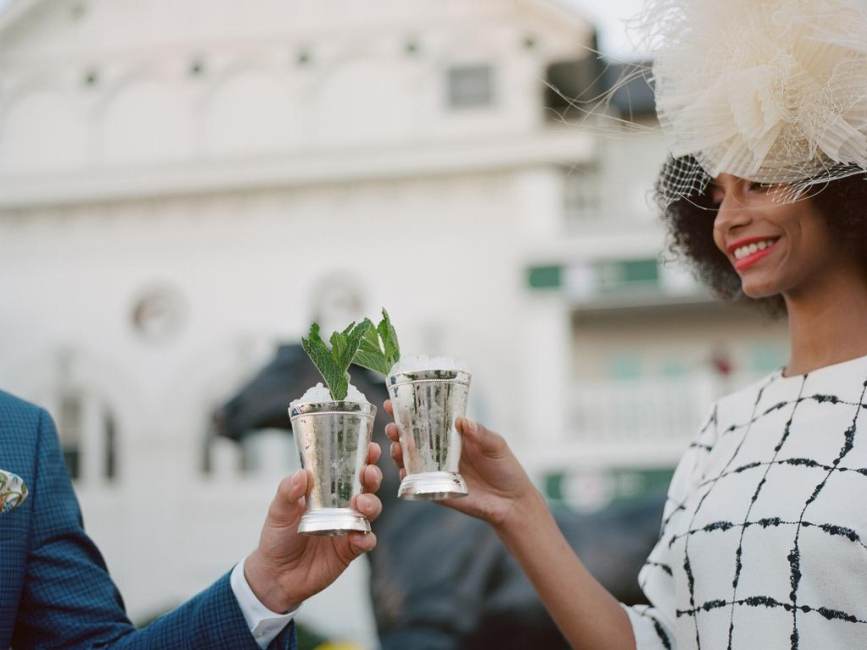 LOUISVILLE, Ky., (April 9, 2018) – Ever wanted to know how the VIPs dine at the racetrack on Derby weekend and how much food it takes to pull off the flavorful feast?
Churchill Downs has released the official menu of the 144th Kentucky Derby. More than 160,000 people attend the Run for the Roses, and the decadent appetizers, entrees and desserts will be served to 22,000 guests in premium dining areas during the Kentucky Derby and the Kentucky Oaks.
Here's a little inside dish: The menu features 5,640 pounds of turkey, 4,075 pounds of braised pork, 8,200 pounds of pasta, 7,600 pounds of potatoes, 3,800 pounds of carrots and 3,600 oysters.
Churchill's Executive Chef David Danielson drew inspiration for the 2018 menu from Woodford Reserve's flavor wheel, which includes wood, spice, grain, sweet aromatics and fruit and floral notes that are present in each sip of its Kentucky Straight Bourbon Whiskey. Woodford is a presenting sponsor of the Kentucky Derby.
These flavors, paired with modern twists on iconic Southern staples, bring Kentucky's rich cuisine and Bourbon tradition to life.
Bon Appetit!
Chef's Appetizers
Roasted Sweet Potato Salad
Charred pecans and maple-Bourbon reduction
Newsom's Ham
Roasted beets, Capriole goat cheese and tarragon
Peach and Tomato Caprese Salad
Goat cheese
Chilled Oysters
Country ham-green apple mignonette, fennel, celery and caviar
Cracklins' with Pimento Cheese
Chef's Sides
Cornbread
Bourbon honey butter
Roasted Carrots
Bourbon butter and fine herbs
Buttermilk and Chive Smashed Potatoes
Chef's Entrees
Mushroom Braised Pork Medallions
Louismill grits and pickled asparagus
Chef Carved Roasted Turkey Breast
Bourbon peach glaze
Lamb Bolognaise Ziti Pasta
Ricotta and mint
Chef's Desserts
Apple Cranberry Crisp
Vanilla bean ice cream
Bourbon Caramel Crème Brûlée