Unfiltered Truth Collection Adds Public Art Experience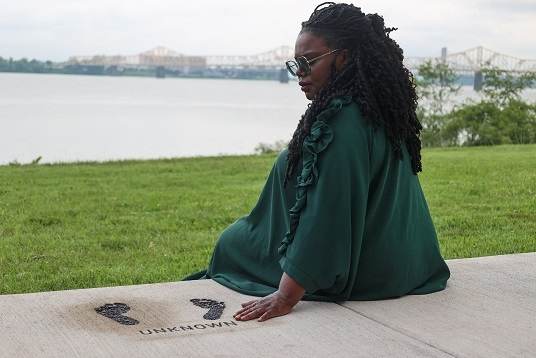 (Un)Known Project overlooks the city's iconic Ohio River, a symbol of freedom
LOUISVILLE, Ky. (September 8, 2022) – The newest addition to Louisville Tourism's Unfiltered Truth Collection, the (Un)Known Project Public Art Experience, is a public art installation overlooking the Ohio River. On the Banks of Freedom invites attendees to stand in the footprints representing enslaved people looking toward freedom in Indiana.

"Louisville Tourism has been working with the community to highlight authentic and inclusive stories about our destination in order to grow visitation," said Nicole Twigg, Vice President of Tourism Development for Louisville Tourism. "The work of the (Un)Known Project spotlighting the pivotal role the Ohio River played in Louisville's African American history is the perfect fit for the Unfiltered Truth Collection and we are proud to add it to this ongoing promotion."

The (Un)Known Project Public Art Experience is offered on the second Saturday of each month and costs $20 a person. It is available from 10am to 11am from April – September, and from 11am to noon October – March. You can secure tickets at unknownprojecttrail.com or by searching for the experience on AirBnB.

To support healing and reconciliation, participants of the Public Art Experience are invited to read the names of enslaved people during a libation ceremony and to carry/pull a 70lb "replicated" sack representing a 1/3 of the cotton an enslaved person had to pick in a day.

"Through the Public Art Experience, we're sharing the history of enslavement in Kentucky and our journey to create the (Un)Known Project," said Hannah Drake, IDEAS xLab Chief Creative Officer and co-lead artist of (Un)Known Project. "From Senegal, West Africa to Natchez, MS and throughout Louisville, we've seen how interconnected the history of enslavement is, and have been able to unearth over 800 names of enslaved people since launching (Un)Known Project in 2020."

The On the Banks of Freedom public art installation is located between 9th and 10th streets along Louisville's river front. Parking is available in the lot at the north end of 10th Street, and behind the Kentucky Science Center. The site is accessible for individuals with mobility impairment from both parking lots. Please use these media-approved images.

While planning a trip to Louisville, guests can download a copy of Louisville Tourism's annual Visitor Guide to help plan a tour around Louisville to see the city's top attractions and bourbon distilleries. Visitors also can get additional city attraction, lodging and dining assistance at gotolouisville.com.