Two of the Top Five Award-Winning U.S. Tradeshows Meet in Louisville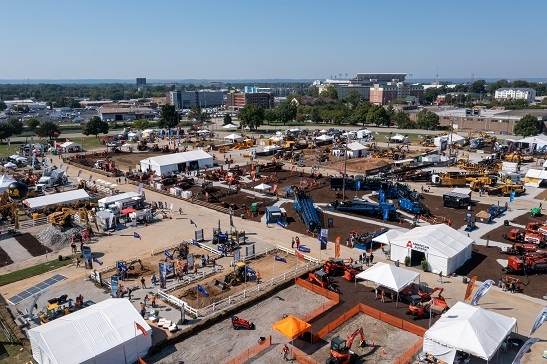 The Utility Expo and Equip Exposition win national list honors
LOUISVILLE, Ky. (October 3, 2022) — Louisville hosts two of the top five largest tradeshows according to the Trade Show News Network (TSNN), host of the Trade Show Executive Gold 100 Awards & Summit.

The Utility Expo (formerly known as the International Construction & Utility Equipment Exposition) won several high-profile awards, including the 'Largest Trade Show of 2021' and 'The Fastest-Growing Gold 100 Show in Sheer Numbers in Net Square Feet in 2021.' The show tied as a recipient of the "Return to Normal' Award and was also named 'The Greatest Trade Show of 2019' at this year's celebration due to the cancelation of the 2020 Gold 100 in 2020.

Additionally, Equip Exposition (formerly known as GIE+EXPO) was also named to the list of TSNN Gold 100 as a top U.S. trade show, recognized as one of the top five trade shows ranked by net square feet.
Both tradeshows are held at the Kentucky Exposition Center (KEC), which boasts over 1.2 million square feet of indoor meeting space with an additional 300 acres of flexible outdoor space. KEC is the sixth largest exposition facility in the U.S.

Hosting these two top five tradeshows represent an estimated economic impact of nearly $33 million for the city.

"Louisville is honored to host two of the largest tradeshows in the U.S. Each of these longstanding shows have made a substantial economic impact on our city," said Cleo Battle, President & CEO of Louisville Tourism. "We have built a great relationship with the show organizers, proudly hosting previous iterations of The Utility Expo and Equip Expo for more than three decades. Equip Exposition's show organizers continue to demonstrate their investment in the city by adding a new Outdoor Power Equipment Institute (OPEI) trade show and association office in downtown Louisville just last year, doubling down on their dedication to our city."

These prestigious shows have committed to Louisville for future years, continuing to positively impact the city's economy again over the next few years. The Utility Expo has committed to meet in Louisville every odd year through 2029 while Equip Exposition is committed annually through 2024.

The Utility Expo
Tradeshow with extensive hands-on working-equipment demonstrations in job-like conditions at ground level, underground and overhead.
- Estimated 2023 economic impact: $15 million
- Meeting dates September 26-28, 2023

Equip Exposition
The largest professional exposition in North America for the lawn and garden industry.
- Estimated 2022 economic impact: $17.9 million
- Meeting dates October 18-21, 2022

The full list can be found at:
https://www.tsegold100.com/honorees