Take a Guided Stroll Through Louisville's Storied Neighborhoods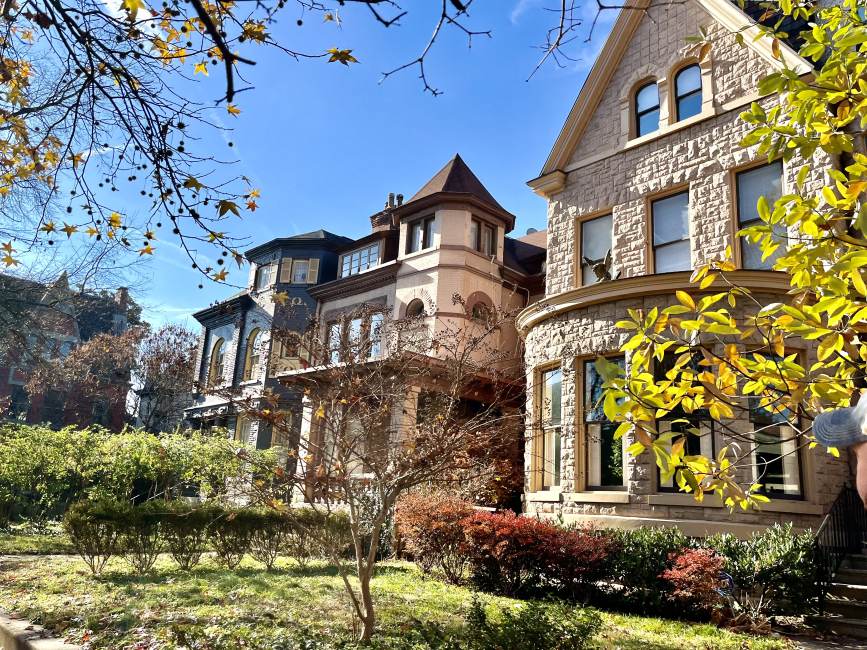 LOUISVILLE, Ky. (April 24, 2023) — Louisville is known as a very walkable city and has several walking tours to prove it. Whether it's whiskey, history, paranormal or true-crime – Louisville has a guided tour for that, including several new tours available to guests this season.

Whiskey Row Walking Tours:
This tour offers everything you need to experience and learn about Bourbon and Louisville's famous Whiskey Row with multiple stops at various Bourbon distilleries to sample some of their well-known bourbons. Tour attendees will visit historic Main Street and learn about the history of bourbon whiskey and famous distillers like Evan Williams, Julian "Pappy" Van Winkle, and others who made Louisville a major whiskey producer and supplier in the U.S. Tours are two hours, available Thursday through Saturday at 11:00 am EST and on Sundays at 1:00pm. For additional information or questions, please contact whiskeyrowwalkingtour@gmail.com, (855) 769.9255 (855.ROW.WALK) or visit the website whiskeyrowwalkingtour.com.

Louisville Historic Tours:
Louisville Historic Tours features guided walks through Old Louisville, the country's grandest Victorian neighborhood. The tours, led by David Dominé, founder of Louisville Historic Tours and award-winning author include several new offering this season. For more information and to purchase tickets, visit louisvillehistorictours.com.

Old Louisville Walking Tour:
This popular tour dives into the neighborhood's history and Victorian architecture offering options at 9 a.m., 11 a.m., 1 p.m., and 3 p.m. seven days a week.

Old Louisville Ghost Tour:
Focusing on allegedly haunted locations, local legends, and spooky tales, the nighttime tour runs at 6 p.m., 7:30 p.m., and 9:15 p.m. seven days a week.

Glitter Ball City Tour (new this season):
Guided by the author himself, this 190-minute tour hits many of the spots in Old Louisville that are featured in Dominé's 2021 true-crime memoir, A Dark Room in Glitter Ball City., This walk will include a stop at a popular neighborhood watering hole to enjoy drinks along the way. This experiential tour is available on Friday, Saturday, and Sunday at 2:30 p.m. and 5 p.m.

Secrets and Scandals of Old Louisville Tour (new this season):
A new tour that visits locations where famous people lived and died; houses with interesting backstories and hidden architectural features; and places where scandals and murders occurred. This tour runs seven days a week at 3 p.m. and 5 p.m.

Paranormal Buff Supernatural Tour (new this season):
This three-hour tour explores the city's infamous murders, local gossip and paranormal activity, bringing Dominé's true-crime books to life and providing a broad overview of the neighborhood and its most impressive and spooky sights. Trained Orisha priestess and expert storyteller Angelique Stacy encourages participants to bring along their EMF readers and other devices as they investigate several neighborhood sites that are reportedly haunted. The tour runs on Friday, Saturday, and Sunday at 8 p.m., or by appointment for small groups.
Louisville also offers guided culinary tours to sample the city's famous local and regional dishes set in Louisville's most beautiful and historic neighborhoods, as well as Bourbon City's infamous Whiskey Row. Tours are offered by Louisville Food Tours. Please visit http://lou.ly/4d2 for additional information.
While planning a trip to Louisville, guests can download a copy of Louisville Tourism's annual Visitor Guide to see the city's top attractions and bourbon distilleries. Visitors also can get additional city attraction, lodging and dining assistance at gotolouisville.com.