Staycations offer savings and aid local economy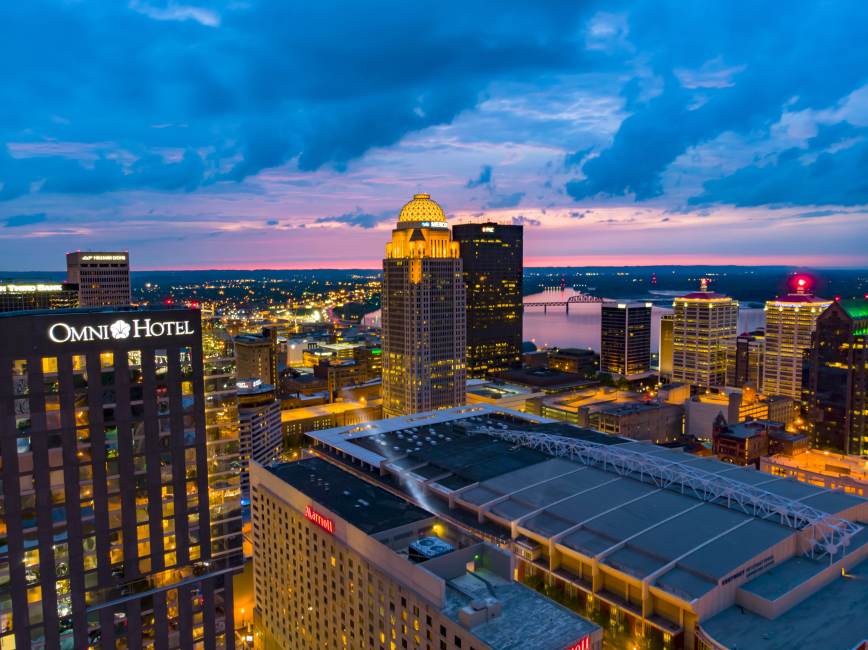 Local residents can save up to 50% off hotel room stays
LOUISVILLE, Ky. (November 5, 2020) — After a challenging several months, the hospitality industry is slowly beginning to show positive signs of what will be a long recovery in the travel and tourism economy.

To help fill hotel rooms, attraction tours and encourage area residents to explore their own backyard, Louisville Tourism has worked with the local hotel community to offer substantial savings for Kentucky and Southern Indiana residents. A special promotion will run through the end of 2020 with up to 50% off a stay in a participating hotel along with a $25 Visa gift card for dining at a local restaurant by booking at lou.ly/hotel.

Several Louisville museums have recently opened new exhibits including: One World by Air Cargo at the Kentucky Science Center, Cool Kentucky at the Frazier History Museum and Right to Ride (a salute to female jockeys) at the Kentucky Derby Museum along with Museum Row's Truth Be Told exhibit at Muhammad Ali Center and new outlet shop next door to the Louisville Slugger Museum & Factory.

Outdoor holiday attractions this season include the Winter Woods Spectacular at Iroquois Park, Winter Illuminations at Beckley Creek Park, Fete de Noel at Paristown featuring Louisville's only outdoor skating rink, a relaunch of outdoor music at Fourth Street Live! entertainment hub and the return of Lights Under Louisville at the Mega Cavern.

Louisville is seeing metrics indicating a slow uptick in travel after months of shutdown and plummeting numbers.

- 85% of Louisville attractions (not including performance arts venues) have reopened for guests
- All Louisville area hotels are open
- The Louisville Visitor Information Center is open and seeing a rebound of weekend guests
- Consumers are interested in visitor information making 245 requests for Visitor Guides this October as compared to 343 requests in October 2019
- The city's calendar of events has retaken its spot as the most visited page on Louisville Tourism's website – http://www.gotolouisville.com

"Louisville Tourism had a record Summer and Fall in 2019. While there is no question the hospitality and tourism industries are being hit the hardest by the pandemic, we must keep moving forward. Inspiring staycations, as well as encouraging group and leisure business to increase incrementally, is putting us in a positive direction from where we were several months ago, helping us to slowly get on track," said Zack Davis, Louisville Tourism Vice President of Destination Services.

Also noteworthy is the Global Biorisk Advisory Council (GBAC) STAR™ facility accreditation program the hospitality industry is championing. This is the gold standard on cleaning and disinfection to help area businesses and venues rebound and encourage consumer confidence that it is safe to visit. Louisville Tourism helped support the Kentucky International Convention Center (KICC) and the Kentucky Exposition Center (KEC) gain accreditation and promoted the program to area hotels.

"Although tourism business is a fraction of what it should be, Louisville is starting to show signs of an upward tick toward recovery, said Karen Williams, President & CEO of Louisville Tourism. "These signs are certainly not comparable to where we were in 2019 or the start of this year, but we are grateful to be making some headway in the right direction."

Louisville Tourism serves as the city's official Destination Marketing Organization with the mission to inspire visitation and its resulting economic activity to benefit the community.