Seven Sense Festival Returns With Two Days of Music and Brews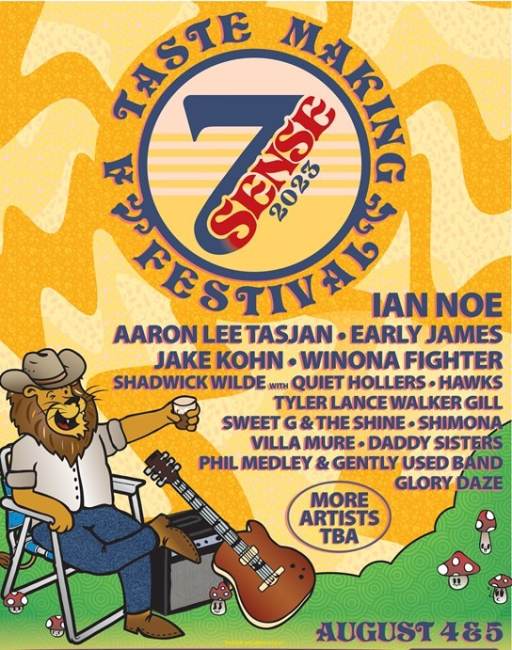 The two-day event will feature more than 20 acts including Ian Noe, Aaron Lee Tasjan, Early James and Jake Kohn.
LOUISVILLE, Ky. (June 26, 2023) — Seven Sense Festival, a tastemaker festival of artists in the region, will return to Louisville on August 4-5 at Headliners Music Hall in Louisville's Irish Hill neighborhood. The annual two-day event will feature more than 20 acts including Ian Noe, Aaron Lee Tasjan, Early James and Jake Kohn.

The 6th incarnation of Seven Sense will feature local, regional and national acts. In addition to carrying many of the Bell's Brewery portfolio, the festival will also feature new, specialty or hard to find beers from numerous local and regional craft breweries, as well as a wide array of specialty cocktails.

Tickets for Seven Sense Festival are on sale with two-day weekend passes priced at $14. The event is all ages until 11:00p.m., 21 and over after 11:00p.m. Hours of the festival are Friday 6:00p.m.-11:00p.m. and Saturday 12:00p.m.-11:00p.m., with music continuing inside Headliner's Music Hall until 2:00a.m.

The festival has drawn more than 20,000 attendees throughout five annual events with local charities as beneficiaries each year. This year Seven Sense Festival will benefit the multi-faceted, Louisville non-profit organization, Change Today, Change Tomorrow, which helps countless children, families, and individuals that need it most.

Seven Sense started as a passion project amongst active promoters, artists, musicians and friends with the aim of handpicking what they saw as the best groups/artists/brands from each of the many "scenes" within Louisville: be it culinary, booze, visual art or music. A celebration of sorts, that would also raise funds for local nonprofits, focusing on our city's youth.

The festival is making a comeback for its sixth festival after a hiatus due to the Covid-19 pandemic.

Guests can use Louisville Tourism's annual Visitor Guide to see the city's top attractions, culinary hotspots and bourbon distilleries. Travelers also can get attraction, lodging and dining assistance at gotolouisville.com.