Recognizing Louisville's Hospitality Community Heroes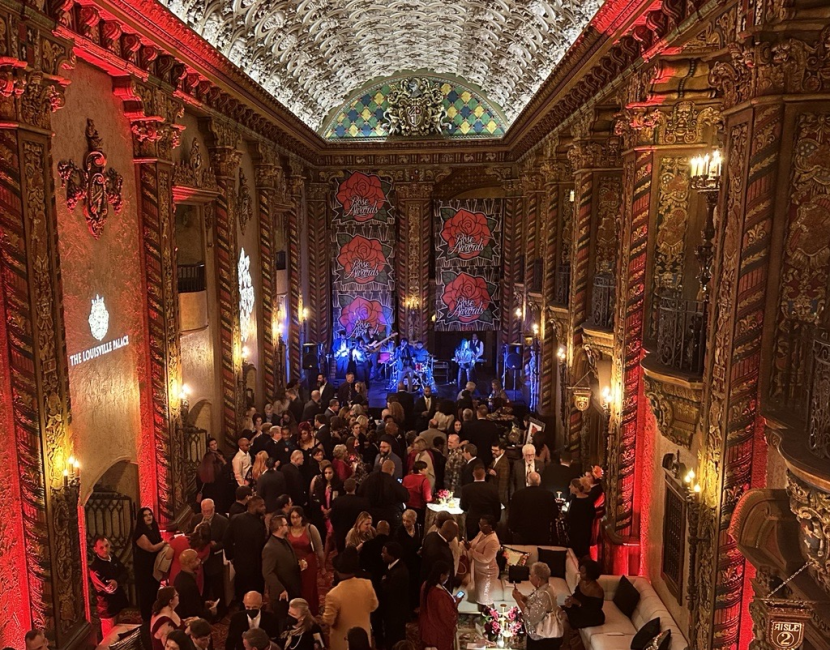 Exceptional and dedicated front-line employees celebrated during awards event
LOUISVILLE, Ky. (November 3, 2022) –Louisville Tourism recognized the hospitality industry's biggest local contributors at the highly anticipated ROSE (Recognition of Service Excellence) awards ceremony on Thursday, November 3 at The Louisville Palace.

Celebrating its 30th year, the event recognizes dedicated front-line representatives of the hospitality industry who make Louisville a successful destination city by enhancing the city's visitor experiences. More than 500 distinguished guests and tourism professionals attended the event held at the Galt House Hotel. The evening affair was emceed for the 13th time by long-time local media personality Joe Arnold.

The highlight of the ceremony was the presentation of the ROSE Award winners. These awards are given to exemplary employees in the hospitality industry in various areas - both front-line and behind the scenes. There were 55 finalists this year.

The 2022 ROSE Award winners are:

Attractions: Bob DiPasquale, Kentucky Derby Museum
Behind-the-Scenes: Imogean Hayes, Kentucky Peerless Distilling Company
Culinary Arts: Brian Steger, Repeal Oak-Fried Steakhouse
Dining & Spirits: Shahrokh "Tony" Pouranfar, Vincenzo's Italian Restaurant
Event Services: Cristina Patino, Louisville Marriott Downtown
Hotel Services: Monique Johnson, Hyatt Regency
Leadership Excellence: Jose Rolon, Crowne Plaza Hotel
Outstanding Management Professional: Lauren Martin, Omni Hotel Louisville
Rising Star: Trina Mesina, Preferred Staffing Solutions
Transportation: Dale Reynolds, Transit Authority of River City (TARC)
Volunteer: John Mangino, Louisville Muhammad Ali International Airport

The Louisville Hotel Association sponsored the "Spirit of Hospitality" Award, recognizing an "overall service champion," which was presented to Lisandra Caña from Kentucky Kingdom. She received a $2,000 cash prize.

Each honoree was greeted on stage by Louisville Mayor Greg Fischer and Louisville Tourism President & CEO Cleo Battle. The winners will receive a $250 American Express Card, a $100 gift card to enjoy a meal at River House Restaurant and Raw Bar, a custom bottle of Evan Williams bourbon sponsored by Evan Williams Bourbon Experience; tickets to Kentucky Kingdom, Louisville Slugger & Museum, Belle of Louisville, and Frazier Kentucky History Museum, a "ROSE Award Winner" pin to wear, and a beautiful custom glass Award by Flame Run.

The Dan Mangeot Lifetime Achievement Award was presented to Mayor Greg Fischer for his leadership and has been a strong advocate of tourism as an economic driver for the city. This award is given to an individual who has made significant contributions to the advancement of tourism and has a history of supporting the hospitality industry throughout his/her professional lifetime.

The Ambassador Awards were given to individuals who have significantly contributed to Louisville Tourism's sales and service initiatives by helping to retain and bring convention business to Louisville. The 2022 recipients include the following:

Althea Jackson, Andrea Meriwether, Aukram Burton, Brian West, Brianna Williams, Carlo Kellem, CheRhonda Greenlee, Clestine Lanier, David Tandy, Esq., Dr. Shervita West, Erica Bailey, George Harrison, Jamar Mack, Jecorey Arthur, Keith Joy, Kendall Boyd, Kimberly Clay, Lamont Collins, Latina Haley, Leondra Gully, LePrecious Brewer, Michael Ford, Andrea Ford, Michael Gray, Nachand Trabue, Oremeyi Kareem, Shawn Sommerville, Tawana Bain, Tiandra Robinson, Waymen Eddings, Jeff Crowe, Ben Moore, Chris Hartman, Mike Shouse, Lisa Gunterman, Joshua Mckee, Shawn Summerville, Cherhonda Greenlee, Janna Estep-Jordan, Janet Glover, Russell Romine, Tim King, Anabela Riley, Chris Bannon, Beth Stenberg, Chris Bannon, Nicole George, Alan Rupp and Darrel Watson.

"The ROSE Awards give us an opportunity to publicly recognize our hardworking community members who dedicate their professional lives to make Louisville an outstanding place to live, work and visit. The individuals we honor today help give Louisville an edge among other destinations in hospitality and service," said Cleo Battle, Louisville Tourism President & CEO. "They are making an impact as they create positive experiences for our visitors, which ultimately contributes to the economic vibrancy of Louisville."

The travel and tourism industry is the third largest industry in Louisville, currently supporting 63,000 jobs in the city area.

Sponsors of the event include the Louisville Palace, Huber Winery & Orchards and Starlight Distillery, Derby City Gaming, Fleur de Lis Events & Design LLC, Crushed Ice Catering, Hatfield Media, and the Louisville Hotel Association.