New Distillery Embodies Louisville's Creative Spirit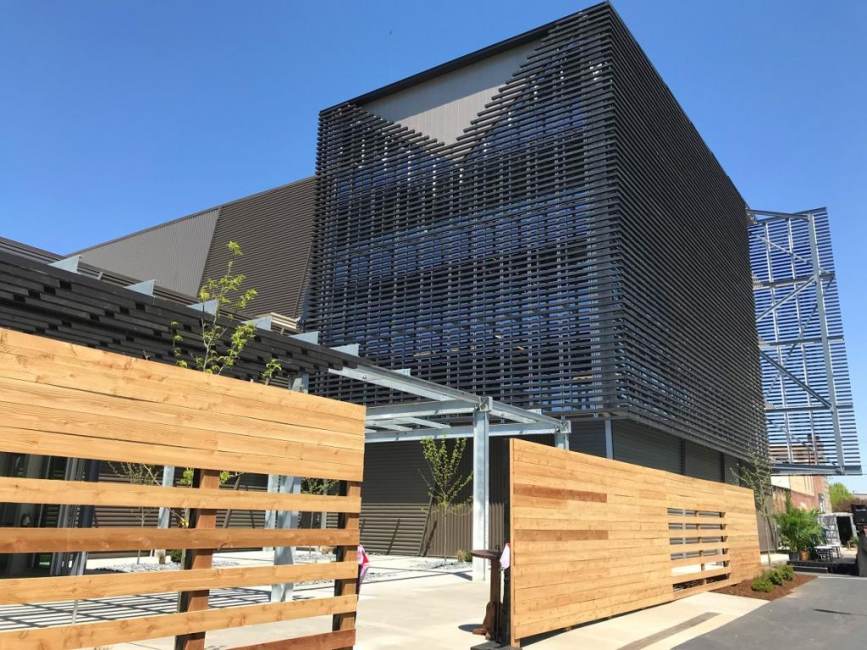 Eighth Attraction to Open of the 10 Anticipated Urban Distillery Visitor Experiences in Louisville
LOUISVILLE, Ky., (May 1, 2018) – Rabbit Hole's ribbon cutting ceremony marked Louisville's eighth distillery visitor experience to open since Evan William's Bourbon Experience paved the way in 2013. What makes Rabbit Hole especially noteworthy is their newness to the bourbon scene, with production beginning in 2014 as a start-up. The ribbon cutting was a sneak peek for media with the official launch of public tours and experiences in June.
Set in Louisville's progressive Nulu neighborhood, the distillery showcases the identity, tradition, and legacy of bourbon-making in a whole new way. The 55,000 square foot Rabbit Hole Distillery packs a punch, and with an annual production capacity of 1.2 million proof gallons, it will be on the top 20 list of largest bourbon distilleries in the world. In addition to its production facility, the distillery is designed to raise the bar for Louisville and Kentucky distillery tourism.
During the ribbon cutting, Kaveh Zamanian, Rabbit Hole Founder and Whiskey Maker, thanked Karen Williams and the Louisville Convention & Visitors Bureau for their contribution to the "record amounts of tourists coming to our city to celebrate bourbon." He said Louisville is where "midwestern grit and southern hospitality come together in one magnificent place."
There are no brief samples and exiting through the gift shop at this distillery, as Rabbit Hole wants you to get lost in the magic and linger. Guests can indulge in Rabbit Hole both straight and within cocktails at a tasting bar featuring a menu curated by Proprietors LLC.
Located on the third floor, the Rabbit Hole Distillery event space, referred to as "The Overlook," is the highest point over the warehouse offering a stunning view of downtown Louisville, as well as the bridges on the Ohio river. The event space and distillery will reshape the Louisville skyline while also supplying an incredible new space to hold a multitude of events within Louisville. The Overlook also offers a rare peek into the distillery, providing a fascinating element for any gathering it plays host to.
In 2013, Louisville's first distillery since Prohibition opened in the heart of downtown, signaling a new era in Bourbon that Louisville Mayor Greg Fischer coined as "Bourbonism" for its convergence of economic development through manufacturing and tourism. The Evan Williams Bourbon Experience became the first distillery with public tours in Louisville and by fall of 2018, Louisville will have ten open distillery attractions including The Bulleit Frontier Whiskey Experience, Kentucky Artisan Distillery showcasing Jefferson's Reserve, a brandy distillery Copper & Kings, Kentucky Peerless Distillery- a father and son team who resurrected a family label, Jim Beam Urban Stillhouse at the Fourth Street Live!, and Angel's Envy, originally a family label now owned by Bacardi Ltd.
Three additional highly anticipated bourbon attractions under construction on historic Whiskey Row include Old Forester Distillery, opening June 14 on a site which housed two former barrel warehouses dating back to the 1850's, Michter's Fort Nelson Distillery, slated for this fall and Frazier History Museum's Welcome Center & Exhibit, serving as the official starting point for the Kentucky Bourbon Trail®. This will bring the total number of "Urban Bourbon Experience" attractions in the Bourbon City to 11, more than any other in Kentucky's Bourbon Country. The pub crawl that is the Urban Bourbon Trail continues to grow alongside the popularity of bourbon with 39 stops, each well-stocked with at least 50 bourbons; some as many as 300. For more information and to plan a trip to Bourbon Country visit www.bourboncountry.com or www.gotolouisville.com.