Premier Kentucky artistry event moves to Louisville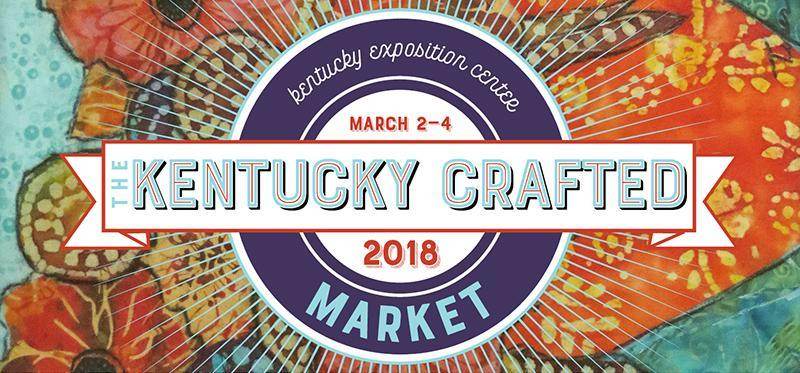 Kentucky Crafted Market brings 200 artisans to Exposition Center
LOUISVILLE, Ky. (Feb. 5, 2018) – The Kentucky Crafted Market will move to Louisville this spring after several years in Lexington, Kentucky. The event features nearly 200 artisans, Kentucky Proud food products, two days of live music and hands-on activities. The Market will take place from March 2-4 at the Kentucky Exposition Center. Admission for the public starts at $5 for Friday and $8 for Saturday or Sunday.
The Market is the Kentucky Arts Council's premier marketing event of Kentucky artistry produced each year. The show features the highest quality art, craft, literature, music and food found in the state. Nearly 200 Kentucky Crafted and select out-of-state artists, musicians and artisanal food producers make their finest work available to wholesale buyers and the general public during the three-day event.
Shoppers can find fine art and craft from Kentucky's most extraordinary artists, participate in hands-on arts educational activities, or take a break at the Kentucky Stage music festival, featuring some of the state's best-loved musicians and performers.
Wholesale buyers have the opportunity to place orders directly with vendors, including publishers of Kentucky-related books and producers of local, specialty food products.
The Kentucky Crafted Market was named the No. 1 Fair & Festival in the country four times by readers of AmericanStyle magazine. The Southeast Tourism Society has named it a Top 20 Event for 15 years.
To purchase tickets and read more, visit http://www.artscouncil.ky.gov/.
###
The Kentucky Arts Council is the state arts agency and is responsible for developing and promoting support for the arts in Kentucky. Strategically placed in the Tourism, Arts and Heritage Cabinet, the Kentucky Arts Council is publicly funded by the Kentucky General Assembly and the National Endowment for the Arts, an independent agency of the federal government.
Since 1968, the Louisville Convention & Visitors Bureau's primary goal has been to enhance the city and county's economy through tourism development — to promote and sell Louisville as a destination for conventions, trade shows, corporate meetings, leisure and business travel on a worldwide basis. Louisville hosts more than 16.4 million visitors annually for an estimated economic impact of $3.5 billion which supports 27,500 local tourism-related jobs.