New Omni to open in March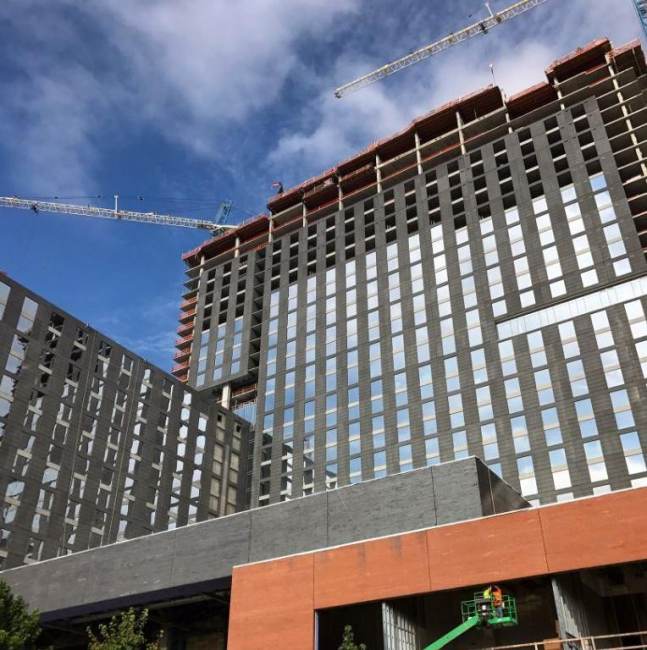 Omni Louisville Joins City Leadership to Celebrate Topping Out and New, Early Opening Date
LOUISVILLE, Ky. (July 14, 2017) – Now at its final height of 30 stories, the Omni Louisville Hotel claims its permanent place as a distinct and iconic feature of Louisville's skyline. City leaders and master bourbon distillers joined Omni Hotels & Resorts leaders on one of the building's highest floors to celebrate the Omni Louisville Hotel's topping out with a "bourbon baptism" of the structure while enjoying the spectacular view of downtown and beyond.
Scott Stuckey, general manager of the Omni Louisville Hotel, congratulated the city and the project's workers on the achievement. As a result of faster-than-expected construction, the hotel will open a full month ahead of schedule on Tuesday, March 6, 2018.
"As we predicted, Louisville is emerging as a highly sought-after destination for tourists, conventions and young professionals. We are delighted that thousands of people from across the country are already planning their stays at the Omni Louisville," said Stuckey. "We can't wait to welcome guests from near and far in March 2018."
While doors won't open for another eight months, the hotel has already racked up more than 82,000 reserved room nights through 2023. The newly remodeled Kentucky International Convention Center is scheduled to open in the summer of 2018, creating a ripple effect of increased economic activity in the downtown core.
"Bringing Omni to Louisville is already creating tremendous energy in our city, not only because of the visible changes it's bringing to downtown, but also through Omni's deep commitment to reflecting our city," said Mayor Greg Fischer. "This hotel will truly be our city's new front door, and we're eager to welcome our new guests."
"The combination of a brand-new Omni Louisville Hotel alongside a renovated, re-energized Kentucky International Convention Center is a vibrant partnership," said Karen Williams, president of the Louisville Convention and Visitors Bureau. "These essential facilities are already attracting a significant interest in tourism and business travel to our city."
Each Omni property is individually designed to reflect the local culture of its city, and Louisville is no exception. The hotel distills the essence of Louisville's warmth and hospitality while embracing and celebrating the city's authentic quality and charm. Two major design inspirations for the Omni Louisville are bourbon and water – elements that are fundamental to the city's culture through its bourbon industry and the Ohio River. The design influences can be seen in everything from barrel-inspired accents in the lobby to the bourbon tones of the guest room carpet.
Due to the hotel's strong connection to bourbon, the Omni Louisville Hotel invited master distillers from around the state to join the topping out ceremony and contribute a few ounces of their favorite bourbon to a shared "Omni blend," which Stuckey ceremonially poured over a 3-foot ice sculpture of the hotel.
The $300 million public-private project is estimated to create 765 construction jobs over the two-year build, and will create 320 permanent jobs.
Hotel highlights include:
Food & Beverage: The culinary experiences at Omni Louisville Hotel will include Dallas' acclaimed Neighborhood Services restaurant offering all-day dining, lobby lounge, rooftop pool bar and grill, as well as Texas-staple Bob's Steak & Chop House as the hotel's fine-dining establishment serving traditional, American prime cut steaks.
Meetings & Events: The hotel will offer approximately 70,000 square feet of flexible meeting and event space. Meeting and convention attendees will have access to an additional 300,000 square feet of meeting and exhibit space at the Kentucky International Convention Center.
Lifestyle: Guests will have access to an urban rooftop pool deck, fitness center, a Mokara signature spa, lobby art gallery and a Speakeasy with a bowling alley.
Urban market: A dynamic, modern urban lifestyle market offering prepared foods and beverages as well as grocery staples will connect to the hotel's lobby. Transforming Liberty Street into a pedestrian thoroughfare, the market will serve as a community gateway for hotel guests, residents and locals alike.
For additional information or to book a group meeting or convention, visit omnihotels.com or call 1-800-The-Omni. Planners may also contact Eamon O'Brien, director of sales and marketing at eamon.obrien@omnihotels.com or (502) 656-7220. Travelers or media can also follow Omni Hotels & Resorts at Facebook.com/OmniLouisville and Twitter.com/OmniLouisville.
Information about the luxury apartments at Omni Louisville will be available this fall. Visit www.theresidencesatomni.com for updates.
About the Omni Louisville:
Set to open in March 2018, the Omni Louisville Hotel will be a catalyst for the city's growth and urban development. Considered the tallest hotel in Louisville and located at Liberty and 2nd Street, one block from the Kentucky International Convention Center, the hotel will feature 612 finely appointed guest rooms and suites topped by 225 luxury apartments.