New Hotel Tells the Story of Bourbon City's Heritage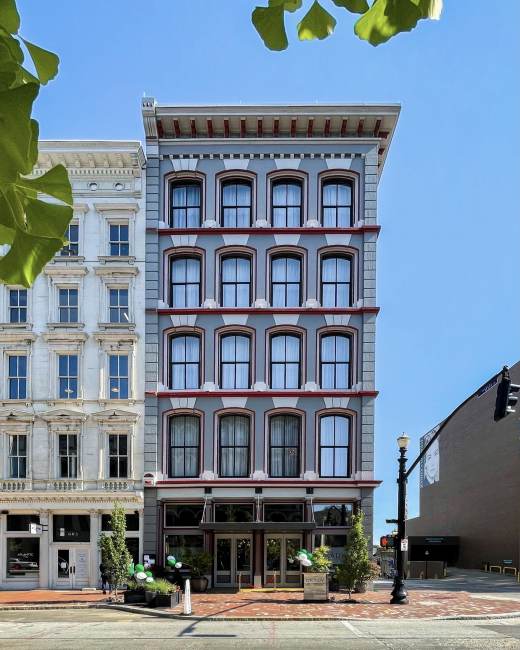 Boutique Grady Hotel channels the 'spirit' of Louisville
LOUISVILLE, Ky. (May 20, 2021) – Visitors to Louisville can now reserve rooms at the newest hotel, The Grady Hotel in the heart of Louisville's downtown, just steps away from some of the city's most iconic attractions including distilleries on Whiskey Row, Muhammad Ali Center, Frazier History Museum and Louisville Slugger Museum & Factory.

Located at 601 W Main Street, The Grady Hotel is breathing new life into the building from 1883 with the opening of a 51-room luxury hotel celebrating Louisville's story with décor paying homage to the city and one of the original building tenants, the Swann-Abram Hat Co., designer of world-famous Kentucky Derby hats. Guests will find unique themes and symbolic touches with horseshoes, bringing good luck as well as channeling the city's racing heritage and shamrocks - once engraved on coins to promote the Swann Hat Company, along with motifs of butterflies and bees, both state symbols and allusions to The Greatest - Louisville's very own Muhammad Ali. Guests of The Grady Hotel can even wrap themselves in robes reminiscent of the beloved boxer.

In its past life, the building was also occupied by J.B. Wilder, owner of an apothecary and bourbon distillery located in the building's basement, where guests can now enter a world of handcrafted beverages at The Wild Swann, open Sunday through Thursday 3-11pm, Friday and Saturdays 3pm-midnight starting June 12. Each stay includes an artisanal inspired continental breakfast served in the lobby. Additionally, an evening reception between 5-6pm featuring select local spirits and wine is hosted nightly by members of the staff, making stays feel more intimate.

The Grady Hotel is named for the late Grady Clay, an award-winning journalist and one of the first authorities on urban design. The hotel is rooted in tradition and resonates with a sophisticated charm that is both warm and contemporary with displays of patina metals and smooth, dark textures telling the story of Louisville's bourbon heritage, while hints of lush greens voice an affinity for the City of Parks and the outdoors. The Grady pays homage to its storied past through distinctive touchpoints, including the restoration of its renaissance revival-style façade clad with ornamental detailing. Each of its guest rooms provide pops of navy, copper and maroon, featuring 10-15' original reclaimed wood ceilings, tufted headboards and an array of locally-inspired art. Similarly, the hotel's public spaces feature warm and inviting tones, complete with a library area, art gallery and central fireplace for guests to gather.

The Grady Hotel is accepting reservations for stays from May 27 on and can be arranged online or via phone at (502) 434-3700.

Make planning your visit to Louisville easy with help from Louisville Tourism's annual Visitor Guide. Download a copy of the guide to read about Louisville's top experiences, including culinary and bourbon. Travelers also can get attraction, lodging and dining assistance at www.gotolouisville.com along with information on the state's current covid-mitigation guidelines.