Mona Bismarck Exhibit Opening at Frazier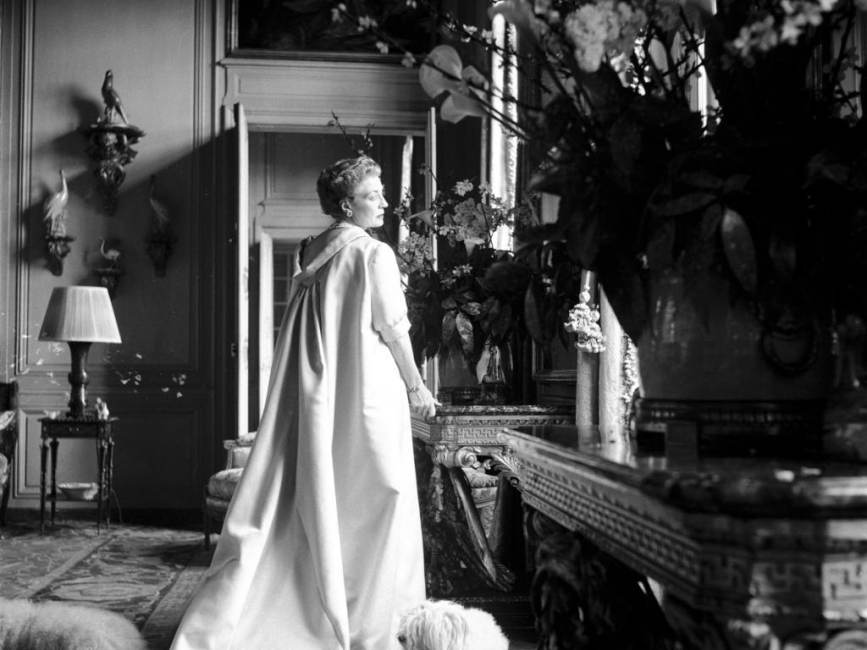 (Louisville, KY, March 12, 2018) – This spring the Frazier History Museum presents a retrospective on the style of Mona Bismarck, a midcentury socialite from Kentucky whose beauty and Haute Couture won her the title of Best-Dressed Woman in the World. "Her extraordinary catlike eyes and blue-grey hair are New York phenomena," stated Vogue in 1936 — "[and] her dressing is high art." A major client of Balenciaga and other world-class designers, she helped popularize several trends in women's wear, including halter neck tops, asymmetrical bias-cut dresses, colorless nail polish, aquamarine, and double-strand pearls.
The Exhibit
Featuring fifty ensembles spanning five decades of her Haute Couture, beginning in her Golden Years of the 1930s and concluding in the 1970s, Magnificent Mona Bismarck will contain four galleries: History & Pre-war; Day Wear & Cocktail Wear; Evening Wear; and her Greatest Love, gardening. Special attention will be given to her intimate collaborations with the designers Cristóbal Balenciaga, Hubert de Givenchy, and Madeleine Vionnet, and jewelers Belperron and Verdura.
On display will be three dozen Balenciaga garments and hats, including a beige and banana matelassé day suit, a fuchsia sleeveless evening gown of high-relief lace, and a blush pink evening coat made of silk gazar — a fabric specially made for Balenciaga by Abraham of Switzerland; Givenchy garments, including silk organza cocktail pajamas and an evening dress of butterscotch feathers and metallic embroidery; two silk blouses and a map of Capri scarf by Emilio Pucci; a black chantilly lace Vionnet dress with trompe l'oeil bows over a pale pink lamé slip; a shocking pink wool Schiaparelli dinner jacket; a lion's paw shell Verdura brooch; a citrine bib necklace and a "godron" cuff of gold and diamonds by Belperron; twenty-four pairs of pumps by Roger Vivier; and more.
Drawings, sketches, and photographs of Mona, her homes, her clothes, and her jewelry excerpted from Vogue​​; iconic photographs of Mona by Cecil Beaton, Edward Steichen and Horst P. Horst; a reproduction of an oil painting by Salvador Dali and an original watercolor by Cecil Beaton will also be on display.
Programming includes:
Mr. Scott Rogers, Curator of ​Magnificent Mona Bismarck​, will offer walkthroughs for press and guests on the development of the exhibition and Mona's importance to fashion, art, and culture.
Stephanie Wood, Co-Curator of the critically acclaimed ​Balenciaga: Shaping Fashion​ at the Victoria & Albert Museum, will give a public lecture on the importance of Balenciaga to fashion and with regard to Mona's style on ​Thursday, March 15 at 6 p.m​.
The Frazier's Director of Education will facilitate a discussion with Ms. Wood and Mr. Rogers on fashion, design, and Haute Couture for select art students, with information about careers in museums and working with costumes and textiles on ​Friday, March 16 at 10 a.m​.
A representative from fine jeweler Verdura/Belperron will offer a public lecture comparing and contrasting the lives and legacies of jewelers Fulco di Verdura and Suzanne Belperron, both of whose work can be seen in the exhibit, on Wednesday, April 18.
Biography
Born Mona Travis Strader in Louisville in 1897, she was the daughter of a horse trainer and breeder at Churchill Downs and Lexington's Fairland Farm. Her marriage in 1926 to the entrepreneur Harrison Williams propelled her into the highest strata of international society when his net worth ballooned to $680 million, making him the wealthiest man — and Mona the wealthiest woman — in America.

Vogue​ ran two features on Mona in 1928, calling her "one of the most popular hostesses in New York and Palm Beach." Society columns and magazines described the couple's palatial homes, including an apartment in Paris, a six-story Flemish brick house in Manhattan with Persian rugs, parquet floors, and crystal candelabra, and Oak Point, a bayside property on Long Island with lemon trees, tennis courts, and a hydroplane for sailing to Wall Street. ​The New York Times ​covered their steam yacht voyage to Japan for pearl farming and Jibuti for lion hunting. "The only reason the Harrison Williamses don't live like princes," reported ​Time​ in 1929, "is that princes can't afford to live like the Harrison Williamses."

Mona shined brightest in the 1930s — gracing the pages of Vogue, posing for her dear friend Cecil Beaton, according to whom she was "a rock crystal goddess" with aquamarine eyes. "Her clothes [in the 1930s] were always extremely feminine, soft, and graceful," he adds, "and I would hazard a guess that many of them had been designed by Vionnet." From 1938 to 1968, Vionnet's friend and protégé Cristóbal Balenciaga took over, becoming the near-exclusive designer of Mona's Haute Couture. Once the couturier of the Spanish royal family, he moved to Paris where for thirty years he spearheaded game-changing developments in women's fashion using heavy fabrics, fluid shapes, and waistless silhouettes — with Mona as his most devoted client. "She was particularly suited to Balenciaga's satin hostess gowns with the wonderfully draped backs," writes Balenciaga biographer Mary Blume.​

Mona garnered accolades and praise for her ensembles and accessories — a square ring with a sunken star sapphire, a white piqué capeline with a black and pink crêpe de Chine gown, a rose glass apron tunic with a wreath of flowers. In December of 1933, a panel of seven famous couturiers in Paris — Balenciaga, Chanel, Lanvin, Lelong, Mainbocher, Molyneaux, and Vionnet — crowned Mona the "Best-Dressed Woman in the World." She was the first American to receive this title, which she won again in 1934 and 1936. In 1940, she topped the "Best-Dressed Woman in the U.S." poll (later the annual "International Best-Dressed" poll), then appeared on the list eight more times through 1957. She, along with the Duchess of Windsor and six other women, was inducted into the Fashion Hall of Fame in 1958.

"What do I care," sang Ethel Merman on Broadway in 1936, "if Mrs. Harrison Williams is the best dressed woman in town?" That year Mona acquired ​Il Fortino​, a cliffside villa on a parcel of land in Capri that had been occupied two thousand years earlier by Caesar Augustus. She spent the second half of her life there — frolicking with her beloved dogs, gardening in linen Balenciaga walking shorts, tending magnolias with fresh water ferried in from Italy. "Her garden provided Mona's most enduring romance," writes Annette Tapert in The Power of Style. Among the friends she entertained there were Aristotle and Jacqueline Kennedy Onassis, Diana Vreeland, and Gore Vidal. In 1948, Salvador Dali painted a portrait of Mona standing barefoot in rags among Roman antiquities — a nod to the history of ​Il Fortino​.

She died in 1983 and was buried on Long Island in a black and pink Givenchy gown.
Churchill Downs Incorporated is the presenting sponsor of Magnificent Mona Bismarck. Additional support was provided by The Glenview Trust Company and a number of individual donors.