Meet Fitz!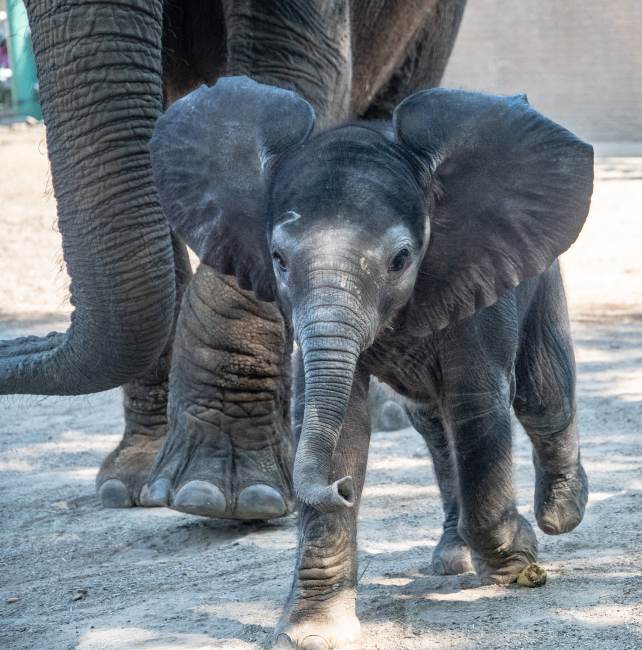 Zoo Reveals Winning Name in Elephant Calf Contest
Meet Fitz! Earlier today at a press conference the Louisville Zoo and Norton Children's Hospital heart transplant recipient Eli Alexander, his parents, Nick and Caitlyn, and his sister Abigail unveiled the winning name in the Elephant Calf Naming Contest. Eli's parents have likened his strength and bravery to that of an elephant in his battle with a heart defect and later with a life-changing heart transplant at Norton Children's Hospital, so it seemed fitting that he would help the Zoo reveal the name.
In a naming contest sponsored by Norton Children's, Zoo fans submitted over 15,500 names for the male elephant calf born on August 2, 2019. The elephant crew had an epic task narrowing down those entries to just three. The finalists were Fitz, Rocket and Walt.
Kristin Hays from Prospect submitted "Fitz" after her great-grandmother who loved elephants and passed the love on to her. Each of the final three names had duplicate submissions, so the Zoo performed a random drawing amongst the people who submitted each of these three names to decide our finalists. Hays will receive a prize basket with items from the Zoo and Norton Children's Hospital along with a gift certificate from Comfy Cow and a behind-the-scenes tour (for 5 guests) to meet the elephant calf and Mikki.
Over $6,000 was raised in the contest and all proceeds from the naming contest will support the Zoo's mission to "better the bond between people and our planet" by providing excellent care for animals, a great experience for visitors, and leadership in conservation education and action.
The other two finalists were Tatyana Malkin whose 9-year-old daughter, Sofia, asked her to submit "Rocket" to go along with our recently named bongo "Groot," both from the movie "Guardians of the Galaxy" and Taylor Barr from Meade County who submitted "Walt" after Walt Disney. Malkin and Barr will be awarded a prize basket containing items from Norton Children's Hospital including a blanket, two (2) travel cups, an insulated cup and an umbrella. The basket will also include (1) Louisville Zoo plush elephant, (1) Louisville Zoo tote bag, plus (1) Louisville Zoo admission package including admission tickets, parking and all-day carousel rides for four persons and a gift certificate from Comfy Cow.
CALF BACKGROUND
The Zoo welcomed a male elephant calf on Friday, August 2 to now 34-year-old African elephant Mikki. Mikki and the calf are on exhibit daily 10 a.m. to noon, subject to change while the acclimation process continues. Zoo guests can visit LouisvilleZoo.org/Mikki to see daily updates for elephant viewing and to vote.