Make it a Double on National Bourbon Day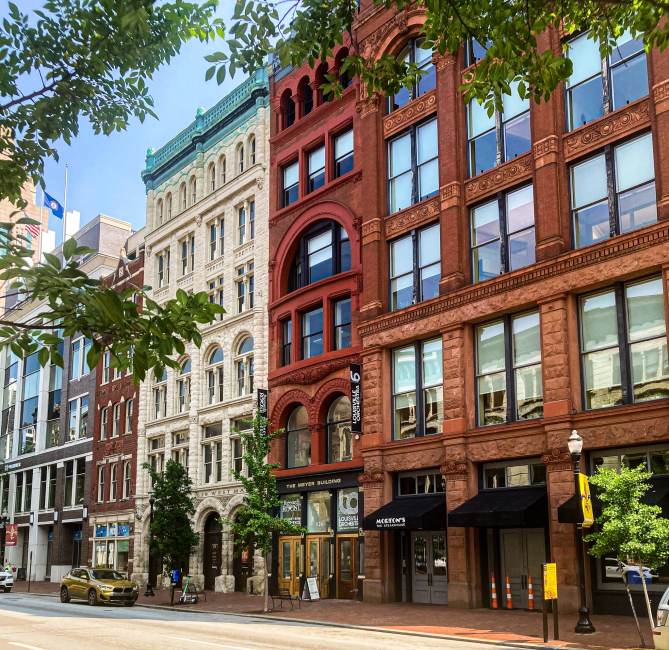 Louisville toasts Whiskey Row's newest Bourbon attractions
LOUISVILLE, Ky. (June 8, 2023) — Two of Louisville's newest Bourbon experiences have recently opened on historic Main Street in Bourbon City. Buzzard's Roost Sipping Whiskey Row Experience and Number 15, whose name pays homage to Kentucky's number as the 15th state to join the Union.

Buzzard's Roost Whiskey Row Experience is located at 624 W. Main Street with 6,000-square foot space including a 75-gallon Vendome pot still producing up to seven barrels of new-make bourbon or rye per week, complementing Buzzard's Roost's sourced whiskies, which are currently re-barreled and bottled at Bardstown Bourbon Company in Bardstown, KY.

The new Bourbon distillery will focus on educating consumers through acclaimed bourbon expert and author Susan Reigler's three whiskey classes as well as author and whisky educator Heather Wibbels' three hands-on cocktail classes. Each class includes tastings and will be taught by trained Whiskey Guides. Tasting flights and cocktails are available for patrons.

Number 15 recently opened at 121 Main Street with five floors to explore alongside Kentucky-themed food and drink menus. The new 'social hall' will offer multiple nights of live music without a cover charge and utilize a unique RFID wristband payment system allowing guests to move freely throughout the entertaining spaces and leave without closing a tab with a bartender. Self-serve ordering kiosks provide food service options as well.

Open Wednesday through Sunday, the main floor stage features Kentucky musicians with the second-floor bar offering additional seating for main stage views along with an outdoor balcony overlooking Main Street. Last Place, the lower-level lounge, houses a sports bar vibe and a separate entrance from Washington Street open seven days a week, 11 a.m.-2 p.m.

Number 15 will host an all-inclusive brunch Saturdays and Sundays and has two event spaces for rent, along with a separate three-bedroom, two-bath suite available.

A third new Bourbon experience is coming soon with Bardstown Bourbon Co. opening a "brand experience" at 730 W. Main St. later this summer. The Louisville expansion of the Bardstown-based distiller will include a full-service bar and lounge, a bottle shop and a classroom space to educate guests on the company's "modern and technically advanced" approach to its spirits. It's also expected to host limited and rare bottle releases and intimate tastings.

For the first 14 days of June, Louisville celebrates its official cocktail—the Old Fashioned— a cocktail that was originally created at the Pendennis Club downtown Louisville, before its popularity spread worldwide. This yearly celebration kicked off on June 1, which is the Commonwealth of Kentucky's birthday, and concludes on National Bourbon Day on June 14. Louisville Tourism offers 14 ways to celebrate Bourbon and Old Fashioned Fortnight this month.