Louisville showcases packed event lineup for New Year's Eve weekend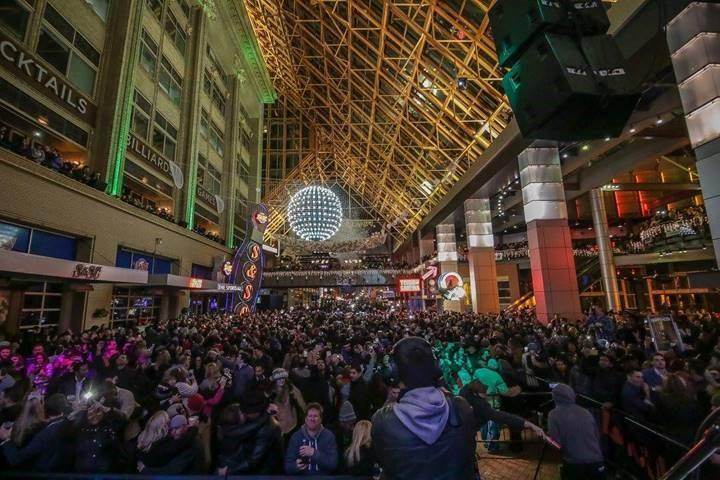 A roundup of events for celebrating New Year's Eve
Louisville has been ranked by WalletHub as a Top 20 Destination to celebrate New Year's Eve this year. The city's event calendar is full of end-of-year celebrations to suit any visitor's style from high-end VIP celebrations and block parties, to soul music concerts and dive bar shows. Here is a round-up of events for the 31st:
NYE 2018 at Mellwood Arts Center – Presented by John Kenyon, Grey Goose Vodka, Bacardi USA and more, this party will offer an all-inclusive New Year's Eve experience for $80.00. Music will be provided by Tony & The Tan Lines and DJ K-Dogg. Tickets can be purchased at www.nye502.com.
New Years Eve at 4th Street Live! – Boasted as the city's Biggest New Year's Eve Party, this block party will feature music by From Paris, confetti cannons, a balloon drop, party favors and the city's one and only ball drop. Tickets start at $45 per person and can be purchased at www.nye-live.com/louisville.
A James Bond New Year's Eve Party – The Galt House Hotel is hosting a James Bond-themed party in the hotel's Grand Ballroom. It will begin at 8 p.m. with a reception, followed by dinner and live entertainment by the Louisville Crashers until 2 a.m. The hotel is also offering a package including an overnight stay. Admission starts at $125 per person and can be purchased at www.galthouse.com.
The Player's Ball - A Salute to 70s Soul Cinema – Headliners Music Hall and WFPK partner for their annual NYE bash with a soulful twist. It will feature house band Zach Longoria Project with special guest vocalists Sheryl Rouse, Carly Johnson, Otis Junior, Zach Longoria and Gina C. There will be a photo booth and a balloon drop at midnight. Tickets are $20 in advance and $25 the day of the show. www.headlinerslouisville.com
St. Paul & Broken Bones at the Palace – WFPK Presents six-piece soul band St. Paul & The Broken Bones at the Louisville Palace on New Year's Eve. Doors will open at 8 p.m. and General Admission starts at $39.50 per person at www.louisvillepalace.com. VIP and Travel Package Experiences are also available from a private reception and appetizers prior to the show, to hotel accommodations at Courtyard Downtown Louisville. These packages can be purchased at www.cidentertainment.com.
Butchertown Social Masquerade Party – This event will feature a surprise guest DJ, shot and Champagne pairings and special Champagne cocktails. Glitzy masks encouraged! www.facebook.com/thebutchertownsocial
Silent Disco at Galaxie Bar - Throw on the provided headphones for one of the most innovative ways to enjoy live music. You will be shuffling through different jams of three DJs battling it off for the ultimate NYE dance experience. Presale tickets are available on Eventbrite: www.galaxienye2017.eventbrite.com
Red Herring Lounge Cocktail Party - Dance, drink and delight in good company at Red Herring, 1757 Frankfort Ave., during its New Year's Eve party on Sunday, Dec. 31. Doors open at 6 p.m. with live music by Marvin and the Odyssey from 6 to 9 p.m. followed by DJ JP Source from 10 p.m. to 1 a.m. A complimentary champagne toast will happen at midnight, and guests will have a chance to win a VIP experience at Heaven Hill and Evan Williams as part of Red Herring's #100Days100Cocktails promotion. Cost is $5 per person. For more information visit www.RedHerringLou.com.
502 Bar & Bistro - Eat, drink and dance this New Year's Eve at The 502 Bar & Bistro, 10401 Meeting St., Sunday, Dec. 31. Enjoy three dinner seatings at 5, 7 and 9 p.m. with featured specials from executive chef Ming Pu, as well as the regular dinner menu. Guests can dance 2017 away with beats from DJ Bowers starting at 11 p.m., and toast to 2018 with complimentary champagne at midnight.