Louisville is packed with Holiday Fun 'Yule' Adore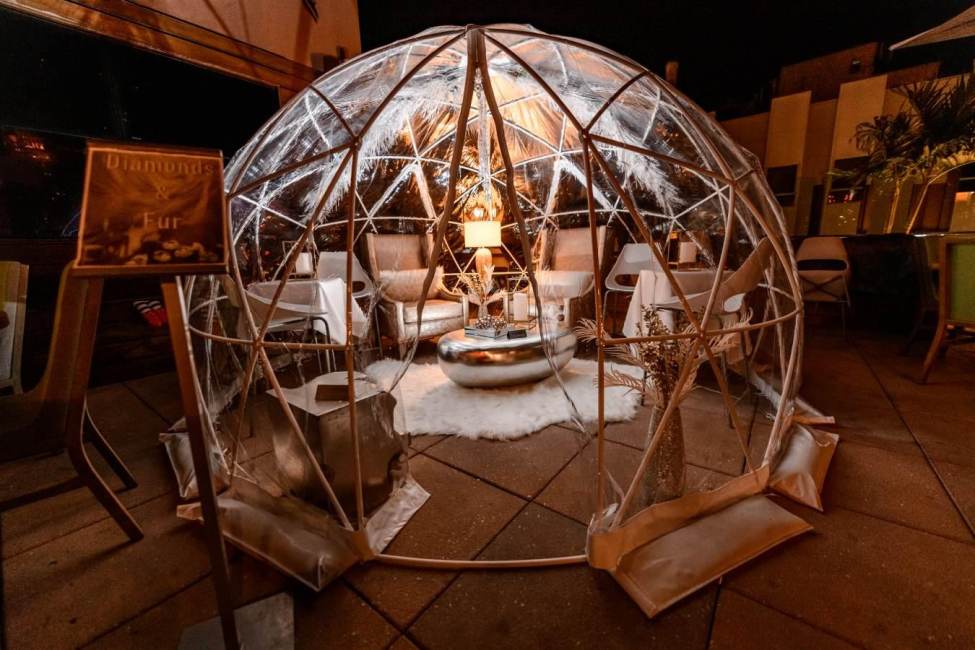 From historic home tours and holiday pop-up bars to ice skating and igloos, it's easy to see why Louisville has been named one of WalletHub's "2021 Best Winter Holiday Destinations" to celebrate the most wonderful time of the year.
LOUISVILLE, Ky. (Nov. 29, 2021) – Several fun and festive holiday events have made their return to Louisville this yuletide season. From historic home tours and holiday pop-up bars to ice skating and igloos, it's easy to see why Louisville has been named one of WalletHub's "2021 Best Winter Holiday Destinations" to celebrate the most wonderful time of the year.

Some of the festive events that are sure to light up your holidays include:

Fête de Noël | ends January 2
Fête de Noël transforms Paristown into a Winter Village featuring Louisville's only authentic outdoor ice-skating rink. Guests are invited to skate, shop, eat and drink in the heart of Paristown at the Brent Street Holiday Market, Santa's Paristown Workshop and the Spirits of Scrooge Escape Room Experience. Don't miss Drag Queens on Ice December 5. Ice skating runs through January 2, while the market, Santa workshop and escape room conclude December 24.

Iglous at 8UP Elevated Drinkery & Kitchen | Through end of Winter
Cozy up and get toasty in a heated igloo at 8UP Elevated Drinkery & Kitchen. The downtown rooftop bar located at the Hilton Garden Inn Downtown has created a winter wonderland featuring eight themed, all-weather igloos. Sip champagne in the elegant Diamonds & Fur igloo or get comfy in the flannel bedecked Winter Lodge.

Lights Under Louisville | ends January 2
At this holiday favorite, Louisville Mega Cavern is transformed into a festive underground light spectacular through. Enjoy a 30-minute ride through part of 17 miles of underground passageways. Featuring more than 900 lit characters with over four million points of light.

Miracle on Market Pop-Up Holiday Bar | ends December 31
This holiday themed pop-up experience in NuLu will have you feeling festive with creative cocktails, specialty mugs, and holiday music and movies.

Winter Woods Spectacular | ends December 26
From the producers of the popular Jack O' Lantern Spectacular, experience the twinkling of millions of lights along a winding road through Louisville's scenic Iroquois Park. It features a half-mile magical drive of lighting and artistry exploring and celebrating the holiday season.

Venardos Circus | December 2-12
This classic red-and-white striped circus tent will return to Waterfront Park with over a dozen shows to choose from this December. Founded by previous Barnum and Bailey performer, Venardos is now reinventing the circus theme with new elements for families to enjoy along with the classics like trapeze, stunts, artists and costumes.

Gardens Aglimmer at the Waterfront Botanical Gardens | December 2-30
Wander the new Beargrass Creek Pathway under icicle arches and a view a waterfall stream aglow during a self-guided walking experience through an illuminated outdoor wonderland of swans, snowflakes, deer, Moravian stars, oversized flowers and a multicolor tunnel of lights. Visit Santa and his sleigh in the Graeser Family Education Center and Mrs. Claus' Cottage in the new Ellen T Leslie Botanical Classrooms.

Historic Old Louisville Holiday Home Tour | December 4 & 5
For one weekend only guests can get a rare glimpse inside some of Old Louisville's grandest mansions and historic houses dressed in holiday finery. This year the self-paced tour will showcase iconic St. James Court and South Fourth Street mansions with homes clustered within two blocks. Upon arrival at a house, a guide will describe the home and its history and then allow guests to tour the rest at their leisure. There will be a special premium bourbon tasting at the Louisville Bourbon Inn as part of each admission ticket.

Winter Wonderland at Shawnee Park | December 17-19
For three nights during this inaugural holiday event, the park will be transformed for a drive-thru community celebration featuring more than 200,000 lights, festive tunes and holiday displays. Visitors are welcome to this free community event from 5pm-9pm, courtesy of the nonprofit group OneWest.

Catch one of the many holiday performances under way, including "A Christmas Carol: Ghost Story" live in the Bingham Theater at Actors Theatre of Louisville as well as two seasonal options at Derby Dinner Playhouse, just across the river in Southern Indiana. Through December 30, you can catch "A Christmas Story the Musical," which features memorable scenes from the iconic holiday movie, while kids will love "Once Upon a Snowflake," a heartwarming musical about a small snowgirl with big dreams through December 20.

Additionally, Pentatonix: The Evergreen Christmas Tour will feature the three-time Grammy winning artist at KFC Yum! Center this holiday season. The a cappella group is known for their viral versions of Christmas classics like Hallelujah, Mary, Did You Know? and The Little Drummer Boy. The December 11 Louisville stop will be one of sixteen cities that the quintet visits on their U.S. only holiday tour.

With Travel + Leisure designating Louisville as one of "America's Best Cities for Winter Travel," plan your seasonal getaway to check out the city's lineup of festive events. Guests can also use the Louisville Tourism's annual Visitor Guide to help plan a tour around Louisville to see the city's top attractions and bourbon distilleries. Visitors also can get additional city attraction, lodging and dining assistance at gotolouisville.com along with information on the state's current covid-mitigation guidelines.