Louisville Hotel Creates $100,000 Derby Package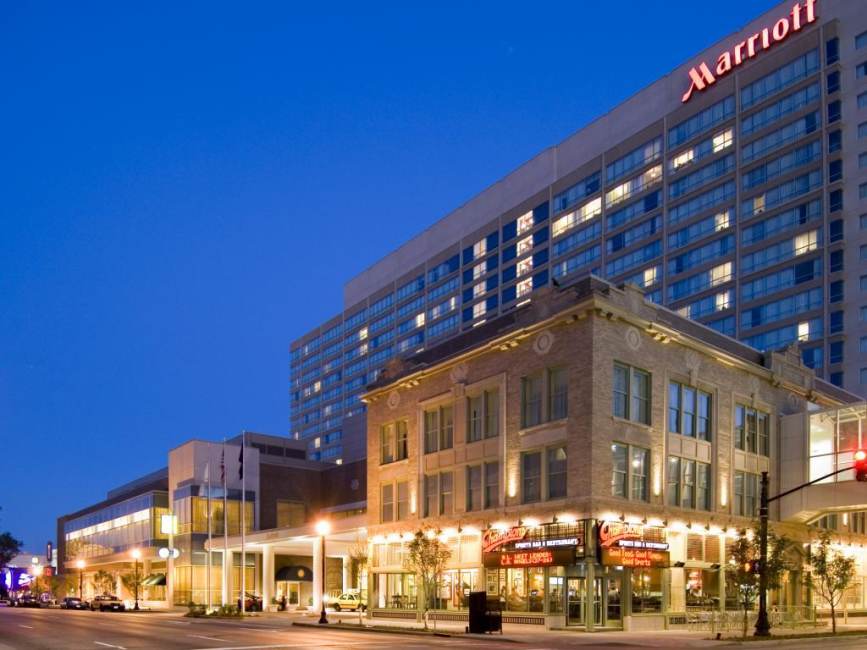 Louisville Marriott Downtown Creates Once in A Lifetime $100,000 Derby Package
Louisville, KY. (March 6, 2017) – The Louisville Marriott Downtown has officially announced the Best of The Bluegrass hospitality package for the upcoming 2017 Derby season. Start the weekend off with the finest Moet & Chandon Dom Perignon champagnes, Pappy Van Winkle bourbons, and local cuisine grown on Kentucky farms while experiencing all that the Bluegrass has to offer.
The Best of the Bluegrass package allows guests to experience extraordinary elegance in the Louisville Marriott Downtown's 14th floor presidential suite beginning on Thursday, May 4th. The expansive suite boasts amenities and luxurious décor. Guests will appreciate sweeping Ohio Riverfront and Downtown views, large walk-in closet, private butlers' kitchen and exclusive bar and bartender's service in suite. Other amenities include 24/7 room service, 24/7 private security, 24/7 escort in a Suburban SUV. Travel escort to Churchill Downs, transportation to and from the Louisville International Airport, and private tours of two of Kentucky's distinguished Distilleries – Angels Envy and Heaven Hill.
"We are thrilled to offer this exceptional and one-of-a-kind Kentucky Derby package for those interested in luxury at its finest." David Greene, Louisville Marriott Downtown General Manager says. "The Kentucky Oaks and Derby at Churchill Downs are events of a lifetime and we hope to enhance and heighten on that Bluegrass experience."
This unique package includes 2 seats in the exclusive turf club for both the Kentucky Oaks and the Kentucky Derby, security escorts to seats, personally prepared breakfast daily in the presidential suite, gourmet dinner Friday and Saturday night prepared by Chef Graham Weber, 10 selected bourbons from the General Manager bucket list, which include Pappy Van Winkle's Family Reserve 20 year, Blanton's, Booker's, Noah's Mill, W.L Weller 12 year, Four Roses Single Barrel, Jefferson's Ocean Aged at Sea, Jefferson's Reserve Groth Cask Finish, Old Forester Birthday Bourbon, and John E. Fitzgerald Larceny, A personal butler 24/7, and two tickets to Louisville's finest Derby Eve Gala celebration; Barnstable Brown. The Louisville Marriott Downtown will also provide handicapping of the races by one of the foremost handicappers in the United States (winning not guaranteed!), custom Derby Hat by World Famous Hats by Angie, and a private hair stylist Friday and Saturday morning to prepare you to look your very best. Makeup and nail appointments are also provided.
The Best of The Bluegrass Package totals a 3-night package, beginning on May 4th. For pricing or details on all available Derby Packages, please contact Shane Weaver at shane.weaver@marriottlouisville.com or Jennifer Cummings at jennifer.cummings@marriottlouisville.com.