Louisville Goes Gonzo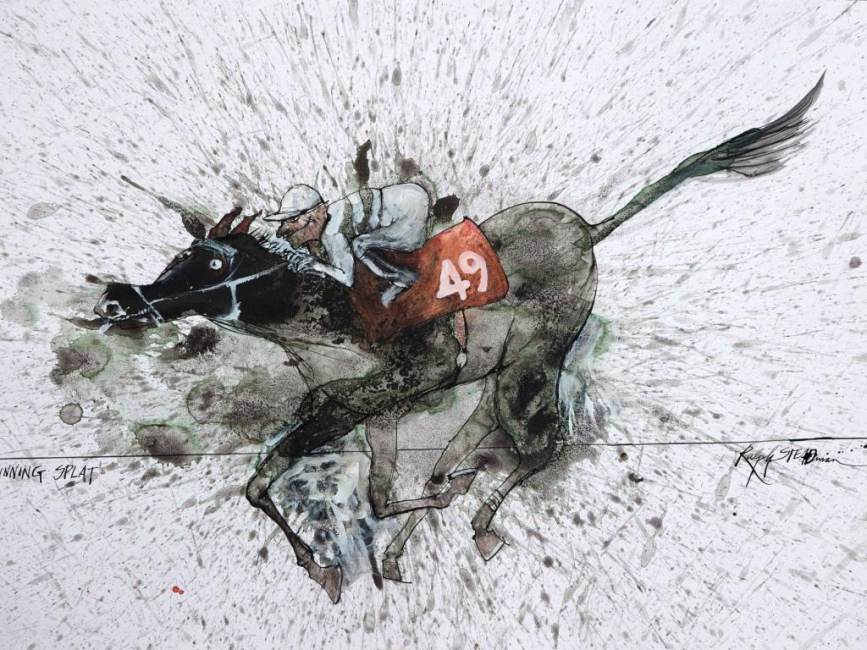 LOUISVILLE, Ky. (May 2, 2019) – It was on May 2, 1970 that late famed journalist Hunter S. Thompson attended the Kentucky Derby and used his experience to pen the infamous essay, "The Kentucky Derby is Decadent and Depraved."
Now, 49 years later, the Louisville native, who is the founder of the Gonzo journalism movement (in which the writer does not simply cover the story, but becomes the story), is being celebrated in his hometown during Derby week at Churchill Downs.
It was also during Thompson's trip to Derby nearly five decades ago that he would meet his longtime friend, collaborator and artist, Ralph Steadman, who is the illustrator of "The Kentucky Derby is Decadent and Depraved." The duo's first-person account centered on the races and events surrounding the Kentucky Derby and is often cited as the first published piece of Gonzo journalism.
Steadman is a guest of the racetrack on Thursday, May 2 during Thurby (now in its sixth year, Thurby marks the official start of the Derby weekend). His visit also happens to be 49 years to the day that he first met Thompson.
Steadman has created an original piece of artwork, in partnership with Churchill Downs and the Speed Art Museum specifically for Thurby. From May 2 through June 29, his work will be on display at the Kentucky Derby Museum.
A limited-edition "Thurby Goes Gonzo 2019" poster will be available for purchase at Churchill Downs on May 2 for $25. Steadman will sign posters in the racetrack's Plaza from 2 to 3 p.m. Other highlights include: Local Gonzo artist Grant Goodwine, who studied with Steadman, will create original art in the Plaza; the Squallis Puppeteers will bring Thompson to life throughout the racetrack; and there will be giveaways of Hunter S. Thompson's trademark aviator sunglasses.
Churchill Downs isn't the only place Thompson is being celebrated in Louisville.
The Frazier History Museum opened the exhibit, "Freak Power: Hunter S. Thompson's Campaign for Sheriff," this week. The exhibit will explore Thompson's bid to become sheriff of Pitkin County, Colo. His writing for the campaign and the art created to accompany it are among the most notable works he's ever produced.
The show will feature 125 limited-edition silkscreen prints, offset lithographs, reproductions of historical newspaper articles, documentary photographs, as well as a 30-minute BBC documentary about the campaign, along with additional rare and historic footage. A special section dedicated to Thompson's roots includes a photograph of his Louisville home.
The exhibit runs at the Frazier through Sept. 2.
The Speed Art Museum will open a Hunter S. Thompson-themed exhibit this summer. "Gonzo! The Illustrated Guide to Hunter S. Thompson" will open on July 12 as a kickoff to the ninth annual GonzoFest Louisville, held on July 20 at the Louisville Free Public Library.
end