Louisville-Born Music Genre Celebrates with Festival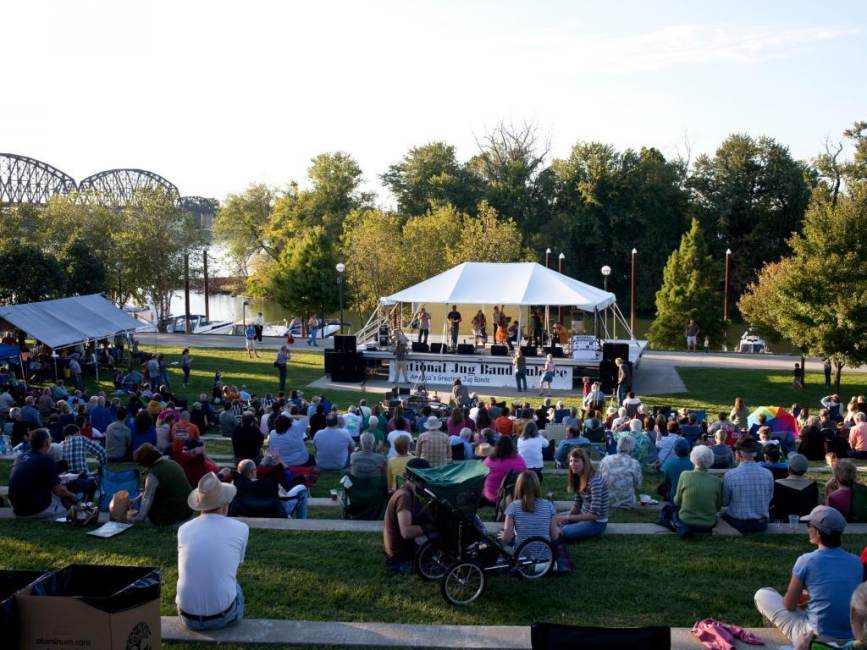 LOUISVILLE, Ky., (Aug. 11, 2017) – The top jug bands in the country are headed to Louisville – the official home of jug band music – for the 13th annual National Jug Band Jubilee.
The musical celebration, held Sept. 16 at the Brown-Forman Amphitheater in Waterfront Park, will be headlined by Jerron "Blind Boy" Paxton.
The Los Angeles-born vocalist and multi-instrumentalist was recently featured in the PBS documentary "American Epic," which chronicled the development of American roots music.
Paxton, who is legally blind, is one of the few African American banjo players touring today. He's been lauded by the Wall Street Journal as "virtually the only music-maker of his generation – playing guitar, banjo, piano and violin, among other implements – to fully assimilate the blues idiom of the 1920 and '30s, the blues of Bessie Smith and Lonnie Johnson."
The 2017 lineup also includes: Tuba Skinny (New Orleans); G Burns Jug Band (San Diego); Cincinnati Dancing Pigs; Louisville's Derby City Dandies; Deep Fried Pickle Project (Columbia, Mo.); and Combs & Company (Asheville, N.C.).
In addition to hosting some of the greatest jug bands in the world, the 2017 Jug Band Jubilee will feature an expanded vending area featuring food trucks, local artists and children's workshops.
Admission is free. Chairs, blankets and dancing shoes are welcome. For more info, visit www.jugbandjubilee.com.
The National Jug Band Jubilee was created to celebrate the legacy of jug band music in Louisville. The city is the acknowledged home of jug band music, a pre-war jazz style that features traditional and homemade instruments. In the late 19th century, African American musicians walked the Louisville streets playing tunes on improvised instruments, including empty liquor jugs, kazoos and washboards. By the time the sound reached its peak in the 1930w, it had infiltrated towns up and down the Ohio and Mississippi rivers, especially Memphis and New Orleans.