Light Up Louisville Kicks Off Holiday Season in Bourbon City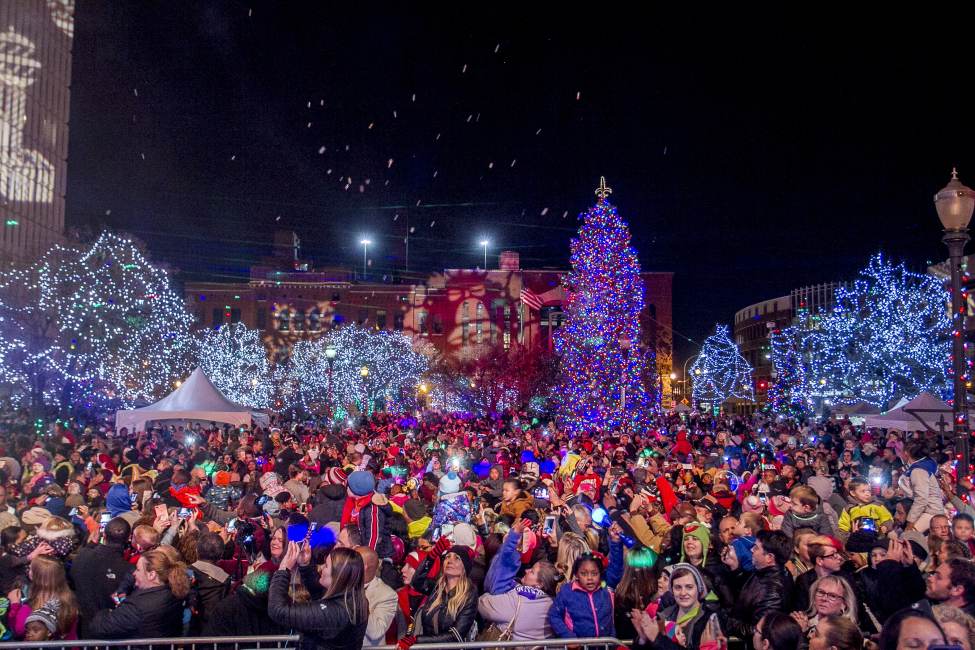 Several festive new events also making a debut in 2019
LOUISVILLE, Ky. (Nov. 18, 2019) – Louisville's annual day-after-Thanksgiving tradition returns for the 39th year to officially kick off the holidays in Bourbon City.
Light Up Louisville will be under way Friday, Nov. 29, outside of Metro Hall at Jefferson Square and Sixth Street in downtown Louisville.
This year, several new holiday events are also making their debut, including Winter Woods Spectacular and Fête de Noël. These inaugural events, along with holiday favorites like Lights Under Louisville, make Louisville a premier year-end destination.
"Louisville has been recognized as one of the best cities for festivals and events in North America. With the return of traditional, longtime holiday favorites, along with the addition of several festive new offerings this year, the city has truly positioned itself as a regional destination for the holidays," says Karen Williams, President & CEO, Louisville Tourism. "We look forward to welcoming visitors to our city to experience our unique lineup of holiday-themed events, along with our one-of-a-kind attractions, museums and more family-friendly fun."
Light Up Louisville begins at 3 p.m. Highlights include live entertainment and a Children's Workshop where youngsters can make holiday crafts, decorate cookies and write letters to Santa Claus.
A Holiday Village will be set up at Sixth and Jefferson streets and feature holiday crafts, treats and gifts for sale. The Lots of Lights Parade starts at 6:30 p.m. at Fourth and Liberty streets and culminates with the arrival of Santa Claus.
Around 8 p.m., Santa and special guests will gather on stage to illuminate the city Christmas tree (a 45-foot-tall Norway Spruce) located in Jefferson Square. The official Light Up moment will set downtown Louisville aglow with thousands of lights and cap off with a fireworks show.
In addition to the Light Up festivities, the Louisville Visitor Center, located nearby at 4th and Jefferson streets, will also be hosting a special holiday-themed event.
For more information, visit: www.LightUpLouisville.org.
Additional holiday events taking place throughout Louisville include:
NEW: Winter Woods Spectacular: From the producers of the popular Jack O' Lantern Spectacular, Winter Woods Spectacular will debut in Iroquois Park from Nov. 30 – Dec. 31. It features a half-mile drive of lighting and artistry exploring and celebrating the holiday season. Proceeds will benefit the Louisville Parks Foundation. More info: WinterWoodsSpectaclar.org
NEW: Fête de Noël: Paristown's inaugural Fête de Noël is a six-week Winter Village featuring Louisville's only authentic outdoor ice-skating rink. Residents are invited to skate, shop, eat and drink in the heart of Paristown, and experience the return of Louisville's award-winning Holiday Laser Dome, Stoneware & Co. ornament decorating, holiday family movies and more. It runs Nov. 27th – Jan. 5th. More info: Paristown.com/FeteDeNoel
NEW: Moonlight Cruises: The Belle of Louisville and the Mary Miller will be offering special Light Up Louisville Moonlight Cruises on Nov. 29.
Lights Under Louisville: Each year, Louisville Mega Cavern is transformed into an underground holiday light spectacular for the holiday season. Enjoy a 30-minute ride through part of 17 miles of underground passageways. Featuring more than 850 lit characters with more than three million points of light. Lights Under Louisville is open Nov. 15 – Jan. 4. More info: LightsUnderLouisville.com
end