Let Loose and Learn to Tango in Louisville this Summer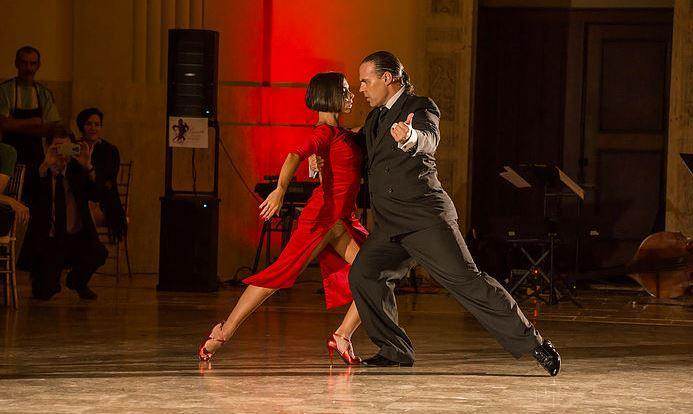 Free beginner lesson among the a la carte sessions offered
LOUISVILLE, KY (April 24, 2019) – The Seelbach Hilton hotel will sizzle with the passion and artistry of Argentine tango as Buenos Aires comes to Louisville June 7-9 for the Fourth Annual Louisville Tango Festival. Over 250 local, national and international tango dance aficionados are expected to attend the three-day event.

The Louisville Tango Festival will include three days of dance classes, workshops, and milongas (tango social dance events) featuring twenty international performers, teachers, musicians and DJs dedicated to creating the Buenos Aires experience of Argentine Tango. There will be a free ninety-minute beginners tango lesson on Saturday June 8 beginning at 8 p.m. The free lesson is open to all offering the perfect opportunity to enter the world of tango.

Advance tickets available at LouisvilleTangoFestival.com include a al carte sessions starting at $20 and full day passes starting at $155 with live music by Cuarteto Tanguero.
In line with The Seelbach Hilton hotel's history, the theme for this year's festival is The Great Gatsby, and dancers are encouraged to wear outfits recalling the Roaring Twenties depicted in F. Scott Fitzgerald's 1925 novel and featured in the 2013 Great Gatsby film.
Beginning Friday, June 7, workshops will cover every aspect of tango from an introduction to tango dance etiquette to the history of tango along with dance instruction tracks from beginner to advanced.
The signature event is the Saturday night Showcase and Great Gatsby Milonga from 9:30 p.m. to 4 a.m. featuring dance performances, and music by Cuarteto Tanguero. This is where attendees should put on their best Roaring Twenties attire.
The showcase follows the free beginner tango lesson. All sessions are at the Seelbach Hilton hotel, 500 S Fourth Street, Louisville KY 40202. Louisville Tango Festival is organized by Christy Byers and enthusiastic volunteers in the Louisville dance community.
If you are planning a visit to Louisville for the Tango Festival, or any of the many other festivals in Louisville, Louisville Tourism provides several planning resources, including suggested itineraries at GoToLouisville.com/myexperience, the monthly Lookin' at Louisville video series, a searchable list of events at www.gotolouisville.com, a free Louisville Visitors Guide and complimentary hotel booking service via 1-888-LOUISVILLE.