Kentucky Kingdom Adds New Attractions for 2018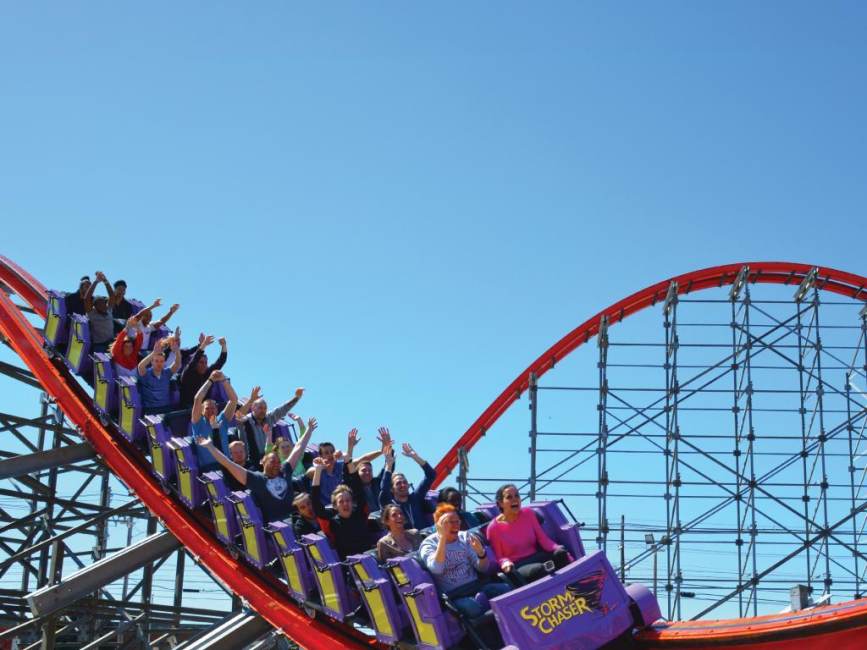 LOUISVILLE, Ky. (Nov. 30, 2017) – Having just completed a record-breaking season, Kentucky Kingdom is gearing up for 2018 with several planned new attractions.
A thrill ride (Scream Xtreme), a family ride (Rock 'n' Roller), and two films for the 5D Cinema, "Happy Family, The Ride" and "Journey 2 the Mysterious Island," the latter starring Dwayne Johnson, better known as "The Rock," will make their debut next year.
In addition, the park's classic wooden coaster, Thunder Run, is undergoing extensive track work, which will deliver a smoother and faster ride. Many other amenities will also be introduced, including new, affordably priced cabanas situated alongside the giant wave pool, more shade structures, and new seating areas throughout the park.
Ed Hart, Kentucky Kingdom's President and CEO, elaborated on the successful 2017 season that ended October 1. "We're pleased to report that the park had another record year in 2017, drawing an average of more than 9,000 visitors per day during the peak summer season. More than 30 percent of those guests came from surrounding states. My partners - Ed Glasscock, Bruce Lunsford, and the Al J. Schneider Company - and I have invested $70 million in Kentucky Kingdom. In doing so, it's always been our goal to restore Kentucky Kingdom to its former status as a regional destination. That's a win for Kentucky's tourism and hospitality industry, which we are very proud to be part of."
Hart went on to add, "Before we reopened Kentucky Kingdom in 2014, the park had a total of 27 theme park and water park rides. Since then, we've more than doubled the number of rides and water attractions. These additions include two highly acclaimed roller coasters, Lightning Run and Storm Chaser, both of which are on the list of the world's top steel roller coasters compiled by Amusement Today, a leading industry publication. Kentucky Kingdom now has more than 70 rides and attractions, including the greatly expanded Hurricane Bay water park and one of the largest selection of children's rides in the region.
For the 2018 season, general admission is $54.95. Admission for children (under 48 inches tall) and seniors (age 55 and over) is $39.95.
The early bird price for a 2018 season pass is $69.95. Passes are on sale on the park's website (KentuckyKingdom.com). The benefits of a season pass include unlimited admission, free parking (a savings of $8 on every visit), $1 soft drinks (regular price is $3), and 20 percent off all food and merchandise purchased in the park. Free tubes for the water park and free sunscreen are offered to all Kentucky Kingdom guests.
Early bird season passes for 2018 also include new benefits: $12 in discounts for selected games, $18 in discounts for the new cabanas, and a $10 discount off the price of a large, family-size pizza (regularly $29.95) all season long. The additional $30 in games and cabana discounts, as well as the season-long $10 discount on the family-size pizza, will automatically be loaded onto each early bird season pass card. Details on the discounts can be found at kentuckykingdom.com.