Kentucky Derby Milliners Get Creative Amid COVID-19 Pandemic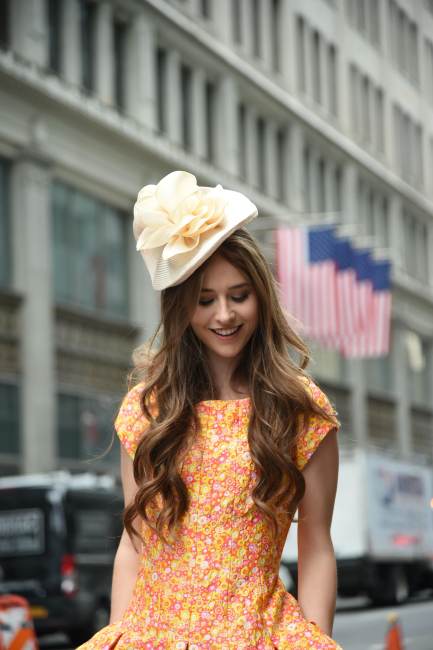 Designers Make Protective Masks for Healthcare Industry, Front-Line Workers & Public
LOUISVILLE, Ky. (April 9, 2020) – Kentucky Derby milliners are using their talent and creativity to pitch in and help protect the public during the COVID-19 global pandemic.
With the legendary horse race being moved to Sept. 5 from its usual first Saturday in May at Churchill Downs, construction on colorful floral and feathery headpieces have come to a screeching halt. Sewing machines are buzzing once again though as designers have switched gears in their studios to create masks for employees on the front lines.
The Centers for Disease Control and Prevention (CDC) recommended late last week that everyone wear masks when frequenting public places, including grocery stores and pharmacies.

When Christine Moore (owner/designer of the Christine Moore Millinery based in New York City, who sells her chapeaus at Rodes For Her in Louisville) left her Manhattan studio a few weeks ago, she grabbed as many fabrics and supplies as she could while she and her team dispersed the shop and drove home or hopped on subways with their bags overflowing. The plan was to continue filling orders on custom Derby hats at their New York residences.
As the crisis deepened, Moore (a featured milliner of Kentucky Derby 146) realized the materials she brought home with her might be best able to serve another purpose. After doing a little research on mask design, she began stitching them up in her Queens apartment for workers in the medical industry. The masks are made of a double layer of a cotton and polyester blend and feature a pouch, where people can insert a filter for added protection. They also have millinery wire in the nose area that can be pinched to create a tighter fit, along with ties or an elastic strip that goes over the ears.
"All of us at Christine A. Moore Millinery are honored to do our part by helping our amazing healthcare workers and others who courageously and diligently work each day to make our lives better," Moore said.
Olivia Griffin, owner of The Mysterious Rack hat shop in Louisville, is another milliner who has joined the cause. She has been sewing and assembling masks around the clock the past week to fulfill requests. Her main mission is to get masks in the hands of those other essential front-line workers.
"What about the bus drivers? What about the grocery store employees? What about cab drivers? What about the delivery drivers? What about all of them? In addition to the medical workers, these other front-line people need masks too," Griffin said.
She also did some research so she could create a design that offered optimum protection. The end result is a cotton mask with a pocket that she fills with a double layer of what she describes as an "industrial paper towel" to help create a strong barrier. She also uses pipe cleaners and elastic, among other materials. Griffin also sells her designs to the public and is currently working on a waterproof style.
Both Moore and Griffin make masks in adult and children's sizes. To make a donation (including materials and supplies), and/or for more info about Moore and Griffin's endeavor, visit their websites: CamHats.com and MysteriousRack.com.
end