Kentucky Derby Festival's 'Fest-a-Ville' Back with New Events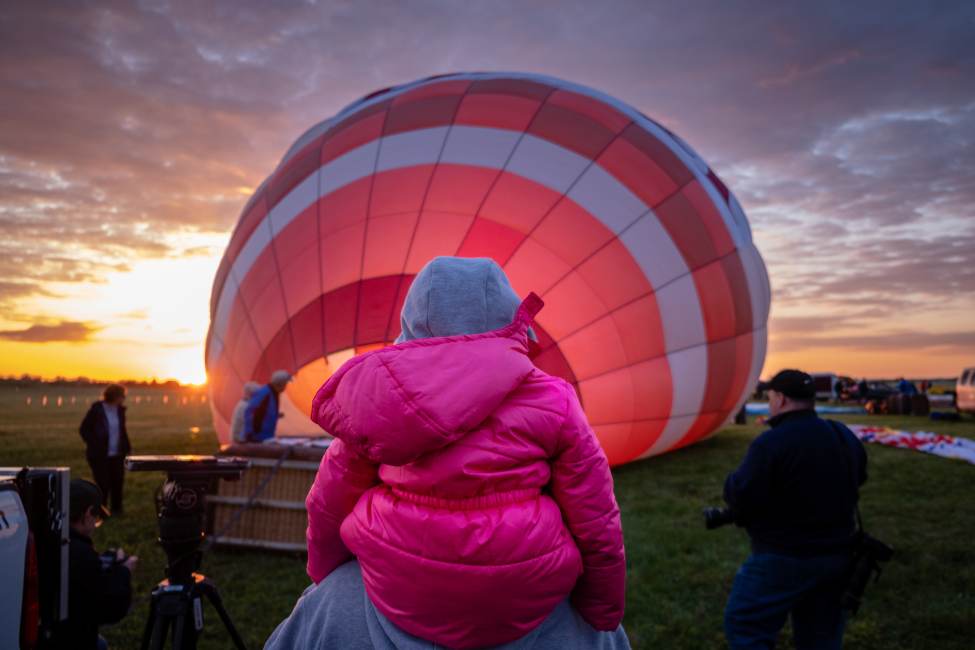 Highlights include Chow Wagons, Great Balloon Glow and new 'Flavors of Fest-a-Ville'
LOUISVILLE, Ky., (April 11, 2022) – The Kentucky Derby Festival returns with this year featuring a slew of events including concerts, festive food, family-friendly fun, hot-air balloon displays, midway rides, helicopter excursions and even professional wrestling throughout the packed line-up at this Derby Festival favorite, now in its 14th year.

Fest-a-Ville is open daily April 28 through May 6. (Closed on Monday, May 2.) Hours are 11.a.m. to 11 p.m., Monday through Saturday and noon to 10 p.m., Sunday.

Events include:

Kentucky Derby Festival Chow Wagon: Open during the entire eight days of Fest-a-Ville, this outdoor food and live music venue is a long-running Derby Festival tradition. Happy Hour Weekdays: 4-6 p.m. $3 beers at the Miller Lite Beer Garden.
Kentucky Derby Festival Great Balloon Glow: Friday, April 29, 9 p.m. The event has been moved to Fest-a-Ville this year and features a dozen balloons lighting up the city skyline.
(NEW) Flavors of Fest-a-Ville: Sample foodie favorites from popular Festival tradition, the Chow Wagon. It's open weekdays only from 11 a.m. to 1 p.m. Samples range from $2 to $4.
Pegasus PlayVille features a variety of kid-friendly activities, including Charlie Chopper, Rainbow Rock, Fun Slide, Lil Wheel and more.
Military Day returns on Thursday, April 28 with free admission all day for Veterans and active military with their military ID.
Kentucky Derby Festival Neigh-Maste on the Waterfront: Friday, April 29, noon-1 p.m. Festivalgoers can relax and recharge at this yoga event while enjoying views of the Ohio River and Louisville skyline.
Kentucky Derby Festival Ohio Valley Wrestling Run for the Ropes: Friday, April 29, 6-7:30 p.m. Special meet-and-greet with OVW stars at 5 p.m., followed by six big matches, including a special "Every Man for Himself Free-For-All" over the top rope Battle Royal.
Kentucky Derby Festival Ken-Ducky Derby: Saturday, April 30, call to the post at 2 p.m. See the launch of 46,000 ducks into the Ohio River for a chance to race and compete for prizes. Proceeds benefit Harbor House of Louisville.
Kentucky Derby Festival Sunday Funday Drag Show Brunch: Sunday, May 1, 1-3 p.m. Coordinated by the Louisville Pride Foundation, this event showcases some of Louisville's finest entertainers. Food and drinks available for purchase. $200 VIP Experience includes prime seating for a table of six, $50 in food and drink tickets and a special swag bag.
Kentucky Derby Festival HappyTail Hour: Tuesday, May 3, 1-4 p.m. Bring your four-legged friend to this pet-friendly event on the Great Lawn. Coordinated by Metro Animal Services.
(NEW) Heroes in Education Day: Thursday, May 5. All education employees (with a valid ID) are invited to head down after school and experience an evening at Fest-a-Ville. They will receive free admission that day, along with a commemorative, custom Pegasus Pin while supplies last.

(NEW) COVID VACCINES: The Kentucky Association of Health Plans (KAHP) will give patrons a free Pegasus Pin or money card (valued at $7) to be used at Fest-a-Ville if they get a COVID-19 vaccination (vaccines are available from 4-6 p.m. each day). The KAHP tent will be located at the entrance, with Bluewater Diagnostic Laboratory administering vaccines.
Admission to the Fest-A-Ville is a 2022 Pegasus Pin. For more information, visit the Kentucky Derby Festival website.