Kentucky Derby Festival's 'Fest-a-Ville' Back with New Events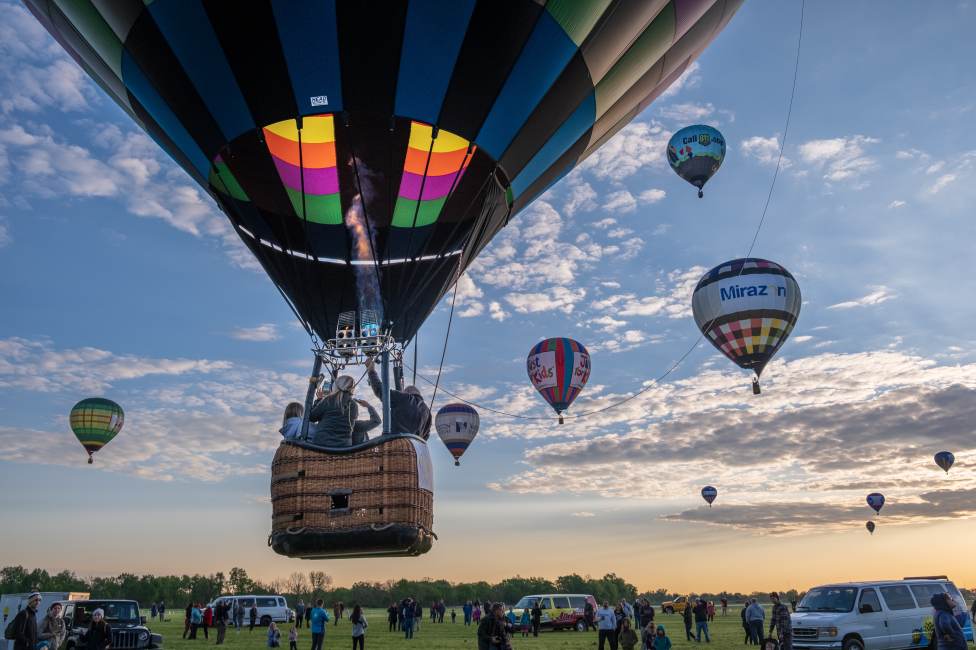 Highlights include Chow Wagons, Great Balloon Glow and 'Flavors of Fest-a-Ville'
LOUISVILLE, Ky., (April 20, 2023) – One of the Derby Festival's signature events, Kroger's Fest-a-Ville, will take over Waterfront Park for nine straight days this spring featuring an action-packed line-up of concerts, festive food, family-friendly fun, midway rides and more.

A car show and silent disco are new additions to the Derby Festival's ultimate entertainment experience for 2023. It's open daily from Thursday, April 27 through Friday, May 5. Hours are 11 a.m. to 11 p.m., Monday through Saturday, and noon to 10 p.m., Sunday.

As a special treat for Festival Fans, a Pegasus Pin won't be required for admission to Kroger's Fest-a-Ville on the Waterfront on Opening Day on April 27. They will be available for purchase on-site (all other days are free admission with a 2023 Pegasus Pin).

New this year:
Louisville Silent Disco: Taking place on Opening Day on Thursday, April 27 and during the Derby Eve Jam on Friday, May 5, 7:30-10:30 p.m., in the Grove. Attendees can wear glowing wireless headphones and dance to music amongst other Fest-a-Ville goers during a silent disco, which makes its debut this year.

Exotic Cars & Coffee Car Show: Saturday, April 29, 4-8 p.m., Great Lawn. Enjoy exotic, muscle, imports, German and American cars from all across the region under the lights.

Other events include:
Kentucky Derby Festival Chow Wagon: Open during the entire nine days of Fest-a-Ville, this outdoor food and live music venue is a long-running Derby Festival tradition. Happy Hour Weekdays: 4-6 p.m. $4 beers at the Beer Garden.

Kentucky Derby Festival Great Balloon Glow: This fan favorite event eturns to Kroger's Fest-a-Ville for the second year. Featuring over a dozen balloons lighting up the city skyline on Friday, April 28, 8 p.m.

Flavors of Fest-a-Ville: Sample foodie favorites from popular Festival tradition, the Chow Wagon. It's open weekdays only from 11 a.m. to 1 p.m. Samples range from $2 to $4.

Pegasus PlayVille: features a variety of kid-friendly activities, including Charlie Chopper, Rainbow Rock, Fun Slide, Lil Wheel and more.

Military Day: Returns on Friday, May 5 with free admission all day for Veterans and active military with their military ID.

Kentucky Derby Festival Neigh-Maste: Recharge on the Waterfront: Friday, April 28, noon-1 p.m. Festivalgoers can relax at this yoga event while enjoying views of the Ohio River and Louisville skyline.

Kentucky Derby Festival Ohio Valley Wrestling Run for the Ropes: Friday, April 28, 5:30-7:00 p.m. Special meet-and-greet with OVW stars at 5 p.m., followed by six big matches, including a special "Every Man for Himself Free-For-All" over the top rope Battle Royal.

Kentucky Derby Festival Ken-Ducky Derby: Saturday, April 29 from 4-5pm, see the launch of nearly 50,000 ducks into the Ohio River for a chance to race and compete for prizes. Proceeds benefit Harbor House of Louisville.

Kentucky Derby Festival Sunday Funday Drag Show Brunch: Sunday, April 30 from 1-3 p.m. Produced by the Louisville Pride Foundation, this event showcases some of Louisville's finest entertainers. Food and drinks available for purchase.

Kentucky Derby Festival HappyTail Hour: Monday, May 1 from 5-8 p.m. Bring your four-legged friend to this pet-friendly event on the Great Lawn. Coordinated by Metro Animal Services.

Admission to the Fest-A-Ville is a 2023 Pegasus Pin. For more information, visit the Kentucky Derby Festival website.