Iconic Sports Brand Opens New Louisville Bourbon Experience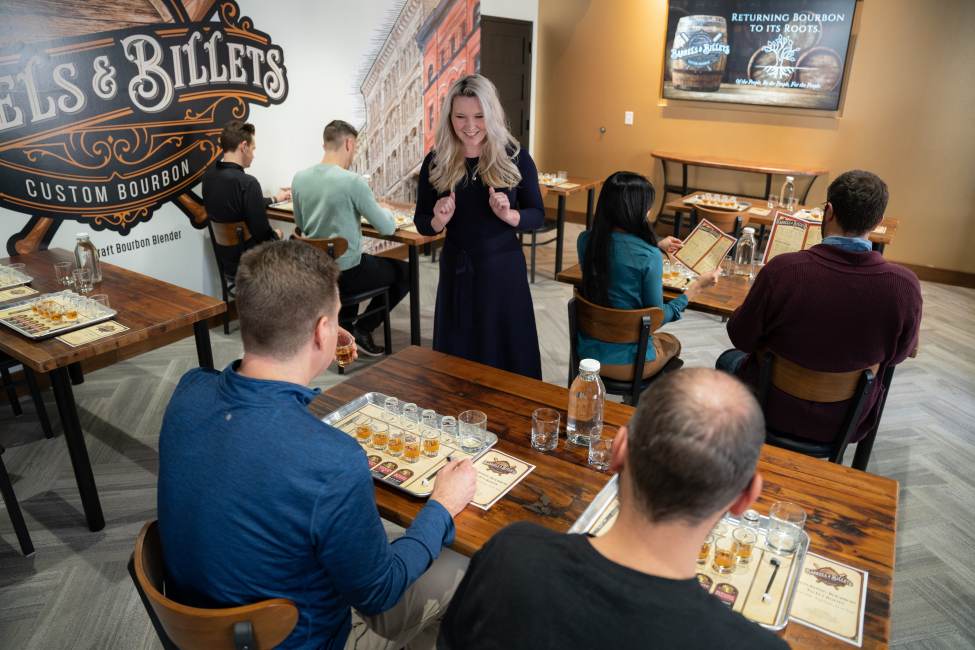 Hillerich & Bradsby Co. Announces Barrels & Billets
LOUISVILLE, Ky., (February 22, 2022) – Best known for the Louisville Slugger baseball bat, Louisville's Hillerich & Bradsby Co. (H&B) is taking a swing at incorporating Bourbon (back) into their lineup. Located next door to the downtown Louisville Slugger Museum & Factory, H&B has announced the opening of Barrels & Billets - a cutting edge experience that allows guest to taste, blend, create, and bottle their own unique profile of bourbon.

"Some may be wondering why a sports and attraction company is getting into the bourbon business, but Barrels & Billets is actually a continuation of H&B's long history of creating uniquely Louisville experiences for our fans and guests," said John Hillerich, President & CEO of Hillerich & Bradsby Co.

J. Frederick Hillerich immigrated to America from Germany in 1842 and eventually moved to Louisville, where he opened his own woodshop. Part of that business included barrel making for the area's growing spirits and distilling industries. Years later, in 1884, the family moved into the baseball bat business.

Billets refers to the thick cylindrical pieces of wood Louisville Slugger Museum & Factory receives before crafting their iconic baseball bats. With wood being an integral part of both the baseball bat and Bourbon making processes, Bourbon & Billets highlights how using a variety of wood can have a notable impact on a spirit's flavor profile.

Visitors will start by sampling six different award-winning WoodCraft bourbons which include a 200 Year Oak, European Oak, American Oak, Cherry Wood, Maple Wood, and Smoked Oak. After the sampling, guests are encouraged to mix and blend their own special recipe based on their individual flavor preferences. Once the blending experience is complete, guests can have their recipe bottled onsite and leave with their own custom bottle of Bourbon.

The Barrels & Billets experience opens February 23, and is runs Wednesday & Thursday 11am - 6pm, Friday & Saturday 11am - 7pm, and Sunday 1pm - 6pm. Tickets cost $35 per person and custom blend 750ml bottles can be purchased for $45. Tickets are available at BarrelsAndBillets.com.

Barrels & Billets is a WoodCraft Bourbon Blender franchisee. Barrels & Billets custom blends all its bourbons and rye using spirits provided by authorized WoodCraft™ supplier Brain Brew Custom WHISKeY, Newtown Ohio.

Barrels & Billets joins nearly a dozen Louisville distilleries and a slew of other bourbon experiences that have opened in Kentucky's largest city in the past decade. Visitors can learn more about distillery tours, bourbon themed accommodations and the city's newly modernized Urban Bourbon Trail ® here.