Fall Into Bluegrass this October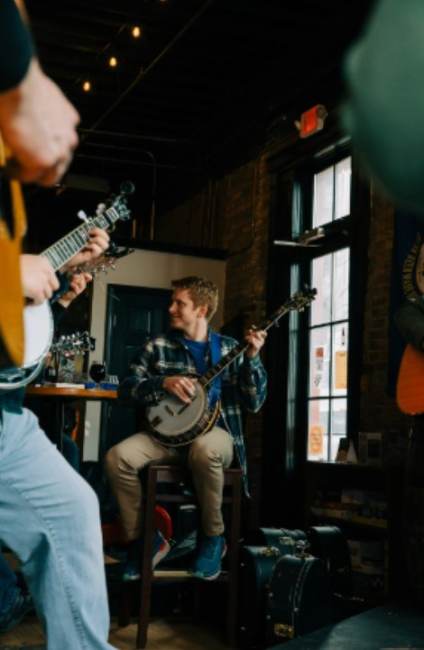 Kentucky's signature musical genre is on full display
LOUISVILLE, Ky. (October 5, 2023) – Following September's busy Bourbon Heritage Month, another signature Kentucky asset will be on full display in October with Bluegrass music filling the fall air. Throughout the month, various Bluegrass musical entertainment will be available to guests for free.

Louisville Tourism's calendar of events provides a round-up of the free Bluegrass music opportunities with options every week in October, Thursday through Saturday nights, as well as a few other weekdays. View the full October calendar of free Bluegrass music entertainment.

Some of the venues include the Magnum Moon Bar in the Cambria Hotel Louisville Whiskey Row, Goodwood Brewery, Louisville Marriott Downtown, 8UP Elevated Drinkery & Kitchen, Neat Bourbon Bar + Bottle Shop, Tartan House and The Monarch, which is a dedicated listening room space in the Highlands neighborhood.

Louisville's Hot Brown Smackdown Band will play on October 22 at Waterfront Park as part of the kickoff to Louisville Hot Brown Week. This is a ticketed event.

The Bluegrass genre is a Kentucky staple with native Kentuckian Bill Monroe generally considered the 'father of bluegrass music.' The music's name originated from Kentucky bluegrass, a state plant which also prompted Kentucky's 'Bluegrass State' nickname.

Over the years, Bluegrass music has become synonymous with Kentucky, pairing well with Bourbon – another state staple and America's only native spirit.

While planning a trip to Louisville, guests can download a copy of Louisville Tourism's annual Visitor Guide to see the city's top attractions and bourbon distilleries. Visitors also can get additional city attraction, lodging and dining assistance at gotolouisville.com.