Daughter of Muhammad Ali Helps Promote Father's Hometown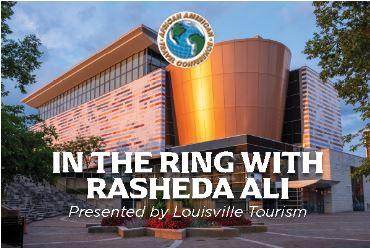 Rasheda Ali leads virtual intro to Louisville's hosting of the African American Travel Conference
LOUISVILLE, Ky. (Dec. 11, 2020) –Louisville Tourism is bringing out the heavyweights putting the city in the spotlight in preparation for its first ever hosting of a national conference to inspire African American travel to the city.

Louisville was awarded the hosting of the 2021 African American Travel Conference (AATC) in 2019 after sending delegates to this important tradeshow for Black tourism since 2016.

The city is set to host AATC March 30-April 1 and officially invited them recently during a special virtual event hosted by Rasheda Ali.

More than 261 potential attendees responded to the invitation for "In the Ring with Rasheda Ali." The zoom guests were treated to personal stories from Ali on her father's impact on Civil Rights and its relevance in today's movement for racial equality. Guests also got a preview of the upcoming new "Truth be Told" exhibit at the Muhammad Ali Center, as well as learning updates on the planned programming in the host city.

"We really want to come out swinging by introducing AATC attendees to Louisville's overall brand and especially the new Black Heritage tourism experiences we have been building over the past year in collaboration with some of the city's iconic attractions," said Cleo Battle, Chief Operating Officer of Louisville Tourism. "Launching this new programming has been an initial priority during my time leading Louisville Tourism's Black Travel Advisory Council and we look forward to hosting this prominent travel group as one of the first to experience the city's new offerings. We felt their enthusiasm during this virtual event and look forward to welcoming them to our city in the spring."

President & CEO of the AATC Charlie Presley proclaimed "(It was the) Best Zoom event I have ever attended." And he looks forward to utilizing the recorded video to keep promoting the city's hosting of the conference later this winter.

It is anticipated that 175 delegates could be in Louisville for the event that will convene at the Galt House Hotel and other venues throughout the city, resulting in an estimated economic income of nearly $92,000.