Churchill Downs New Hotel is Off and Running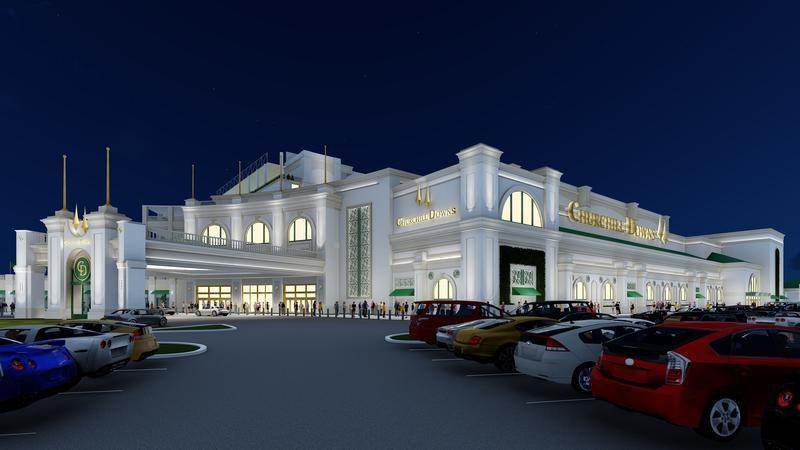 View the 2022 Kentucky Derby live from hotel room window
LOUISVILLE, KY (March 5, 2020) – Imagine sipping a mint julep from your hotel balcony while watching the greatest two minutes of sports live on the horse racetrack just below your room. Starting with the live racing meet in 2022, this dream will be a reality as construction has started on a $300 million dollar hotel and gaming facility just below the famous twin spires.

The hotel plans to have seven stories with 156 rooms, designing 96 of those to face the racetrack. The hotel will also be able to accommodate events and meetings with a 27,000 square foot ballroom on the second floor. In addition, the hotel will also house up to 1,000 slot-like historical racing machines at a facility on the ground floor, next to the hotel lobby. A sports bar, VIP lounge and restaurant serving breakfast, lunch and dinner will also be on the property.

The hotel will create three new Derby viewing experiences as guests can watch the races from the 96 rooms built facing the track. New permanent seating for 4,700 will replace the 3,300 temporary grandstands that are typically raised in the area for the week of the Kentucky Derby.

This new facility will cater to exclusive Derby package offerings that will offer spectacular track views and the full bucket-list experience for racetrack guests by providing approximately 5,500 new reserved seating options for the Kentucky Derby and Oaks. The ballroom will offer table hospitality, similar to millionaires' row with all-inclusive food and beverage and an outdoor party deck with exterior bars and betting locations.

Louisville's hotel market is quickly absorbing the 1,500 rooms added to downtown over the 18 months, making a strong case for developers looking to build more hotels. According to CBRE Research, Louisville had the largest year-over-year hotel demand increase in the first quarter of 2019 at 11.4%, while demand nationally only grew 2.4% in the same quarter, slightly below last year. "We are seeing tangible results from the tourism industry's hard work over the last decade to invest in the infrastructure needed to attract demand for the destination," said Karen Williams, President and CEO of Louisville Tourism. "We plan to build on that momentum."

This new hotel will provide a thrilling spectator experience to the thunderous racing and the famous Kentucky Derby, as well as an all-inclusive hospitality experience throughout the rest of the year.