Bourbon City's Newest Tasting Room Opens On Main Street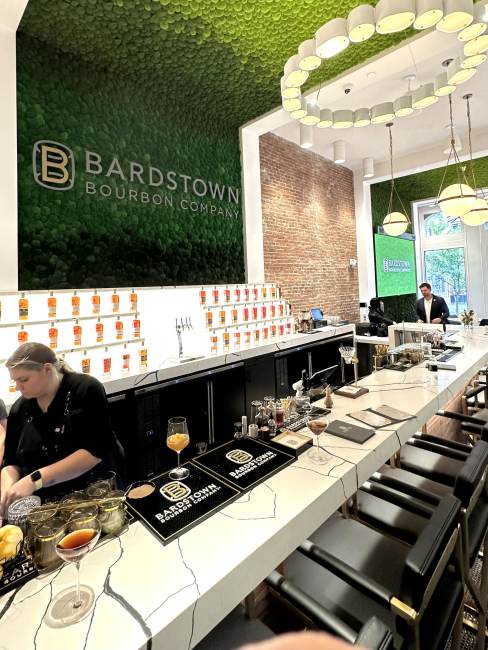 Bardstown Bourbon Co. mixes up crafts cocktails and immersive educational experiences
Louisville, Ky. (October 25, 2023) – Bardstown Bourbon Company's new tasting experience is now open in the heart of downtown Louisville's storied Whiskey Row. As the modern bourbon experience, the Louisville Tasting Room will feature highly interactive education, innovative craft cocktails, augmented reality and immersive digital environments, curated retail merchandise and exclusive bottles.

The new experience is located at 730 W. Main Street, which anchors the west end of Main Street just past 21c Museum Hotel and a block from the Frazier History Museum, which is the official starting point for The Bourbon TrailTM. The Louisville Tasting Room features a full-service bar with innovative craft cocktails and unique tasting experiences.

"Bardstown Bourbon Company has the opportunity to speak to a much larger audience in Downtown Louisville and merged the best of design, experience, and story-telling in order to do so," said Dan Callaway, Vice President of New Product Development at Bardstown Bourbon Co.

"More than 2 million visitors came to the Kentucky Bourbon TrailTM last year and more people are enjoying bourbon experiences all across the state. While many make the pilgrimage to Bardstown, Louisville is really Kentucky's open arms. House Bill 500, which granted the ability to open a tasting room, made way for us to educate people about how we're moving bourbon forward in a distinctly Bardstown Bourbon Co. way, right here in Louisville," said Mark Erwin, CEO of Bardstown Bourbon Co.

The Tasting Room will offer three distinct educational experiences ranging from $25-35 per person and last up to 40 minutes.

The Collaborative Series Experience showcases some of the most innovative and complex whiskies on the market, discovering the influence of barrel finishing in partnership with leading producers in a variety of spirits categories. The Origin Experience showcases the brand's 100 percent estate-distilled flagship products. The Art of Blending Experience explores the sensory characteristics of the unique bourbons of the Discovery Series, studying the aroma, flavor, and finish.

Reservations are encouraged and can be booked online at bardstownbourbon.com/plan-a-visit.

The space also features a retail shop that will sell the full portfolio of Bardstown Bourbon Co. products, merchandise, and distillery-only releases at select times. Selections include the latest sought-after collaborations with Goose Island and Foursquare Rum, Discovery 10 and 11, and new releases that will only be available at the Louisville Tasting Room.

The bar menu has been curated to open with a mixture of bespoke cocktails and innovative twists on classics. It will evolve seasonally to feature local ingredients and new riffs.

The Bardstown Bourbon Company Louisville Tasting Room will be open Tuesday-Saturday from 10 a.m.-6 p.m. Private event bookings will be available later in the year. For more information or to book experiences, visit bardstownbourbon.com.

While planning a Bourbon-soaked trip to Louisville, guests can download a copy of Louisville Tourism's annual Visitor Guide to stay in Bourbon-themed hotels, see the city's top attractions and bourbon distilleries. Visitors also can get additional city attractions, lodging and dining assistance at gotolouisville.com.