Bigger in Bourbon City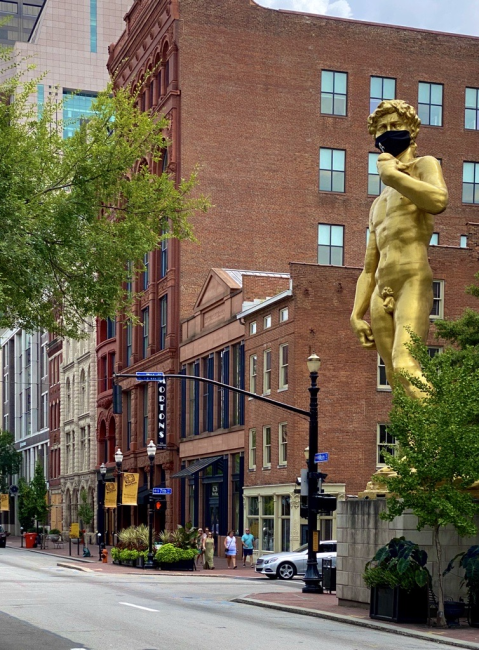 Louisville's larger than life face masks provide unique selfie spots
LOUISVILLE, Ky. (August 25, 2020) — Two of Louisville's iconic landmarks are masking up to gently encourage public health safely while serving as fun photo stops. Larger than life Fleur de Lis and Just Add Bourbon face masks are on the 30-foot, gold colored David statue adorning 21c Museum Hotel's corner and on the lovable troll safeguarding Troll Pub Under the Bridge by Second Street.
Since late July, Louisville Tourism has been selling three face mask versions through the Visitor Information Center (VIC) with nearly 500 sold. Shoppers who purchase the masks are able to promote their love of Bourbon City while simultaneously helping area COVID relief programs since a portion of the proceeds are donated to benefit both Louisville's COVID-19 Relief Fund and the Fund for the Arts Black Artists Fund.

Shoppers can pick up masks online or in person at the VIC at 301 S. 4th Street. The VIC serves as the public face of Louisville Tourism by welcoming guests and helping with attraction, hotel and other city information - as well as Louisville branded merchandise.

Two masks feature the popular slogan 'Just Add Bourbon' as well as a third with a small Fleur De Lis, the symbol adopted by Louisville as the city's insignia. Louisville was named after King Louis XVI of the House of Bourbon in 1778 in appreciation of France's assistance in the Revolutionary War. The popular lily emblem is seen all over town from architectural embellishments and gift items to street signs and business logos. It is the centerpiece of the city's Official Seal as well as a symbol of hometown pride among locals.

Each mask is available for $10 with a portion of the sales proceeds benefiting the two local organizations.

"Louisville Tourism has had great success using this fun and creative way to adhere to the CDC and the Governor's health guidelines while showcasing Bourbon City's soul and authenticity, said Karen Williams, President & CEO of Louisville Tourism. "Considering tourism's role as the third largest industry in Louisville, typically supporting over 60,000 jobs in the MSA, we will continue to safely inspire travel while channeling assistance to the industry professionals we rely on every day as key economic drivers."

The VIC is currently open Wednesday through Sunday from 12pm to 5pm. Just prior to the COVID-19 outbreak, the VIC underwent a facelift to refresh and update visitor displays – complete with a new brochure and recipe wall featuring dishes and libations prominent in Louisville's southern culinary heritage, as featured in Louisville Tourism's Bourbon & Biscuits web series.

Louisville Tourism serves as the official Destination Marketing Organization for Louisville Metro with the mission to inspire travel to the city and plan for the future of Louisville as a destination.