Back Porch Run in NuLu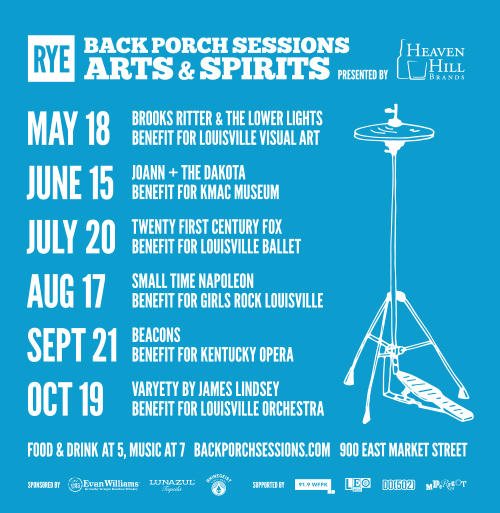 Popular NuLu restaurant RYE is bringing back its annual Back Porch Sessions for the 6th year with a summer of music, food and a new twist. Themed "Arts & Spirits" this year's lineup will focus on Louisville's Arts community. The summer series will benefit arts groups including the Louisville Orchestra, Louisville Ballet, Louisville Visual Art, KMAC Museum, Girls Rock Louisville, and Kentucky Opera. Said a release, "With support from Heaven Hill Brands and Rhinegeist, we can have an impact on each organization's future by not only giving support, but creating a deeper bond through music, drink, and community. We'd like to put that influence to use by embracing the Arts... all the while, enjoying some damn good cocktails!"
May 18: Brooks Ritter and the Lower Lights.
June 15: Joann + The Dakota
July 20: Twenty First Century Fox
August 17: Small Time Napoleon
September 21: Beacons
October 19: Variety by James Lindsey
To see the complete 2017 Back Porch Sessions - Arts & Spirits lineup click here.
About Back Porch Sessions:
Presented by Heaven Hill Brands, RYE's Back Porch Sessions is a FREE summer concert series intending to expose local artists and create a place for the community to gather around food and music. Happening every third Thursday, from May thru October, Back Porch Sessions take place outdoors at Rye, located in the East Market District of Louisville, Kentucky. 2017 marks the sixth year for RYE's Back Porch Sessions. RYE's Back Porch Sessions are supported by Evan Williams Kentucky Straight Bourbon, Lunazul Tequila, and Rhinegeist. Partners include LEO Weekly, WFPK, Magbooth, MPerfect, and Do502. 100% of all sponsorship income will directly impact Louisville Orchestra, Louisville Ballet, Louisville Visual Art, KMAC, Girls Rock Louisville, and Kentucky Opera.
Connect to Back Porch Sessions via Facebook or backporchsessions.com