Annual National Farm Machinery Show and Championship Tractor Pull Roar into Louisville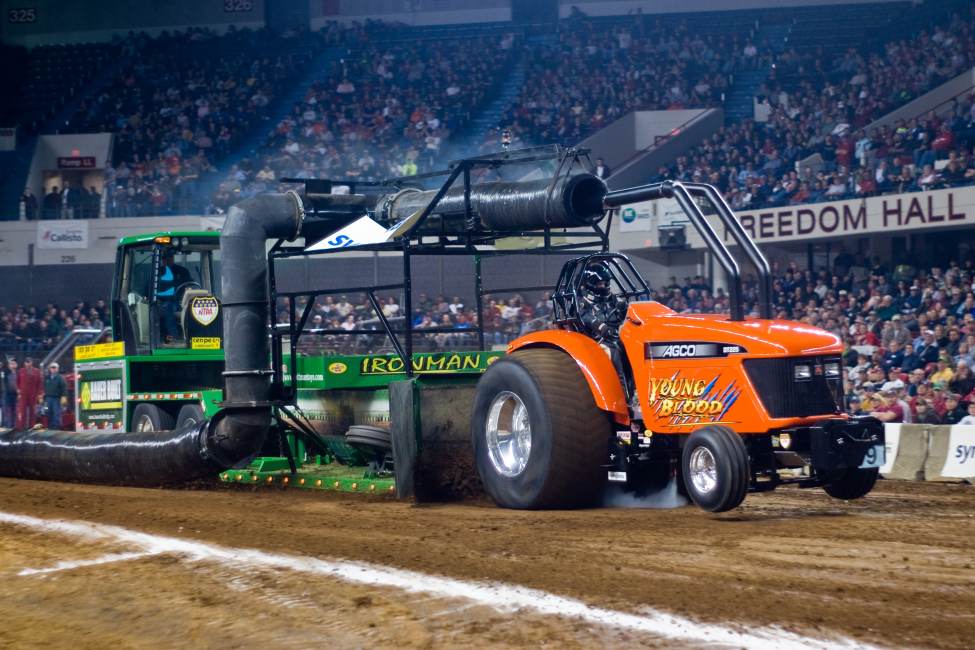 Each year more than 250,000 guests attend the largest indoor farm show in the country
LOUISVILLE, Ky. (February 14, 2023) — The National Farm Machinery Show returns to the Kentucky Exposition Center February 15-18 for the agricultural industry's most comprehensive display of equipment, services and technology. Each year more than 250,000 guests attend the largest indoor farm show in the country to learn about equipment updates, explore new technology and prepare for a successful year.

The show is anticipated to generate $23.1 million in estimated economic impact for the city and ranks third largest on the list of Top 16 events projected to have the largest estimated economic impact (EEI) for the Louisville area this year.

"The National Farm Machinery Show is where the agriculture industry comes together for four days of networking, exploring new techniques and doing business. Farmers face the ever-growing challenge of feeding our world with less farmland, less labor, increased costs and a growing population. It's important to be efficient and environmentally sound with every acre and having the right equipment and techniques are essential for profitability and meeting the expectations of today's consumers. We're excited to see the latest and greatest equipment and welcome back our farmers," said David. S. Beck, President and CEO of Kentucky Venues.

The show offers attendees a variety of events including:
- Seminars: Nearly two dozen free seminars are scheduled Feb. 15-17 in the South Wing, with subjects ranging from market and weather strategies to driverless technology. Sponsors include Beck's Hybrids, DTN/Progressive Farmer, Farm Journal Media and Farm Progress. View the list of seminars.

- Gift & Craft Market: More than 65 booths selling various items including tractor-branded merchandise, fashion, toys, collectibles, snacks and more. The market will be open daily from 9 a.m. to 6 p.m.

- Championship Tractor Pull: Roaring tractors and trucks will be heard throughout Freedom Hall as rival pullers race down the dirt track to earn a grand championship title. More than 70,000 fans will fill Freedom Hall Feb. 15-18 for the Championship Tractor Pull at the Kentucky Exposition Center.

- The Pit: Up Close and Personal: Visit "The Pit" in Broadbent Arena and take pictures with fan-favorite vehicles, meet drivers and collect autographs. Admission is free and open to the public Wednesday through Friday 9 a.m. to 5 p.m. and Saturday 9 a.m. to 11 a.m.

- Tractor Pull 101: Drivers compete in 10 different divisions.

Tickets for the Championship Tractor Pull are available at the Kentucky Exposition Center Ticket Office and online at www.ticketmaster.com. Event times and prices vary by day. A detailed tractor pull schedule is available at www.champpull.org.

Registration is not required for the 2023 show. While admission to the National Farm Machinery Show is free, there is a charge for parking during the show's hours: Feb.15-18 from 9 a.m. to 5 p.m. More information is available at farmmachineryshow.org.

Press contact: Ian Cox (502) 367-5156 for questions or additional information.

Press note: The show will hold a ribbon cutting ceremony Wednesday, Feb. 15 at 8:40am. Media free with marked vehicle and media badge. To best access and locate the ribbon-cutting, please enter through South Wing A Lobby doors, continue forward into the exhibit hall, and locate Column A6, adjacent to the John Deere (green) booth.