A Dozen Things to Do in Louisville this November
Pizza, punchlines, and a Pretty Woman bridge the gap between Fall festivals and holiday events.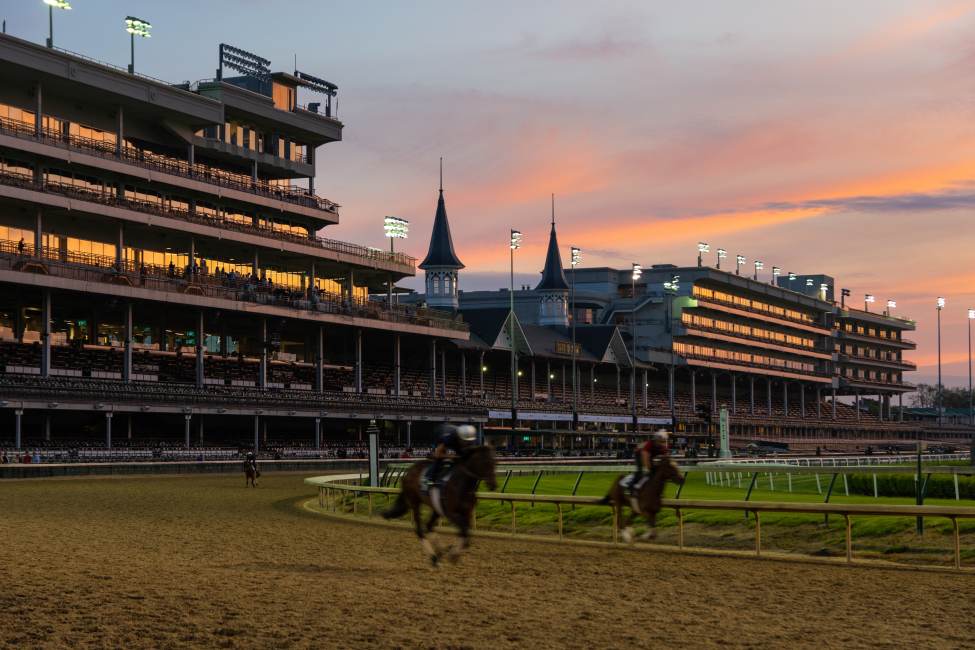 Live Racing at Churchill Downs | Nov. 3-28, Wednesday - Sunday
Experience live Thoroughbred horse racing at Churchill Downs this Fall. Races will start at 1pm on Wednesdays through Sundays and include special events such as a Breeders' Cup Watch Party, Military Appreciation Day, First Responders Day, Senior Day, and live racing on Thanksgiving and Black Friday. Visit the Stakes Room to enjoy Sunday Brunch, a visit to Matt Winn's Steakhouse for dinner on Millionaire's Row, or a complete Thanksgiving buffet for families looking to entertain outside the home.

Horrorpalooza at Waverly Hills Sanatorium | Nov. 4-6
Frequently named one of the Most Haunted Locations in the U.S., Waverly Hills Sanatorium will be hosting a three-day paranormal event this Fall. Meet with over a dozen horror-genre-based celebrities, listen to seminars, and even take tours with popular film actors and actresses. Day passes for the event start at $30 and cost up to $165 for a Super VIP Weekend Pass.
ColorFest at Bernheim Forest | Nov. 5 & 6
Named one of the Best Places to See Fall Colors in the U.S. by Lonely Planet, Louisville has a variety of destinations to visit when in town during the colorful fall months. Bernheim Forest will show off the region's famous foliage with two days of activities during this annual Fall Festival. A corn pit, mud pie kitchen, pumpkin rolling, giant launch, nature games, and giant slides will be some of the available activities in addition to a hillside grass maze that has been added for 2022. ColorFest will take place from 10 a.m. – 4 p.m. on both Saturday and Sunday.

Goo Goo Dolls at the Louisville Palace | Nov. 9
Hear the famous American rock band perform some of their greatest hits as they take the stage at the Louisville Palace, one of the city's most iconic music venues.

North American Championship Rodeo | Nov. 10-12
Held at historic Freedom Hall this high-energy lineup of events includes bull riding, team roping, women's barrel racing, rodeo clowns and more as a part of the North American International Livestock Exposition.

Damon Wayans Jr. at the Louisville Comedy Club | Nov. 10-12
Known for his roles in sitcoms New Girl and Happy Endings, Damon Wayans Jr. will take the stage at the recently opened Louisville Comedy Club on Downtown's Main Street. Two shows are available nightly with the 7:30pm shows being 18+ and the 10:30pm shows being 21+.
Lights Under Louisville | Nov. 11 - Jan. 2, 2022

This one-of-a-kind underground holiday light show will take you on a 30-minute drive through a portion of Louisville Mega Cavern's 17 miles of underground passageways. The event features more than 900 lit displays and over four million points of light.
Throo the Zoo 5K | Nov. 12
Enjoy the wildest 5K in town as you race "Throo" the Louisville Zoo alongside some of your favorite Zoo residents like giraffes, rhinos, flamingos, and bears. All participants receive a free t-shirt, commemorative finisher's medal, and an admittance ticket back to the Zoo so you can return and enjoy a visit at a more leisurely pace.

Louisville Pizza Week | Nov. 14-20
Paying homage to all things pizza, local Louisville pizza joints will bake up their best creations for seven days during this annual culinary event. Those who stop by four or more participating restaurants will be entered to win up to $250 in gift cards by submitting pictures of the photogenic pies.

Paristown's Fête De Noël | Nov. 19 - Jan. 2

Paristown's Fête De Noël ("Festival of Christmas") is a 6-week, winter holiday festival featuring Louisville's only authentic outdoor ice skating rink. Shop, eat, and drink your way through the Winter Holiday Village and enjoy special holiday movie nights, karaoke, and silent disco on ice, along with ornament decorating at historic Stoneware & Co.
Winter Woods Spectacular | Nov. 25 - Jan. 1

Experience millions of lights twinkling along a winding road nestled in the majestic woods of historic Iroquois Park. This magical event features holiday lighting, artistry, and sounds that will delight the senses and transport you to an ethereal winter wonderland where you can explore and celebrate the holiday season. New for this year, visitors will experience the magic on foot, weaving their way through the festively lit forest.
Pretty Woman | Nov. 29 - Dec. 4
Based on the iconic 90s Julia Roberts classic, PNC Broadway of Louisville's Pretty Woman: The Musical will be performed at the Kentucky Center for the Arts' Whitney Hall. The 2-hour and 20-minute event will run nightly, from Tuesday, November 29 to Sunday, December 4, with afternoon showings also on Saturday & Sunday.
To find all events happening in and around the city be sure to check out our event calendar and subscribe to our email newsletters for the latest updates on news and events.
For discounts on local attraction tickets and hotel rooms click here.