Top 5 Soul Food Restaurants in Louisville
With Louisville's unique brand of Southerness, it's only fitting to pay homage to food that feeds the soul while filling up bellies. Throughout Louisville's neighborhoods, there are hidden gems that beckon – just follow your nose to these sure to satisfy your comfort food cravings.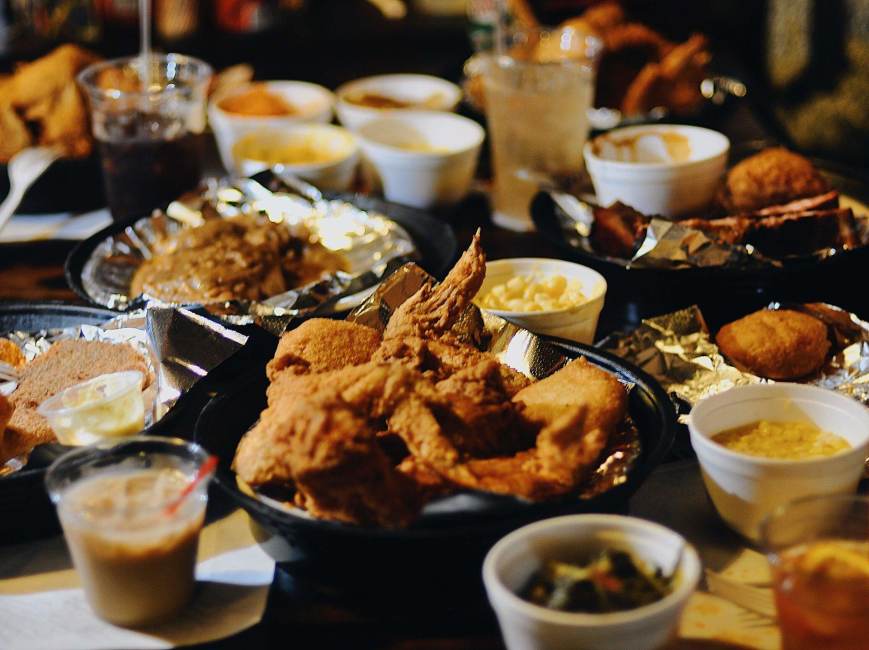 1. Shirley Mae's Café
802 S Clay Street | Thursday-Sunday | 11:00 a.m. - 9:00 p.m.
Featured on the Travel Channel's Food Paradise show, this storied location has been serving up down-home cuisine to locals and visitors alike since the 80's. Nestled in the heart of Smoketown, Shirley Mae's Café is located in the oldest African-American community in Louisville. Originally a post-Civil War encampment for freed slaves, the building was purchased by Shirley Beard, who became the first Black owner of the building in 1988. Shirley Mae Beard and her family have been serving her famous Shirley Mae's jam cake and cast-iron skillet fried cornbread ever since. This family keeps you coming back again and again for their southern cookin'.
2. Big Momma's Soul Kitchen
4532 W Broadway | Wednesday-Sunday | 12:00-6:00 p.m.
With Big Momma at the helm, each day boasts a handful of daily dishes with just as many sides to choose from. Sunday's supper options boast chicken three ways – baked, friend or stuffed. If salmon croquets, fried catfish or smothered pork chops are your thing, you'll be in hog heaven. The fixings from Big Momma's Soul Kitchen make for a tasty picnic to take across the street to enjoy in Shawnee Park.
3. Dasha Barbours Southern Bistro
217 East Main St. | Wednesday-Sunday | Hours Vary
A southern inspired restaurant serving larger than life soul food with generous portions. If you don't mind sticky fingers, try the chicken wings along with the fried shrimp, mushrooms or green tomatoes to start. For the mains, don't miss the fried baby back ribs, pork chops or catfish dinners. Collard greens and sweet potato casserole with pecans are among the dozen sides to choose from. Make sure to use the cornbread or Dasha rolls to wipe your plate clean.
4. Ada's Kitchen & Catering
214 W Broadway | Tuesday-Sunday | Hours Vary
With the slogan "your first choice in home style cooking," you know it's going to be a hit. The menu at Ada's Kitchen changes daily and you'll find several options to choose from including fried chicken, meatloaf, fried fish, rib tips and pulled pork bbq. There are plenty of choices for sides too, including green beans, mashed potatoes, macaroni and cheese, baked beans, and cornbread stuffing to boot.
5. LuCretia's Kitchen
1812 W Muhammad Ali Blvd. | Wednesday- Friday & Sunday
Currently only serving call-in orders for carryout, LuCretia's creates mouthwatering bites Wednesday-Friday and Sunday. The fried catfish, shrimp and grits, baked chicken with gravy and vegetable sides are some of the best comfort food you'll find. Wash it all down with piece of cobbler or pie and some sweet tea or lemonade while enjoying your southern meal straight from LuCretia's Kitchen.

Plan a trip to Louisville to savor mouthwatering bites from these incredible restaurants. Find places to stay and fun activities to add to your exciting, foodie itinerary.