How to Celebrate St. Patrick's Day in Louisville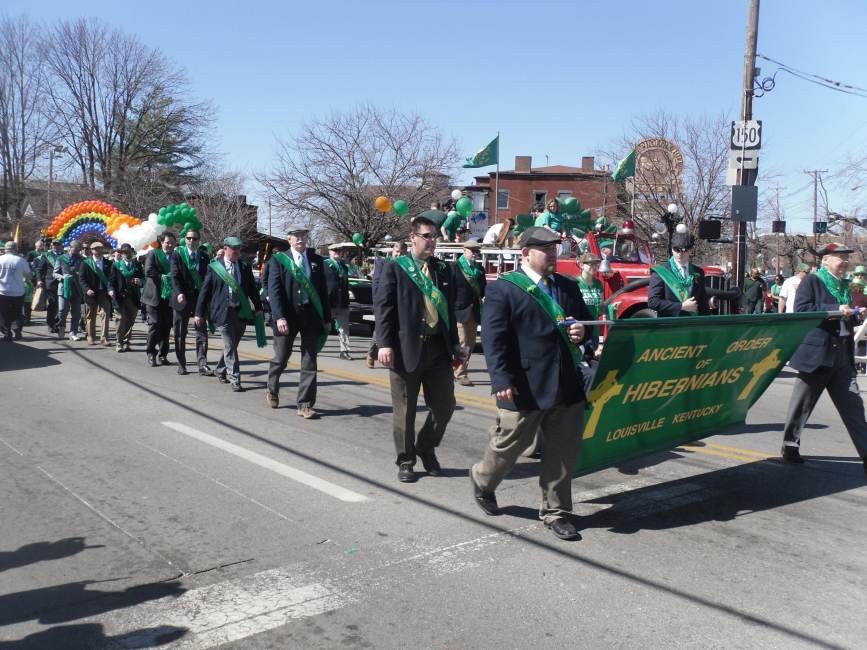 From the city's earliest settlers, to the neighborhoods of Limerick and Irish Hill, you'll find an interesting amount of Irish history and heritage in Louisville. And while you're welcome to celebrate St. Patrick's Day at home, we invite you to shake things up this year with an Irish whiskey cocktail alongside some fish & chips and a myriad of merriment. See below for a list of local Irish restaurants where you can enjoy a green beer or two, plus, a few St. Patrick's Day events taking place perfect for shaking your shillelagh. Slainte!
Great Irish Eats + Pubs
Flanagan's Ale House | 934 Baxter Avenue
An old country-style Irish pub awaits you with a great craft beer selection and traditional Irish grub. Grab a pint from the horseshoe-shaped bar and relax in the courtyard, or "hideout" in the hidden bar.
The Irish Rover | 2319 Frankfort Avenue
A 170-year-old building in the heart of the Clifton/Crescent Hill neighborhood is home to the Irish Rover where guests have enjoyed a menu full of authentic Irish recipes (and Guinness shipped directly from Dublin) for over 28 years.

Jackdaw Coffee & Bourbon Bar | 120 South Floyd Street
Located on the first floor of the brand-new Cambria Hotel in the NULU neighborhood, this coffee and bourbon bar was named in honor of a small Irish bird-- the Jackdaw. For breakfast and lunch, you can enjoy an Irish-themed menu with a slightly Southern twist like soda bread with pimento cheese or the Top o' the Mornin' breakfast sandwich-- to name a few options. The evening kicks off with a happy hour complete with whiskey flight options, half-priced appetizers, and an extensive Bourbon and American Whiskey selection.
Molly Malone's Irish Pub | 933 Baxter Avenue
Built from stones of an old pub in Ireland and named after a character in a famous Irish song, Molly Malone's Irish Pub is a laidback local favorite for pub fare and libations. With multiple places to hang out, you may find live music on the second-floor rooftop deck or folks cheering on their favorite team around the bar.
O'Shea's Irish Pub | 956 Baxter Avenue
Come enjoy a drink, tasty food, and live music at this lively pub in the heart of the Highlands neighborhood. Keep an eye out for the original bar dating back to the 1950s when the restaurant was cabaret started by the family matriarch – Mary O' Shea. For a quieter spot, head across the shaded patio to the speakeasy inside the Carriage House.
Pat's Steakhouse | 2437 Brownsboro Road
A Louisville landmark welcoming guests for over 150 years, originally began as a coach inn and travelers' rest leading into the city has transformed into the restaurant it is today. Generations of locals have enjoyed dinners and celebrations in the themed dining rooms and outdoor garden. While you're there be sure to enjoy a cocktail at the original bar from the 1860s.
Patrick O'Shea's | 123 W. Main Street
The recent renaissance of Whisky Row in downtown Louisville not only brought distilleries and hotels back to the block but a new Irish pub in 2010. Located in a four-story historic building that once housed a bourbon distillery, the 4th generation of the O'Shea family have re-created the same style and charm of their original restaurant with a rustic pub that features two floors of dining and a balcony overlooking Washington Street.
The Raven Irish Pub | 3900 Shelbyville Road
Enjoy a cocktail by the fireplace or imbibe with a pint on the outdoor patio where an authentic Irish experience awaits. Looking to take some Irish snacks home with you? Peruse the on-site Siopa shop filled with biscuits, cheeses, and meats.
Shenanigans Irish Grille | 1601 Norris Place
Just off Bardstown Road in the Deer Park neighborhood is a local spot known for serving the coldest beer in town and is the perfect mix of an Irish pub, bourbon hotspot, sports bar, and neighborhood hangout all rolled into one.
---
Events Around Town
Below are a few of the St. Patrick's Day events taking place around town.
To find all events happening in and around the city, check out our event calendar and subscribe to our email newsletters for the latest updates on news and events.
---
Louisville's Irish History
Louisville has a deep Irish history from some of the first settlers coming from Ireland to original land surveyors being of Irish descent to William Croghan (brother-in-law of George Rogers Clark) building Locust Grove-- a National Historic Landmark.

Neighborhoods:
Points of Interest