12 Hispanic Owned Louisville Restaurants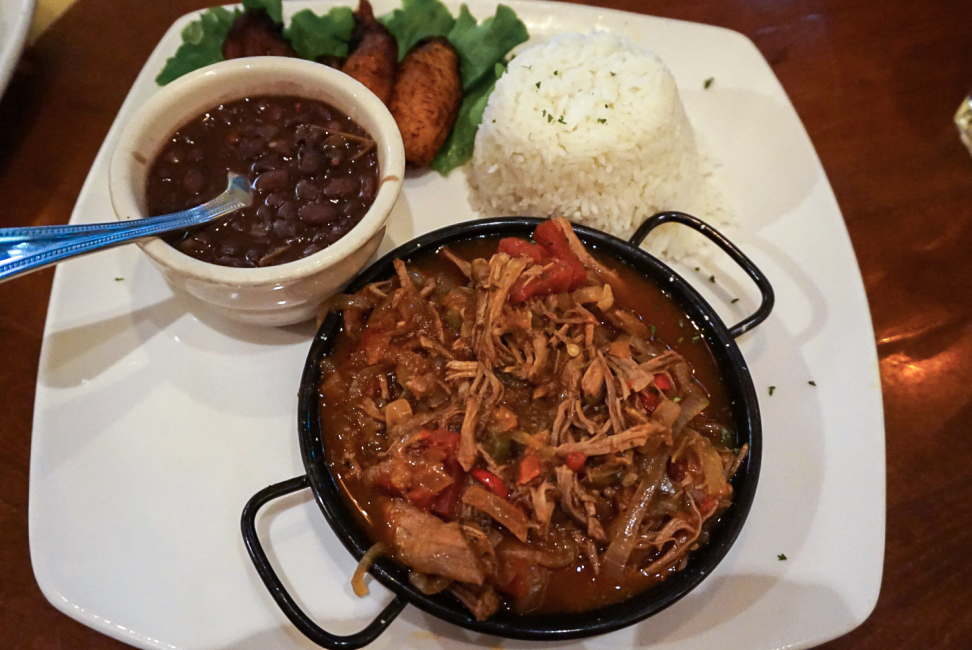 The LatinX population in Kentucky is growing, so it's no wonder that Louisville is nourished by Hispanic culture, its language, its gastronomy, and its music. That's why Hispanic Heritage Month is a tribute to LatinX business. Hispanic Heritage Month begins Sept. 15 and runs through Oct. 15. In tribute to this, we will be providing a list of restaurants that you can visit in Louisville to delight your palate! Below are some of the area food trucks and restaurants that you can't miss.
Con Aji Food Truck | (502) 531-8759
A Colombian Food truck serving extraordinary empanadas and arepas. In Colombia, it's very traditional to eat them for breakfast, but it's also a good snack or side dish (and that's why it's so versatile). Owned by a Colombian couple, entrepreneurs, who decided to bring a piece of culinary culture in a food truck! They move around the city making known of their delicious stuffed arepas and empanadas.
Instagram (@con_aji_y_cafe) | Facebook (@conajiycafe)
Mr. G-Pleta Puerto Rican Food Truck | (502) 715-9573
A little piece of Puerto Rico in Louisville, serving a deliciously crafted popular sandwich called "tripleta" filled with not one, not two BUT 3 different types of meat inside a sweet soft bread. Owned by Puerto Ricans Gamaliel Cardona and proprietor Luis Suazo and part of the National Puerto Rican Chamber of commerce. Follow them on social media for their schedule and MUST try non-alcoholic Piña Coladas!
Instagram (@mr.g.pleta) | Facebook (@Mr. G-pleta)
Made in Brazil Food Truck | (801) 455-6673
If you like deep fried pastries, you are in for a treat serving authentic Brazilian style filled with your choice of cheese, ham and cheese ground beef or chicken. For our meat lovers, they serve a churrasco bowl (PICANHA) hot of the grill. Obrigado.

Instagram (@madeinbrazilfoodtruck) | Facebook (@made in brazil food truck)
Alchemy | 7900 Shelbyville Rd. & 6301 Moonseed St. | (502) 619-4778
Nelson and Nahyla from Caracas, Venezuela decided to open the first authentic Venezuelan restaurant called Nahyla's; due to the pandemic, they found themselves having to reimagine the way their customers could reach them. The chefs decided to pack up their kitchen and go to their customers! Today, the Alchemy Food Truck continues to operate and serves neighborhoods with its delicious arepas, empanadas, and bowls like "el pabellon," which is an authentic Venezuelan plate. They have also opened 2 locations since then. But don't forget dessert, their 3 leches are exquisite! Follow the Alchemy Food Truck on social media and check our weekly locations.
Instagram (@Alchemylouisville) | Facebook (@Alchemylouisville)
Gustavo's Mexican Grill | 401 S. Hurstbourne Pkwy & 10715 Meeting St.
Gustavo's has 2 locations in Louisville you can visit. There are so many great things about Gustavo's, friendly staff, beautiful décor, and a great Authentic menu It is extremely important for owner Gustavo Reyes to make you feel like part of the family and it shows in the food. Don't forget to try Gustavo's Signature Fajitas (chicken, shrimp, steak, chorizo, and pork rib), and fan favorite, Gustavo's own beer "Vida de Reyes" or the margarita Tower!
Instagram (@gustavosmexgrill) | Facebook (@gustavoshursbourne)
Sweet Havana | 5510 Fern Valley Rd., Ste. #101 | (502) 219-6663
If you are in the area, you do not want to miss the best Cuban sandwich in the area! Sweet Havana is more of a Cuban Cafeteria / Bakery. Their lunch menu varies from lechon, masitas de Puerco, ropa vieja, arroz congrí just to name a few. But if you have a sweet tooth the variety is amazing between pastries, croquetas, and empanadas it will be hard to just taste one. A must-try is the flan and the Tres Leches. And of course, to top it all off, the Cuban coffee aroma once you walk in is the icing on the cake, or on the coffee I would say!
Instagram (@Havana_Bakery_Cafe) | Facebook (@SweetHavanaKY)
Senor Pupusas | 8118 Preston Hwy. | (502) 235-6679
It specializes in authentic Central American food and opened in 2021 in the Okolona area. We started this business because we wanted to offer a different kind of Central American experience, and we're excited to show the community our family-friendly, brightly colored environment.! Must try is their Hot Cheetos pupusa, atole, Central American beverages, tortas, and other Honduran specialties.
Instagram (@senorpupusas) | Facebook (@pupuseriaeltriunfo)
Panchitos Ice Cream | 8118 Preston Hwy., Ste 100 & 2545 Bardstown Rd. | (502) 554-6222
If it's Ice cream you're into, well let me tell you Panchitos' is a different kind of ice cream shop. So many delicious options to choose from. They call Panchitos home of the "Mangonada" which is a cup filled with semi-riped diced mango with Mexican spice and lime! But they have much more than just Ice cream, they have aguas frescas, popsicles with real fruit, tacos, and all kind of Mexican snacks. You will not regret stopping by Panchitos. The kids love it and it has a nice patio!
Instagram (@senorpupusas) | Facebook (@pupuseriaeltriunfo)
Carali's Rotisserie Chicken | 4 Area Locations
Peruvian-style rotisserie chicken, it got its unique name from the owners CA is for Carlos (Owner), RA is for Rafael (Owner), and LI is for Rafael's mother, Lidia, who has passed away. Lidia's dream was to open a restaurant, and Carali's has made that dream a reality. They also carry other typical Peruvian dishes and drinks like lomo saltado (crazy lomo) chaufa rice, yuca bites and much more! "It's all about charcoal rotisserie chicken" All food is 100% satisfaction guaranteed."
Instagram (@caralisrotisserie) | Facebook (@caralis2016)
Marisqueria Vallarta | 3 Area Locations
This family-owned restaurant has 2 locations in Louisville, serving authentic Mexican food but the specialty is seafood from you guessed it Puerto Vallarta. From shrimp cocktails to tacos but the must-try entrée is the Vallarta boat served for 4 people it has crab legs, blue crab, prawns, fried tilapia shrimp with head, and not 1 but 2 shrimp cocktails. Enjoy a pleasant family atmosphere The best Seafood in town!
Instagram (@vallartamarisqueria) | Facebook (@Marisqueria Vallarta)
La Suerte | 2116 Bardstown Rd. | (502) 883-1000
If you are looking for a great Mexican restaurant in the Louisville area come check out La Suerte. serving modern Latino food with traditional dishes, like tacos, ceviche, and tapas. Large patio for al fresco dining or slide up to the bar for our amazing drink specials. Whether you're looking to relax and get a margarita with your friends or want to enjoy a nice breakfast or brunch with your family, they've got you covered. Stop by and enjoy an authentic Mexican dining experience!
Instagram (@lasuertelouisville) | Facebook (@lasuertelouisville)
Havana Rumba | 12003 Shelbyville Rd. | (502) 244-5375
Havana Rumba is a celebration of the culinary genius of the island of Cuba. In 2004 owner Marco Lorenzo civil engineer opened the first Havana Rumba was born in the heart of St. Matthews then 3 more came after that. It's important to know that Cuban cuisine is a fusion of many different types of foods and flavors. Our dishes aren't spicy, but we have the perfect touch for those spice lovers with a homemade hot sauce that your server will bring to you upon request. Experience the culinary delights that Marcos and his chefs bring to life. ¡Mi casa es su casa! And you must try their famous roasted pork dish, Lechon Asado, our Cuban-style shredded beef, "Ropa Vieja, "and "Fricase de Pollo," classic drinks like mojitos and daiquiris, and our margaritas are award-winning in Louisville! Live music fills the room every night of the week, yes, it is not your standard eatery — you will feel transported to Cuba with a happy and friendly atmosphere.
Instagram (@havanarumba) | Facebook (@Havana Rumba)
Other Havana Rumba-owned properties include:
Mojito in Havana
3939 Shelbyville Rd.
(502) 897-1959
Instagram (@mojitoinhavana) | Facebook (@mojitoinhavana)

Havana Rumba & Tapas Bar
2210 Bardstown Rd.
(502) 749-4600
Instagram (@havanarumba) | Facebook (@Havana Rumba Express & Tapas Bar)

Mojitos Tapas
2231 Holiday Manor Center
(502) 425-0949
Instagram (@mojitotapas) | Facebook (@Mojito Tapas Restaurant)